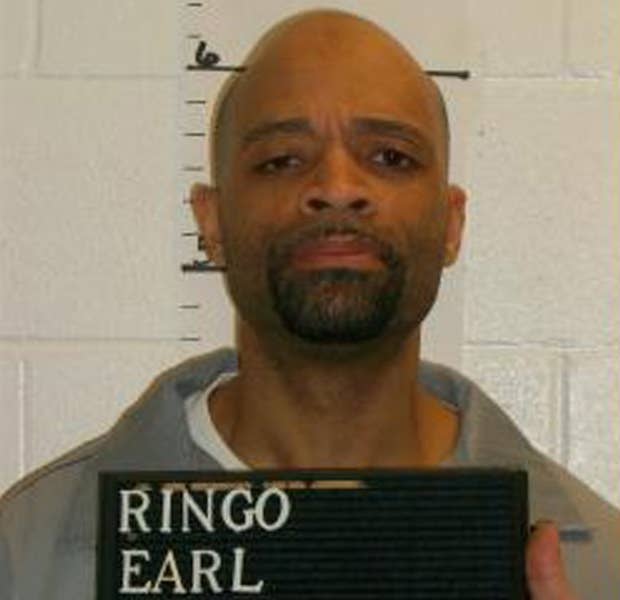 Update — 1:39 a.m. EDT Wednesday
"Missouri has carried out the execution of Earl Ringo, Junior by lethal injection. He was pronounced dead at 12:31 a.m. [CDT]," MissouriNet reported.
Update at 2:45 a.m. EDT — Missouri Attorney General Chris Koster released a statement early Wednesday following the execution.
"It should not be lost in the national debate over the death penalty that Earl Ringo, Jr., was responsible for the murders of two innocent Missourians," Koster said. "For 16 years he avoided payment for this crime. Tonight he has paid the penalty."
Update — 12:29 a.m. EDT Wednesday
The Supreme Court — in a sharply divided 5-4 vote — has denied all stay of execution requests presented to the court by Earl Ringo's attorneys, allowing his execution to proceed. Justices Ruth Bader Ginsburg, Stephen Breyer, Sonia Sotomayor, and Elena Kagan would have granted a stay of execution in response to one of the requests.
Gov. Jay Nixon also denied Ringo's clemency request, meaning his execution is free to proceed at 12:01 a.m. CDT.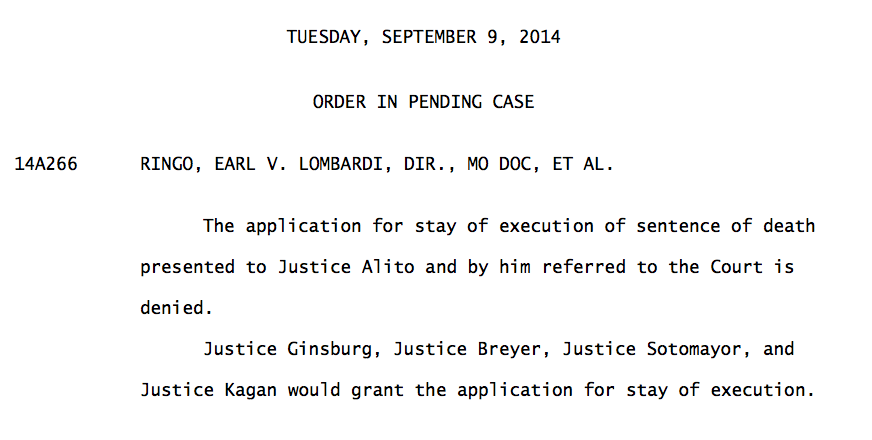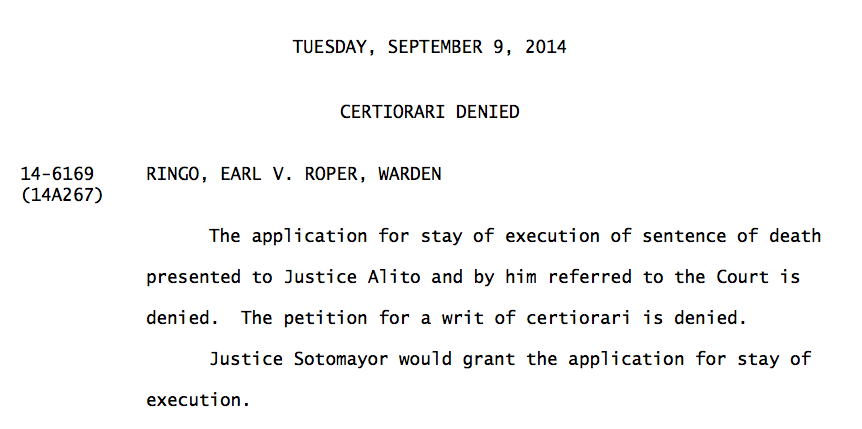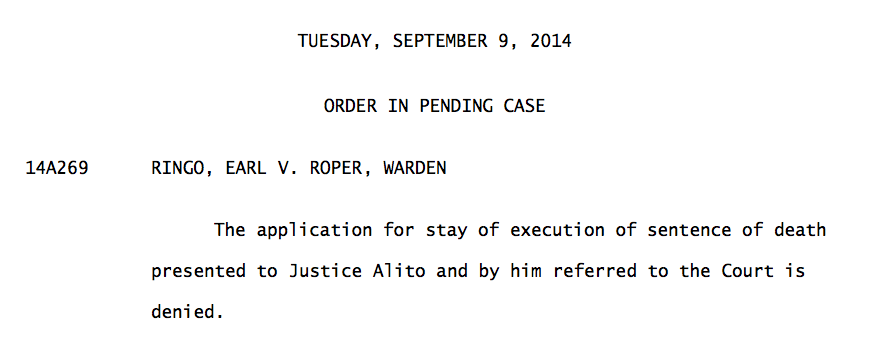 Update — 8:08 p.m.
Earl Ringo's lawyers have gone to the Supreme Court, seeking to stop an execution otherwise scheduled to take place in less than five hours. After the 8th Circuit Court of Appeals denied his request, a stay application was filed with the Supreme Court Tuesday evening. Missouri officials already have replied, opposing Ringo's request.
Update at 10:15 p.m. — Two certiorari petitions and related stay requests and one additional stay request pending appeal also were filed by Ringo's lawyers. State officials have responded to both certiorari petitions, opposing any stay request.
WASHINGTON — The 8th Circuit Court of Appeals has refused to stop the scheduled execution of Earl Ringo, denying a stay request filed with the court earlier Tuesday despite multiple revelations in the past week about the state's execution protocol. Ringo is scheduled to die at 12:01 a.m. CDT Wednesday in Missouri for a 1998 double-murder at a Columbia, Missouri restaurant.
Ringo's request for a stay of execution was before the full 8th Circuit, meaning that 10 judges considered his request. Seven voted to deny the stay, and three would have granted it. One judge, Duane Benton, did not participate in considering the request. Ringo's lawyers could now seek a stay with the Supreme Court.
Additionally, Gov. Jay Nixon is yet to issue any decision on a clemency request. Several groups led by the National Coalition to Abolish the Death Penalty, including the NAACP, asked Nixon on Tuesday to halt the scheduled execution because, they wrote, "We have serious concerns that Earl Ringo's death sentence and planned execution are the products of racial bias."
Ringo's scheduled execution would be the eighth execution in Missouri this year.
Although the 8th Circuit judges denying the stay gave no reasoning for their decision, Judge Kermit Bye, who would have granted the stay of execution, wrote a six-page opinion detailing why he and Judges Diana Murphy and Jane Kelly would have granted the stay to Ringo, who NBC News reported was convicted in the murders of delivery man Dennis Poyser and manager-in-training Joanna Baysinger during a 1998 robbery of a Ruby Tuesday.
Primarily, he wrote about how, in his view, recent reporting from St. Louis Public Radio and subsequent additional disclosures from Missouri officials about doses of midazolam given to death row inmates immediately prior to execution raised a question about whether such inmates are competent to be executed.
Bye wrote, "The unusually large doses of midazolam Missouri has intravenously injected into inmates in its last four executions – just minutes prior to the time when the death warrants become effective – is alarming with respect to the constitutional prohibition against executing a prisoner in a state of incompetency."
After discussing the process described by Missouri officials in documents requested by St. Louis Public Radio and then presented in a legal challenge brought by Ringo, Bye concluded:
Mr. Ringo has made a substantial threshold showing he will be incompetent to be executed at the moment it matters, and that Missouri is the active agent in causing the incompetence through its own conduct. Missouri has not presented evidence to indicate it intends to change its pattern and practice of intravenously injecting Mr. Ringo with midazolam in the minutes before his execution warrant becomes effective, as Missouri has done in every execution carried out in the past nine successive executions.
Additionally, Bye wrote that he agreed with Ringo's argument that "using such large doses of midazolam in the minutes prior to an execution amounts to a de facto use of the drug as part of its actual execution protocol." Missouri officials, however, have stated that their execution protocol consists only of one drug, pentobarbital. Accordingly, Bye wrote, "I believe these new revelations need to be fully aired in court before Missouri continues executing inmates under its current practice."
Read the full letter to Gov. Nixon:
Office of Governor Jay Nixon
P.O. Box 720
Jefferson City, MO 65102

Dear Governor Nixon:

We understand that the state of Missouri has set an execution date of September 10, 2014 for Earl Ringo. We must urge you to use your discretion to intervene so that this execution does not go forward.

We have serious concerns that Earl Ringo's death sentence and planned execution are the products of racial bias. Earl Ringo is an African American man who was sentenced to death by an all-white jury from Cape Girardeau County.

We represent a broad cross-section of national civil rights, human rights, and religious organizations and leaders committed to the protection rights and dignity of all people. Our system of justice must be fair, characterized by integrity, and beyond moral reproach. Such a system must be viewed universally as one where neither race, class, geography nor any other arbitrary factor plays a role in determining the outcome in a criminal case or the delivery of justice. We have grave concerns that this is not the case in Missouri.

According to the Sentencing Project's report, An Uneven Justice: State Rates of Incarceration by Race and Ethnicity, Missouri incarcerates African Americans at more than 5 times the rate of whites. African Americans make up 11.7% of Missouri's population, while whites make up 83.7% of the state's total population.

An American Bar Association report released in March 2012, "Evaluating the Fairness and Accuracy in State Death Penalty Systems: The Missouri Death Penalty Assessment Report," identified a number of concerns and needed reforms to ensure that the capital sentencing scheme in Missouri operated in a manner that was fair and consistent with the Eighth Amendment of the Constitution. Among the concerns raised was the question of racial bias in the administration of the death penalty.

A 2009 study of death sentencing in Missouri found that African Americans accused of killing white victims were most likely to be convicted of capital murder, while whites accused of killing African Americans were the least likely to result in a charge or conviction. Overall, the study found that the Missouri criminal justice system punishes crimes committed against white victims more severely than crimes committed against African American victims.

The preliminary results of a St. Louis University study, under the direction of Former Missouri Supreme Court Chief Justice Michael Wolff, indicate that racial factors continue to determine the outcome of capital cases in Missouri, with a significant overrepresentation of African Americans on death row.

We are very concerned that a travesty of justice will occur if Earl Ringo's execution goes forward as planned. We respectfully urge you to appoint a Board of Inquiry to examine the role of race in the charging decision, jury selection, trial and death sentence of Earl Ringo. In the alternative, we ask that this and any other executions not go forward before the St. Louis University Study has completed its analysis.

Thank you for your consideration of our perspective. We stand ready to work with you and support your efforts to restore a shared public confidence in the fairness of our legal system.

National Coalition to Abolish the Death Penalty

Bend the Arc: A Jewish Partnership for Justice

Charles Hamilton Houston Institute for Race and Justice, Harvard University

Hip Hop Caucus

Lawyers Committee for Civil Rights Under Law

Rev. Michael McBride, Director of Urban Strategies, LIVE FREE Campaign, PICO National Network.

NAACP

National Action Network

Dr. Virgil A. Wood