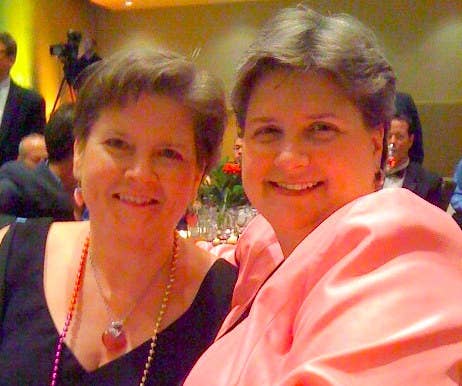 WASHINGTON — Oklahoma's ban on allowing same-sex couples to marry in the state is unconstitutional, a federal appeals court has ruled.
The judges of the 10th Circuit Court of Appeals also, however, decided that the lower court was correct in finding the a same-sex couple married in California could not sue the Tulsa County clerk for recognition of their marriage.
Following up on its earlier decision invalidating Utah's ban on same-sex marriage couples, the same three-judge panel ruled on the Oklahoma case in Friday's decision.
Although it dismissed the claim by the couple married in California, it did so because, like the trial court, it agreed that the couple had no standing to sue the particular person they sued, the Tulsa County clerk, because there was no evidence provided that the clerk does anything to recognize such marriages. The court added a caveat, however, with Judge Carlos Lucero — a Clinton appointee to the bench — writing:
No matter how compelling the equitable arguments for reaching the merits of the non-recognition claim, however, its fate must be determined by the law, and the law demands dismissal. The frustration that may be engendered by the court's disposition today should be tempered, however. Although it would not be appropriate to definitively opine on the matter, it is fair to surmise that the court's decision in Kitchen casts serious doubt on the continuing vitality of Part B.
The court stayed its ruling pending any petitions seeking Supreme Court review of the case, meaning no marriages for same-sex couples in Oklahoma immediately under the ruling.
In agreeing with the court's decision, Judge Jerome Holmes — a George W. Bush appointee — stated that he agreed with all of Lucero's opinion for the court. He wrote separately concurring in the decision, he stated, "to clarify the relationship between animus doctrine and same-sex marriage laws and to explain why the district court made the correct decision in declining to rely upon the animus doctrine."
Judge Paul Joseph Kelly, who was appointed to the bench by President George H.W. Bush and dissented from the earlier decision striking down Utah's marriage ban, also dissented from Friday's decision in the Oklahoma case. He wrote that, in addition to the couple who wed in California lacking standing, that he believed the couple wishing to marry in Oklahoma also lacked standing. As such, he would have dismissed the appeal. Even if he reached the appeal, applying a similar reason to the reason he dissented in the prior case, he would uphold the validity of Oklahoma's marriage ban.