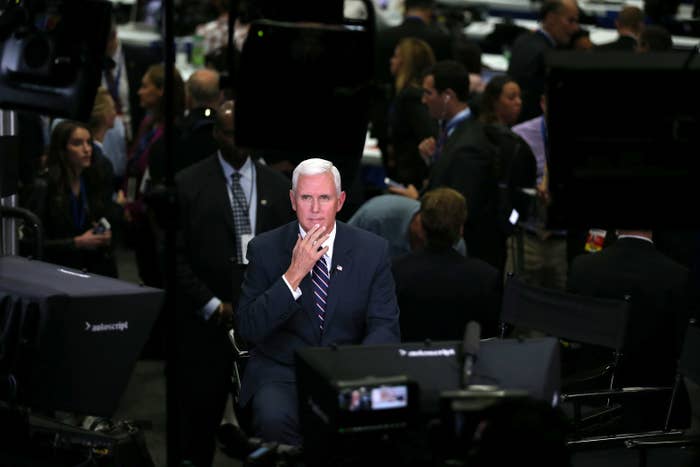 WASHINGTON — A federal appeals court on Monday harshly criticized Indiana Gov. Mike Pence's attempt to stop payments to a nonprofit organization that assists with resettlement of Syrian refugees.
A unanimous — and conservative — three-judge panel of the 7th Circuit Court of Appeals affirmed a preliminary injunction entered against the Indiana governor forbidding him from banning payments to the nonprofit.
"Fearing that Syrian immigrants may be potential terrorists, the governor wants to minimize their number in Indiana," 7th Circuit Judge Richard Posner wrote for the court about Pence. Because Pence lacks the power to "close Indiana's borders to them," Posner continued, the governor "has shifted his focus" to Exodus Refugee Immigration, Inc., a nonprofit organization that contracts with the state to provide social services to resettled refugees.
Despite Pence's fear, however, "the brief provides no evidence that Syrian terrorists are posing as refugees or that Syrian refugees have ever committed acts of terrorism in the United States. Indeed, as far as can be determined from public sources, no Syrian refugees have been arrested or prosecuted for terrorist acts or attempts in the United States."
The policy "is discrimination on the basis of nationality," Posner concluded in a section that compared Pence's argument to the argument of a person claiming that it would not be racial discrimination to say that one "wants to forbid black people to settle in Indiana not because they're black but because [the person]'s afraid of them."
The ruling comes a day before Pence, the Republican vice presidential nominee, is scheduled to debate Sen. Tim Kaine.

Posner was joined in his opinion by Judges Frank Easterbrook and Diane Sykes. All three judges were named to the appeals court by Republican presidents.
Sykes is one of the judges who Pence's running mate, Donald Trump, has named as a possible Supreme Court nominee in a Trump administration.