Federal Appeals Court Says Indiana Must Recognize Terminally Ill Woman's Same-Sex Marriage
An emergency order protecting Amy Sandler and Niki Quasney.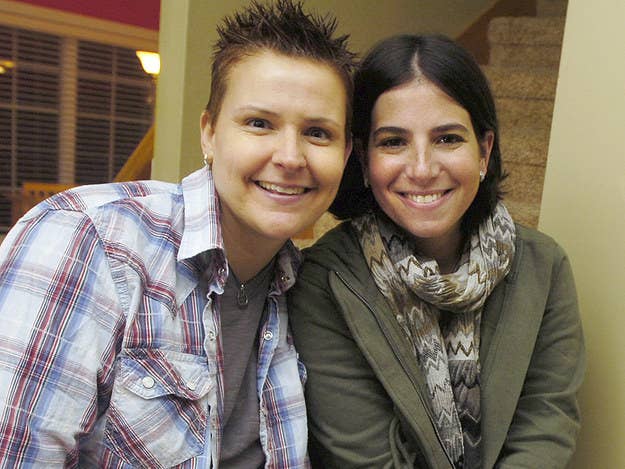 WASHINGTON — In a two-sentence order, the 7th Circuit Court of Appeals has ordered Indiana officials to recognize the marriage of a same-sex couple in which one of the women faces a terminal illness.
The same three-judge panel that halted Indiana marriages this past Friday issued Tuesday's order ordering the recognition of Amy Sandler and Nikole Quasney's marriage.
"IT IS ORDERED that the motion is GRANTED. The appellants are ORDERED to recognize the validity of the 2013 marriage between appellees Amy Sandler and Nikole Quasney on an emergency basis pending further order of the court," the court ordered.
Quasney has battled stage four ovarian cancer since 2009, and is no longer receiving treatment, according to the couple's attorneys at Lambda Legal. The Munster, Ind. couple, who raise two children, married in Massachusetts last year and have been together for 13 years.
Earlier, in April and May, a federal trial court judge had issued a temporary restraining order and then a preliminary injunction ordering the recognition of the couple's marriage. Indiana Attorney General Greg Zoeller and state officials are appealing that ruling to the 7th Circuit.
Although the 7th Circuit is considering the various marriage and marriage recognition cases together on appeal, Sandler and Quasner asked the 7th Circuit to lift the stay just as to them because of Quasney's illness. Earlier Tuesday, Zoeller's office filed a response opposing the emergency request to recognize the couple's marriage, but issued a statement asking the court to issue relief to the couple if the court could do so.
"The State has extensively researched this matter and sincerely wishes it found a provision within our State's statutes that would allow for some extraordinary relief, or humanitarian exception to the rule of law that would grant what petitioners request," Zoeller said in the statement. "If this Court can find an exception that would apply, this circumstance surely warrants its use."