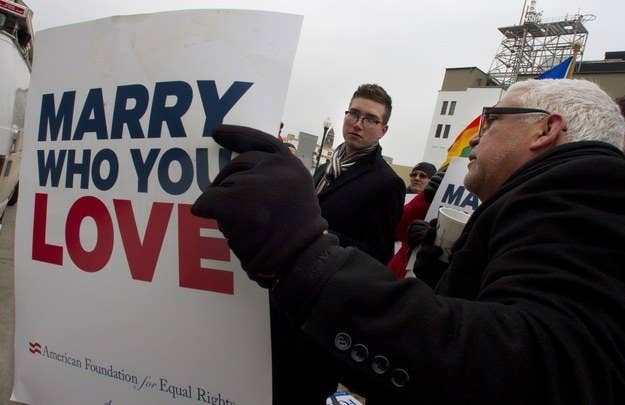 WASHINGTON — Same-sex couples will be able to marry next week in Virginia, if a Wednesday federal appeals court ruling is allowed to stand.
The federal appeals court that ruled Virginia's ban on same-sex couples' marriages is unconstitutional had been asked to stay its decision pending the appeal of the case. A stay would keep the ban in effect during any appeal.
On a 2-1 vote, the panel refused to do so on Wednesday.
Although Virginia Attorney General Mark Herring has fought the ban, his office supported the request of a county clerk who is defending the ban that the 4th Circuit Court of Appeals stay its ruling pending Supreme Court review.
Any party could now seek a stay from the Supreme Court itself, an application that would be made first to Chief Justice John Roberts, who considers such applications from within the 4th Circuit. Roberts could decide the matter himself or refer it to the whole court. The clerk — Michèle McQuigg, who is the clerk of the circuit court in Prince William County — has suggested that she will do so; Herring's communications director told BuzzFeed Wednesday that the office is reviewing the ruling and has not made a decision about its next steps.
In recent months, when a state or local party defendant has been appealing a marriage decision, the Supreme Court — or lower courts — have issued a stay of the decision pending appeal.
Absent further action, though, the 4th Circuit, under its rules, is due to issue its mandate in the case seven days from the Wednesday's stay denial, which would allow same-sex couples to marry on August 20. [Update: The court clarified on Thursday that the mandate will issue on the morning of August 21. See more below.]
As to the case itself, Herring filed a certiorari petition at the Supreme Court on Friday, asking the court to review the case so that a national resolution can be reached on the issue. McQuigg also has said that she will be filing a certiorari petition.
The lawyer for Clerk McQuigg, Alliance Defending Freedom Senior Counsel Byron Babione, said in a statement, "Because the 4th Circuit chose not to place a hold on its decision as other courts – including the U.S. Supreme Court – have done in nearly identical cases, we intend to ask the high court to do so in this case before the 4th Circuit's mandate goes into effect. We trust the Supreme Court will grant our request in order to ensure an orderly and dignified resolution of this important constitutional question."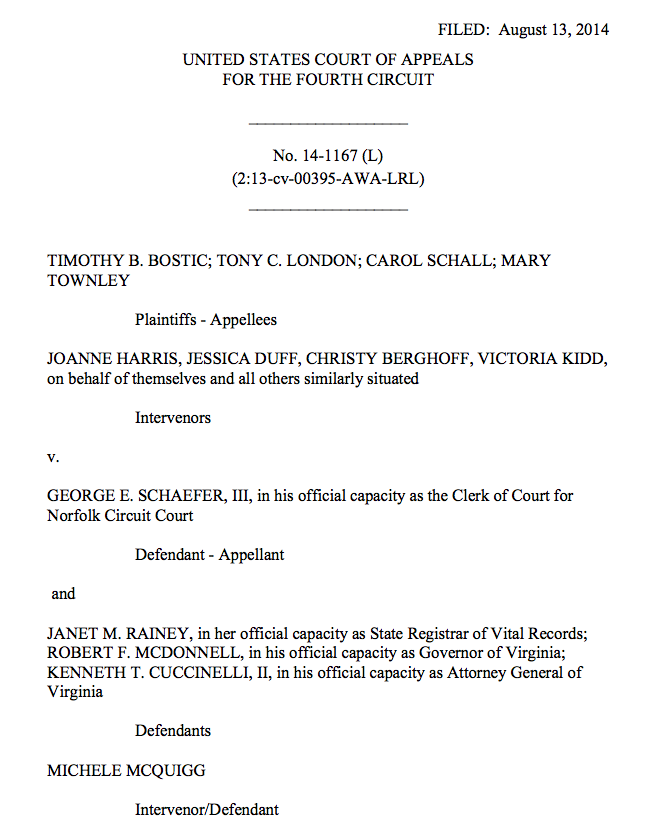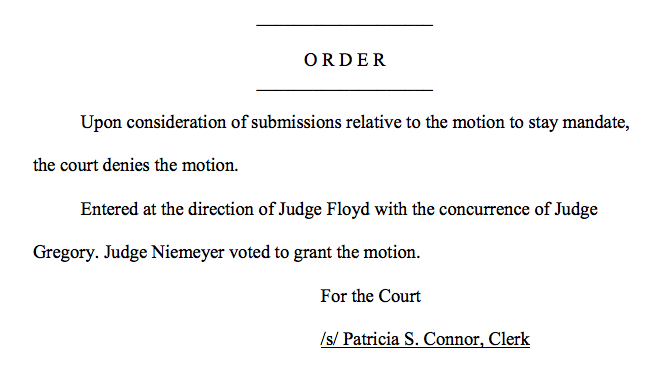 The court clarified on Thursday that the mandate will issue at 8 a.m. August 21.