ExxonMobil Relents, Adds LGBT Worker Protections
A long-sought change.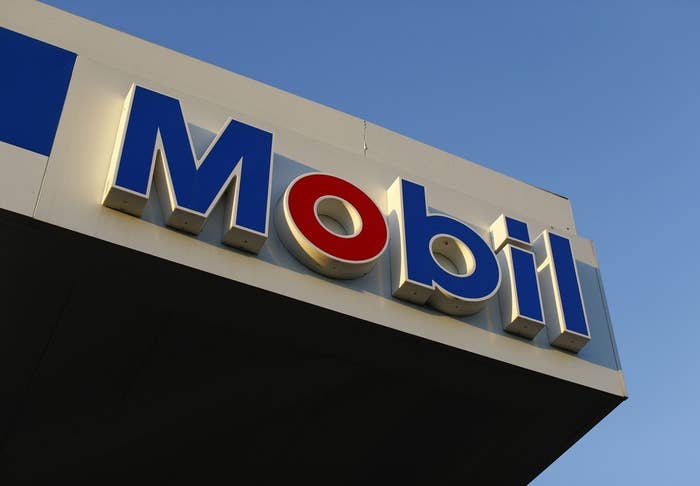 WASHINGTON — ExxonMobil has reversed its longstanding opposition to providing LGBT employment protections, a sign of the impact of President Obama's executive order banning federal contractors from discriminating on the basis of sexual orientation or gender identity.
LGBT advocates reacted to the news — a long-sought change — with continued dissatisfaction.
"This wasn't prompted by a change of principles or corporate values, it represents Exxon's response to President Obama's July 2014 executive order that prohibits federal contractors from discriminating against LGBT people," Deena Fidas, director of the Human Rights Campaign's Workplace Equality Program said in a statement. "Exxon had to include these explicit workplace protections or risk losing its federal contracts."
This past summer, the Associated Press reported that Exxon Mobil had "won more than $480 million in federal contracts in 2013 and more than $8 billion since 2006."
Tico Almeida, whose Freedom to Work organization is suing ExxonMobil for alleged anti-gay discrimination in its hiring processes, echoed Fidas.
"Exxon's management deserves little credit for finally adopting the LGBT fairness policies they have rejected year after year for almost two decades, but this is an important victory for the company's current LGBT employees and future LGBT job applicants," he said. "It's obvious Exxon is making these changes now because of mounting legal pressure and the impending risk of losing hundreds of millions of dollars in federal contracts thanks to President Obama's executive order."
He added: "We will continue prosecuting our civil rights lawsuit against Exxon in Illinois because the corporation should be held accountable for its discriminatory actions from the recent past.
Although Mobil had sexual orientation employment protections prior to its merger with Exxon in 1999, the company ended the protections under ExxonMobil. In May 2014, ExxonMobil shareholders rejected a resolution to add LGBT protections — the 17th rejection of such a proposal, the Washington Blade reported.
Obama signed the executive order banning federal contractors from anti-LGBT discrimination in July 2014, after years of pressure from advocates, and the Department of Labor posted the rule in December.
A message was left seeking comment from ExxonMobil on the changes.
Old Exxon Mobil policy: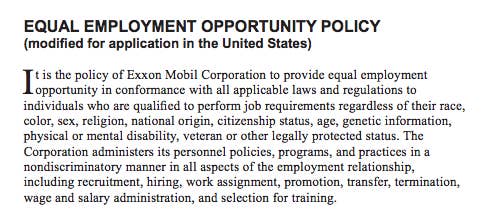 New Exxon Mobil policy: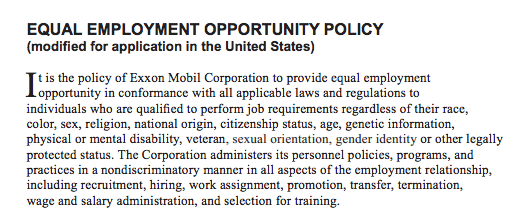 ExxonMobil provided the following statement to BuzzFeed News:
"ExxonMobil's U.S. Equal Employment Opportunity and Harassment in the Workplace policies have been updated to include sexual orientation and gender identity, which is consistent with ExxonMobil's long-standing practice of listing enumerated protected classes as defined by federal law," Scott J. Silvestri, ExxonMobil senior media relations advisor, told BuzzFeed News.
"ExxonMobil's policies prohibit all forms of discrimination in any company workplace, anywhere in the world. ExxonMobil supports a work environment that values diversity and inclusion, and has numerous inclusive programs and policies that help make ExxonMobil a great place to work."