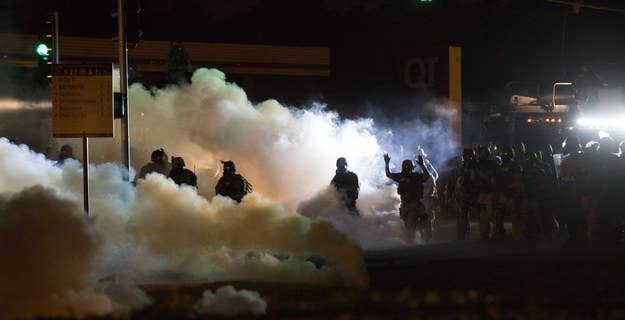 WASHINGTON — It's been nine days since Michael Brown was shot, unarmed, in the middle of a street in Ferguson, Mo., but civil rights and civil liberties legal advocates say the legal fallout from the shooting and its tumultuous aftermath are just beginning.
"There will be lawsuits up the kazoo," said Barbara Arnwine, the longtime president and executive director of the Lawyers' Committee for Civil Rights Under Law, in an interview Sunday evening. "I think you're going to see ripple after ripple of legal matters here in response to this outrageous situation."
The first matter will be the potential criminal and civil actions related to Brown's death. But legal experts also predict possible litigation stemming from the actions taken by police in Ferguson, lawsuits brought by store owners against the police related to looting, and even the imposition of a curfew.
Arnwine said the issues aren't going to be resolved anytime soon, either. "I think that we will see these issues playing out over time," she said. "I just don't expect there to be a situation where everybody packs up their suitcases and goes home, and the residents say all is forgiven and all is done. No way."
For Tony Rothert, the legal director for the ACLU of Missouri, each day raises more questions, he said.
"It seems like new problems and new situations are arising every day, and we don't know what they're all going to be, yet, I don't think," he said on Sunday afternoon. Less than 12 hours later, Missouri Gov. Jay Nixon called up the National Guard — adding another element to the picture of what's happening to the town in St. Louis County. On Monday afternoon, President Obama said he had spoken with Nixon earlier in the day and announced that Attorney General Eric Holder would be going to Ferguson on Wednesday.
With concurrent local and federal investigations into the death of Brown, there could be state and/or federal criminal charges filed in the case against Darren Wilson, the Ferguson police officer identified by the police as the shooter. The federal civil rights investigation could lead to charges against others, as well.
In additional to criminal matters, Brown's family has retained the services of civil rights lawyer Ben Crump, the Florida lawyer who has represented Trayvon Martin's family.
"When you're hearing the family has hired an independent coroner to conduct an autopsy, you know you're looking at a wrongful death lawsuit," Arnwine said. "They clearly are thinking about the intentional infliction of emotional distress. You had a body in the street for four hours — where in the world is that accepted police practice? Find me one manual, one training book that says that that's allowed," she noted, adding that police statements about Brown could be a part of any lawsuits by the family."
A step removed from the shooting itself is the access to records relating to the shooting. "We've already filed some lawsuits about access to public records," Rothert said, noting litigation the ACLU has brought on behalf of journalists in the state. "There are a number of issues regarding transparency that are out there that could lead to litigation." Specifically, Arnwine pointed to the failure of the Ferguson Police Department thus far to release relevant public records — especially the incident report.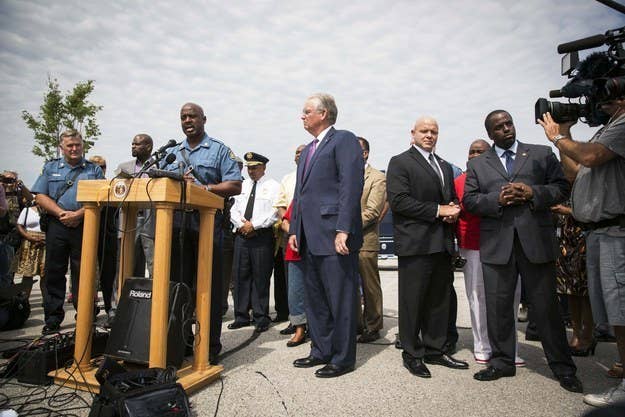 The next level of legal issues arising in Ferguson, Arnwine said, would be over the protests after the shooting and the government response to those protests.
The violent actions taken by police in the days after the shooting could form the basis of litigation, both lawyers said.
"The way the protests have been handled, as far as injuring people … and just false, false arrest — like the journalists who got arrested for no apparent reason, and there are non-journalists who have been arrested for no apparent reason," Rothert said, "there are 4th Amendment or 1st Amendment issues concerning that."
A particular hotspot: the curfew imposed by Nixon. On Sunday, the Lawyers' Committee, ACLU, and the NAACP Legal Defense and Education Fund condemned the curfew and called on Nixon to rescind the order authorizing it. Although he has not done that, Nixon said Monday there will be no curfew on Monday night, because of National Guard's presence in Ferguson.
Litigation, nonetheless, could still result from the curfew that was in place on the past two nights, from its continued use in the future, or even from the continued existence of the order authorizing the curfew.
"This curfew — the state of emergency and curfew order — is overbroad and vague. It violates most constitutional standards," Arnwine argued on Sunday evening, after one night of the curfew's imposition. "Just think about it, there's no indication in the order as to when the curfew ends."
And then there is the matter of the businesses that were damaged or looted. If culprits can be determined, either criminal or civil actions could be taken. But Rothert also noted that store owners could conceivably take action against the police.
"It's so obvious that the release of extra information on Friday was an intentional smear and escalated things that even the governor is saying so," he said. "Possibly, those business owners who've had financial losses could try to tie that to the police department."
Rothert also pointed to longtime concerns about racial justice in Missouri, and specifically the St. Louis area, noting that earlier this summer the ACLU of Missouri already was working on a project looking into racial disparities in traffic stops and searches in the state and area.
"That's been the longest time developing," he said of the racial disparities, "and that will take the longest time to fix."
Arwine also suggested that the impact could be seen outside of Ferguson, greater St. Louis, or even Missouri — a point further illustrated in a joint statement released by Arwine's organization and 12 other groups on Monday.
"People, as they learn about Ferguson, and as they become educated about their rights, they're saying, 'Wait a minute! We've got racial profiling in my city. We have police who have been abusive and using excessive force in our city,'" she said. "So, I think we probably will see other actions generated by people who become more educated — and not only educated, but emboldened — to say, 'Well, if that's my right, then I'm going to assert it.'"