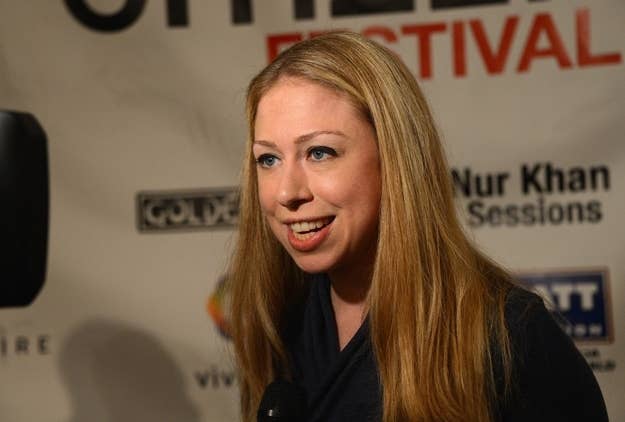 WASHINGTON — NBC News blocked backers of a key marriage equality measure in Washington State from using a video featuring Chelsea Clinton urging voters to support a state-wide referendum on gay marriage, BuzzFeed has learned.
Clinton, a vocal proponent of marriage equality, cut the video for a group supporting the Washington state measure, as well as a second video for another group. But NBC, for which Clinton works as a "special correspondent" since last November, "scuttled" the campaign, sources familiar with the ads said.
In the weeks before the November elections — where voters in Maine, Maryland, Minnesota and Washington voted on measures relating to same-sex couples' marriage rights — such prominent support would have been heavily sought. Clinton had supported efforts toward the legislative passage of marriage equality in New York, going so far as to attend and participate in a phone-banking effort in Manhattan before the legislature approved the bill in June 2011.
Chelsea Clinton is thought by many in the Clinton circle to be eyeing a political future, and her public support for marriage was an early step in that direction. Her role at NBC News — where she focused on good-news stories, and avoids politics — also appears to be a step in the direction of public life.
Three people who saw the videos confirmed their existence to BuzzFeed. They were fully prepared, with the script approved in advance, one source said. The video wasn't intended for TV broadcast, a second source said, suggesting they were instead to be used as web-based videos. The source added that multiple efforts had been intended beneficiaries of the former First Daughter's support.
No one would confirm on the record who the intended beneficiaries were, but the sources said that Washington's effort to approve Referendum 74 and the social media-based marriage equality effort, TheFour.com, would have been among the groups to have benefited.
In the video, a third source said that Clinton described her belief that everyone should have the freedom to marry, detailed the importance of the upcoming votes, and stated that success in the states voting on marriage would send a message to rest of the country.
In Washington, as well as the other three states, the efforts were successful nonetheless, with voters in Washington and Maryland approving marriage equality laws that had been put up to a referendum vote, voters in Maine approving a marriage equality initiative, and voters in Minnesota rejecting a constitutional amendment to ban same-sex couples from marrying.
Brian Ellner, one of the founders of TheFour.com, declared the effort that he had helped launch a success as well, telling BuzzFeed, "In the days leading up to the election, we reached over 4 million unique visitors and over 3.2 million potential voters in The Four states, including in top cities Baltimore, Seattle, and Minneapolis. On Election Day, we reached 2,237,203 people on Twitter alone."
A Clinton spokesperson did not respond to a request for comment on Wednesday, but The New York Post previously reported that Chelsea Clinton's NBC News contract was the reason why she was absent from the campaign trail in the 2012 election.
NBC did not respond immediately to an inquiry left Wednesday with its press office.