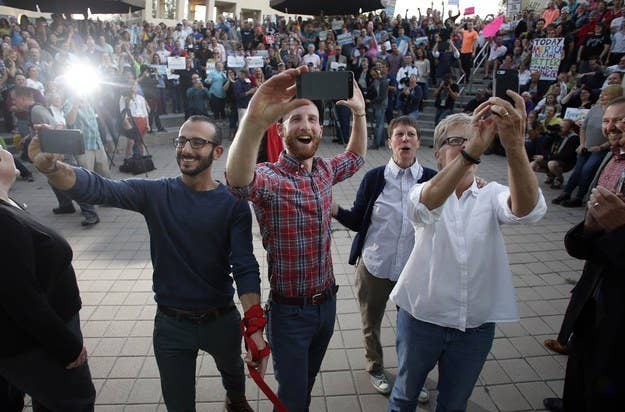 WASHINGTON — In the span of two days this week, a set of court decisions has drastically changed the marriage equality landscape — and kicked off a complex, intense legal process that could make anyone dizzy.
Despite some claims of "chaotic lawlessness," the week really comes down to two important court decisions. The rest is the ordinary "sorting out" process that follows big decisions.
That process can be confusing and frustrating — for same-sex couples, for lawyers, for judges, and for everyone trying to follow along — and the many moving pieces mean there will be some missteps, but that's not the same as lawlessness and it's not chaos.
1. The Supreme Court's decision on Monday morning not to hear appeals in marriage cases in five states.
These cases have been in the works for a year or more. They followed a similar arc: Federal judges overturned state bans on marriages for same-sex couples; appeals courts upheld those rulings. On Monday, the Supreme Court declined to hear states' appeals — letting the lower courts' rulings go into effect.
The primary result from that decision: Marriage equality became the law in those states — Indiana, Oklahoma, Utah, Virginia, and Wisconsin — within 24 hours.
But, more than that, many began talking about the expectation that marriage equality will reach several more states quickly, sort of like a chain reaction. This has to do with how the circuit court system works. When the Supreme Court declined to hear the marriage cases, the appeals court rulings became the law of the land in those court circuits — meaning, similar laws in other states would similarly be found unconstitutional.
Monday's Supreme Court action affected three circuits.
In the 4th Circuit, where the Virginia case was heard, three states do not have marriage equality currently: North Carolina, South Carolina, and West Virginia. In all three states, federal judges hearing preexisting cases already have issued orders toward resolving pending cases. In South Carolina, officials will fight the move to bring marriage equality to their state. In North Carolina and, now, West Virginia, officials have decided to stop fighting. [Update: Marriage equality came to West Virginia on Thursday.] [Update: Marriage equality came to North Carolina on Friday.]
In the 7th Circuit, where the Indiana and Wisconsin cases were heard, there was no real action. The only other state in the circuit, Illinois, already has marriage equality.
In the 10th Circuit, where the Oklahoma and Utah cases were heard, three states did not have marriage equality as of Monday: Colorado, Kansas, and Wyoming. In Colorado, the attorney general filed motions to dismiss appeals of trial court decisions that struck down the state's ban — and marriage equality started in the state on Tuesday. In Kansas, a couple was denied a marriage license — a move intended to set up a lawsuit in order to get a ruling striking it down. In the meantime, a judge in Johnson County announced through an administrative order on Wednesday that same-sex couples are allowed to marry in the Kansas county. In Wyoming, couples are seeking a court ruling that they now can marry. [Update: The Kansas attorney general took the Johnson County judge to court to stop same-sex couples' marriages.]
Why weren't the marriage bans just immediately unconstitutional?
That's how the legal system works. If state officials wish to argue that their state's ban is somehow different and distinguishable from state statutes that have already been struck down, they can do so. Given the law of their circuits, they will face an uphill battle at best — and it may be a delay tactic to keep same-sex couples from being able to marry — but that is not the same thing as lawlessness.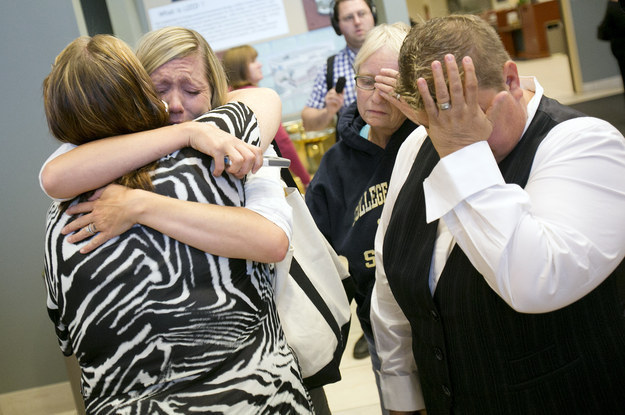 2. A completely different, other big decision came down on Tuesday, when the 9th Circuit Court of Appeals struck down the marriage bans in Idaho and Nevada.
The primary result from that decision is that marriage bans in Idaho and Nevada have been held by a federal appeals court to be unconstitutional.
Unlike following the Supreme Court action, however, this does not end the case. Cases can be appealed and final orders need to be issued to finalize the ruling. From there, things get a little complicated.
The rules of the 9th Circuit Court of Appeal state that the mandate — the final order from the court that sends a decision into effect — is not generally issued for several days. The rule allows for exceptions if "the Court directs otherwise." Here, for whatever reason, the court directed otherwise. Rather than wait the normal period, the court immediately issued the mandate, sending its ruling into effect.
Idaho and Nevada, the only two states directly affected, reacted differently.
Idaho: This mandate being issued meant that the federal trial court ruling that struck down Idaho's ban would go into effect immediately, and same-sex couples could marry.
By Wednesday morning, state officials filed an emergency motion in the 9th Circuit asking for a stay, or hold, and recall of the mandate — either of which would stop the ruling from going into effect. Idaho officials filed an emergency request for a temporary stay with Justice Anthony Kennedy.
Although the 9th Circuit didn't act, Kennedy did. He issued a stay of the mandate — halting the order from going into effect. [Update: Same-sex couples opposed the state's stay request on Thursday.] The 9th Circuit later — in response to Kennedy's action — recalled the mandate in the Idaho case, putting marriage equality on hold there for now.
[Update: The Supreme Court ended the stay of the 9th Circuit's Idaho marriage case mandate on Friday afternoon.]
Nevada: After the mandate was issued, Nevada state officials announced on Tuesday evening that they would not be seeking any further appeal of the matter.
Because — back in 2012 — the same-sex couples who sued the state lost at the trial court, however, there is no injunction in the case formally halting enforcement of the state's marriage ban. Following the state officials' comments, though, Clark County officials announced they would begin issuing marriage licenses to same-sex couples on Wednesday afternoon.
On Wednesday morning, however, Kennedy's initial order included the Nevada marriage case's case number when he put the Idaho decision on hold. The Nevada case wasn't supposed to be a part of the order — it was "erroneously included" in the order stopping Idaho same-sex couples' marriages from proceeding. Nonetheless, it put plans for same-sex couples' marriages in Nevada on hold as well.
A few hours later, Kennedy corrected the error — ending the stay of the mandate in the Nevada case. While this meant there was no order stopping marriage equality from beginning in Nevada, the remained no order that it begin either.
This happened in part because the trial court judge in the case recused himself on Wednesday morning. There was no one to issue an injunction in the case. Eventually, following an inquiry from BuzzFeed News, a new judge was assigned to the case — but no injunction had been issued as of Thursday afternoon. While all this was going on, the group that had backed the state's marriage amendment was fighting in the appeals court and Supreme Court to get a stay of the mandate, but they withdrew the requests in both courts on Thursday afternoon.
Because of all this confusion, though, Clark County announced Wednesday it would not begin issuing marriage licenses to same-sex couples for the time being.
While this is confusing, and parts of it disconcerting, these are problems that can be resolved relatively quickly within the legal system. And, once resolved, same-sex couples will begin marrying in Nevada. [Update: Same-sex couple have begun marrying in Nevada.] Idaho officials, meanwhile, have the right to exhaust all possible appeals, and it appears that they will do so. Again, though, this is the process at work.
The bottom line: Marriage equality is moving forward.
Confusing, frustrating, complex situations are normal as legal decisions work their way down through the system — it's not chaos and not lawlessness. While this week is overfilled with seemingly contradictory rulings, the week is better seen as a jolt to the system as the ramifications of two important decisions work their work down and throughout the legal system.
And in the context of a fight that began more than 40 years ago when a same-sex couple was told they could not get a marriage license in Minnesota, this week has been a long time coming.
Since Sunday night, America has gone from 19 states and Washington, D.C., with marriage equality to 25 — with seven more states waiting in the wings. What's more, once the situation is resolved in Nevada, a similar circuit-wide process will begin playing out in the three other states in the 9th Circuit currently without marriage equality: Alaska, Arizona, and Montana.
Once those states' situations are resolved, there will be 35 states with marriage equality. And, there are other appeals courts where cases are pending that could either increase that number — or, particularly if a court upholds a state's ban, lead the issue back to the Supreme Court.
Marriage equality is moving forward, quickly, and it will continue doing so until it's done.