Everybody Keeps Asking When The Supreme Court's Marriage Decision Is — So Here's A Guide
It could come Thursday, or next week, or the week after that. Breathe — and don't listen to anyone who tells you they know exactly when it's going to happen.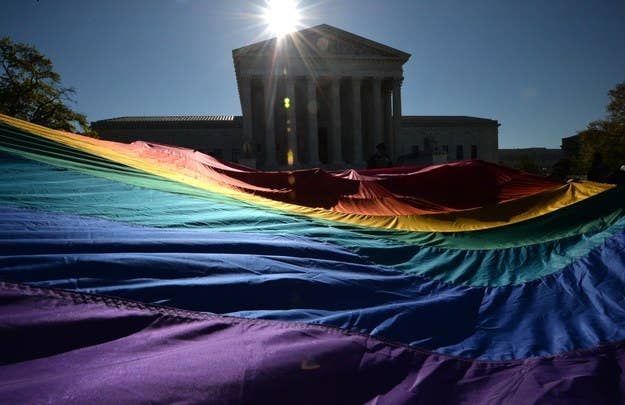 The anticipation for the Supreme Court's decision in Obergefell v. Hodges — the lead case before the court about same-sex couples' marriage rights — is high.
I know because people are asking me when the decision is coming down by every possible means of communication.
The questions at issue — debated out at oral arguments in April — are important: Can states ban same-sex couples from marrying, and can they refuse to recognize same-sex couples' marriages granted elsewhere?
So, to help everyone avoid the Twitter direct messages, Facebook messages, and texts, here is what we know — and don't know.
Early on, the questions started out nicely enough: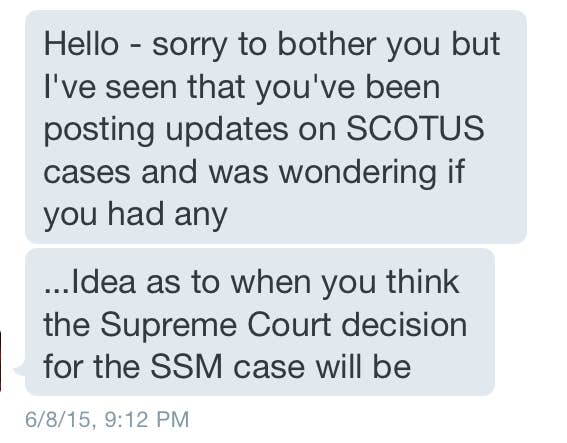 The answer to that is that we do not know. The Supreme Court, unlike some courts, does not give advance notice of what decisions are coming on what days. Instead, we only know — going into a given day — that the Supreme Court plans to issue one or more decisions on that day.
As SCOTUSblog puts it for this week's remaining opinion day: "We expect one or more opinions at 10 a.m. on Thursday."
The court generally issues all decisions for the term before the Fourth of July holiday, and usually by the end of June. However, if the court starts releasing the remaining 17 decisions slowly, expect rumors about "going into July" to begin in earnest. (Although rumors of going into July happen not irregularly, this has not actually happened since 1996.)
Beyond that, what else do we know?
It is true that the court saves some of its biggest cases for last — as detailed, statistically, in a recent law review article.
As such, expect marriage and the case challenging the availability of Obamacare subsidies to those purchasing insurance on the federal exchange to come toward the very end of the term. More than that, it seems most likely that the marriage cases — for which the justices released the audio on the same day as the arguments were held, the only case this term for which they did that — will come on the last day of decisions.
With 17 cases remaining for decision, many expect that — in addition to having decisions the week of June 22 — the court will finish issuing its decisions this term in the week of June 29.
That said, we don't know that! The justices could announce decisions in five cases tomorrow, for example, and then announce that, in addition to June 22, that there will be decisions issued on two other days next week. They could then issue four decisions each day — or five on Monday, four on another day, and three on the last day — and be done with it. We don't know!
Which brings us to the next issue: The court's practice of "adding" decision days. At the start of this month, the Supreme Court's calendar only had listed decision days on the Mondays of the month.
The court, however, regularly adds decision days to the weeks in June — and it has done so for this week, with Thursday.
But, that "unexpected" addition of the day — the Supreme Court's website merely says, "The Supreme Court has added a non-argument session for the announcement of opinions on Thursday, June 18, 2015, at 10 a.m." — has led to confusion and speculation for those unaware of the court's general practice of adding days in June.
Starting Wednesday, though, tensions rose: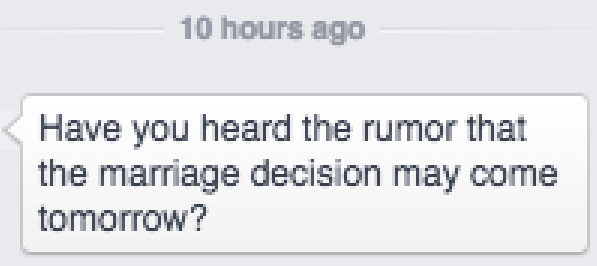 Yes, I have. So many times. And it is silly.
Here, for example, is the Supreme Court's schedule for last June — which, like this year's schedule, initially only had Monday decision days listed.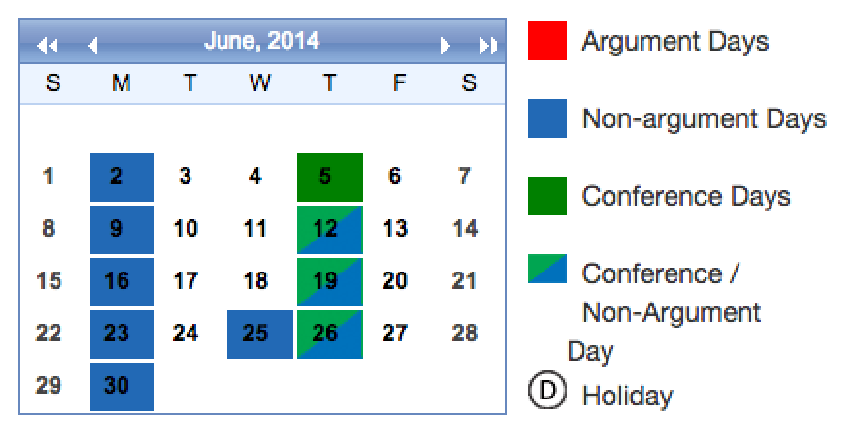 The Supreme Court added a decision day this week because there are 17 cases it has to get out the door before the justices can leave for summer vacation and because there are more opinions ready to hand down.
That's it.
Despite this, we had reached a fever pitch by this evening:

Fine, you've worn me down.
Based on the Supreme Court's past practice, in addition to this Thursday, we likely will have two or three days of opinions this coming week: June 22 and possibly June 23 or 24 and likely June 25. Then, if there are still cases remaining, we also will have opinions the next Monday, June 29, and possibly June 30. And, because we don't know anything for certain: We could go into July if things are moving slowly.
With 17 cases remaining, and with the marriage cases being a good pick for the biggest case of the term — and, subsequently, being handed down on the last day of decisions, it is most likely that the marriage cases will come down June 25, 29, or 30.
But:
THIS IS THE SUPREME COURT AND THE JUSTICES WILL DO WHATEVER THEY WANT.
And yet, the questions won't stop:

No.
But, now you know everything that I know about this — so, breathe, and follow me on Twitter — where I'll be tweeting about decisions at 10 a.m. Thursday (and any other upcoming decision days) from the Supreme Court.