The Marriage Equality Movement Is Getting Ready To Go Back To The Supreme Court
Evan Wolfson talks with BuzzFeed about "setting the stage for a successful return to the Supreme Court." He and his group, Freedom to Marry, are focused on making sure the justices and other decision-makers across the country know the debate is over.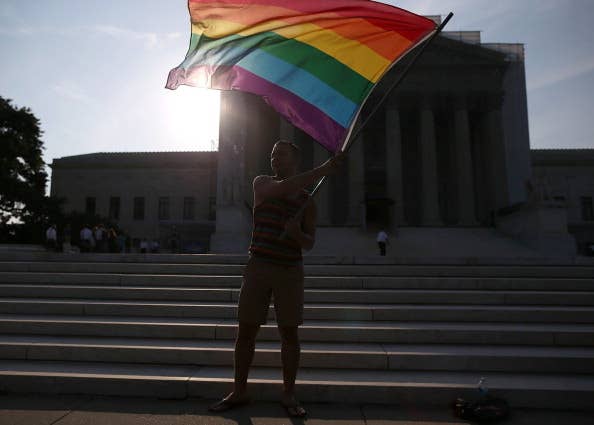 WASHINGTON — Evan Wolfson has never had a confidence problem. Even when many within the gay community opposed his focus on marriage rights as the key to unlocking equality in all realms of gay life, Wolfson stood his ground.
On Wednesday, more than 30 years after he made the case for same-sex couples' marriage rights while a student at Harvard Law School, Wolfson's confidence had become something more than that.
"It's time to end this discrimination, and not only will history vindicate those who do the right thing, but the public is ready for it," the founder and president of Freedom to Marry said Wednesday.
In dozens of interviews conducted over the past several years, Wolfson's tone has approached bravado at times, his spirit has been that of someone who knew he was pushing the envelope but did so because he was certain he was right. Now, speaking with BuzzFeed on Wednesday, Wolfson sounded more like a person who knows he's already won — and knows that others know it as well.
"We're coming off of several extraordinary years of momentum and progress and accomplishment, and everyone can feel the momentum," he said. "Every year, people think we can't top it — and then we top it."
Clearly, he has reason for his tone. In 2013 alone, marriage equality states doubled from nine on Jan. 1 to 18 on Dec. 31. In June, of course, the Supreme Court held that the federal ban on recognizing same-sex couples' marriages — the Defense of Marriage Act — was unconstitutional.
That 18th state, Utah, was a surprise to many — including most of the roughly 1,300 same-sex couples who married there — but is now in a sort of limbo, since the Supreme Court halted any more marriages during the appeal of the federal trial court judge's ruling striking down the state's marriage amendment. Nonetheless, Utah was soon joined by Oklahoma this month, when another federal judge ruled another state's marriage amendment unconstitutional.
Then, this week, the 9th Circuit Court of Appeals ruled that sexual orientation discrimination claims will receive "heightened scrutiny" within the circuit — a decision that would apply to a pending Nevada marriage case at the appeals court.
In a memorandum being distributed Thursday by the group Wolfson founded a little more than a decade ago, Freedom to Marry details "the Pathway to Winning Marriage Nationwide" in light of these and other recent developments.
"What we're trying to do in the memo is underscore that, while there will be flash points, there will be things that aren't 100% predictable — like, when a ruling comes where — the fact that there is this litigation is part of the strategy and part of the momentum and part of, though not the entirety of, the work that is needed — all of which is about setting the stage for a successful return to the Supreme Court," he said.
The pathway, to put it simply, is a trip back to the Supreme Court.
The trip back is needed because of the second marriage-related case the court heard last year, the challenge to California's Proposition 8. Although the justices' decision allowed same-sex couples' marriages in California to resume, Ted Olson's aim of a 50-state ruling from his case challenging the 2008 initiative didn't happen. Instead, the justices sent the case back on a decision about standing, or the right of a party to bring the appeal, that avoided a ruling on the merits of the plaintiffs' claims.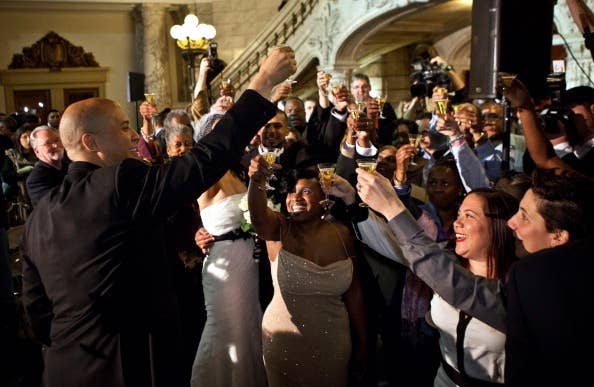 So now Wolfson's aim is to make sure that his and other groups have done all they can before a case makes its way back to the Supreme Court so that the justices take that case head on — and decide it his way.
"We know what the strategy is, we know what the path forward is, but we don't know — and what no one knows is — the timeline," Wolfson said. "We have to operate on two timelines: one being where we're in front of the Supreme Court sooner" — likely, he said, in the next court term that begins in October and would be expected to end in June 2015 — "and the other where we're in front of the Supreme Court a little later" — which he would place in the 2017 to 2019 range. "Because we don't know, we have to do the work that's needed to win on that [latter] timeline, even as we're doing the work that's needed to win on the 2015 timeline. So, it's one strategy, two timelines."
The quicker timeline has become a significantly more likely possibility as the 6th and 10th Circuits, in addition to the 9th Circuit, have marriage or marriage recognition cases pending. Any of those cases, or others, could result in rulings this year that lead the losing party to seek Supreme Court review.
Wolfson's strategy until that time, though, entails continuing to press Freedom to Marry's long-term three-track strategy to win marriage equality nationwide: improving public opinion on the issue, winning more states, and ending federal marriage discrimination.
This is where the recent successes make Wolfson and other advocates' jobs a little more difficult — or at least, require of them a little more creativity. Even Freedom to Marry's memo acknowledges that it is only "working to secure marriage in one more state this year — Oregon — the first opportunity to reverse an anti-gay constitutional amendment and replace it with a guarantee of the freedom to marry."
No other states are expected to advance with marriage equality measures this year (although some advocates are pressing a ballot measure in Ohio similar to the one planned for Oregon) because most states that don't already have marriage equality have state constitutional amendments blocking same-sex couples from marrying. Only four states remain without marriage equality that do not have a constitutional amendment — Indiana, Pennsylvania, West Virginia, and Wyoming — and marriage equality is not expected to advance in any of those states' legislatures this year.
Freedom to Marry's third prong, ending federal marriage discrimination, is down to specific statutory provisions and regulatory decisions, but, for the most part, is being addressed. Moreover, remaining victories for federal recognition are unlikely to move the ball much in terms of changing the national discussion on the issue.
Which leaves public opinion. Freedom to Marry does plan to continue to push the conversation on that front, releasing new polling Thursday that shows that 51% of registered voters in states without marriage equality favor allowing gay and lesbian couples to marry legally, whereas only 41% oppose.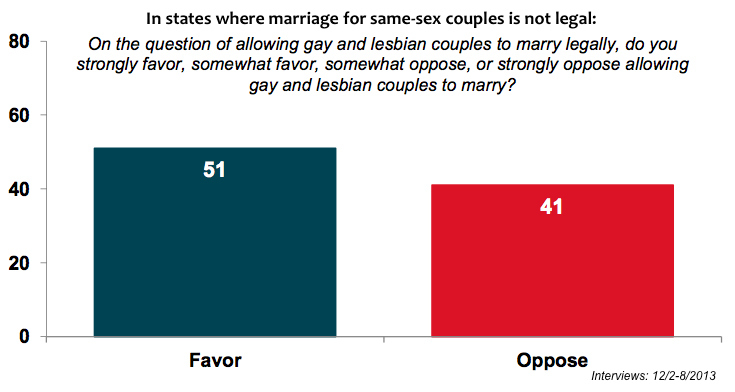 Of the new polling, Wolfson said, "That shows the momentum. We have majority support in the non-marriage states, in the states that still discriminate. And this is the first poll to show that. It's conveying to the court and to the next wave of decision makers that America is ready."
The survey, conducted Dec. 2–8, 2013, by Anzalone Liszt Grove Research for Freedom to Marry, broke down support into regions, with Indiana, Kansas, Michigan, Missouri, Nebraska, North Dakota, Ohio, Pennsylvania, South Dakota, and Wisconsin respondents — the central region — favoring marriage equality by a 23-point margin (59% favor, 36% oppose). Respondents in the western region — Alaska, Arizona, Colorado, Idaho, Montana, New Mexico, Nevada, Oregon, Utah, and Wyoming — favored marriage by a 19-point margin (53% favor, 34% oppose). In the South, which included Alabama, Arkansas, Florida, Georgia, Kentucky, Louisiana, Mississippi, North Carolina, Oklahoma, South Carolina, Tennessee, Texas, Virginia, and West Virginia, respondents were split evenly (46% favor, 46% oppose).
Finally — and another data point that could help explain Wolfson's changed tone — 56% of the survey's respondents believe that it is likely that marriage for same-sex couples will be legal in their state in a couple of years.
This, Wolfson said, is "the biggest work" his group is doing now: "send[ing] the message to decision makers — including judges and justices, but also elected officials — that America is ready for the freedom to marry."
Sure, it's still the argument of an advocate fighting for his cause, but now Wolfson has the cases, the president, many judges and lawmakers, nearly 20 states, and the public behind him.
Read the Freedom to Marry memo:
Download PDF
Read the polling memo:
Download PDF