Eleven Republicans Vote For Benefits For Married Same-Sex Couples
The nonbinding vote isn't expected to create new law — but it's a notable insight into a party in flux as the Supreme Court considers making nationwide marriage equality a reality this summer.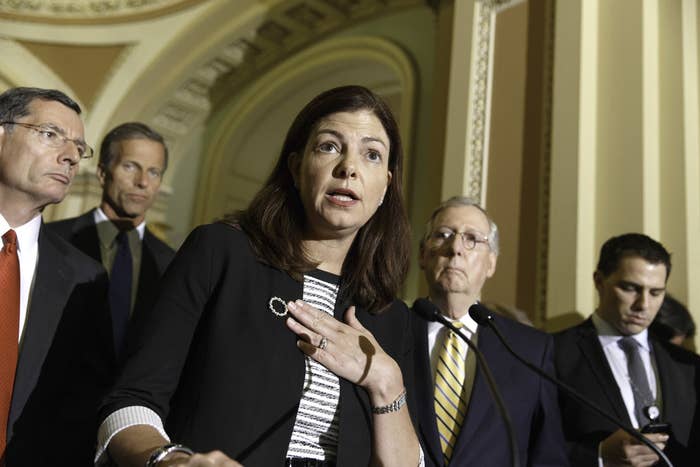 WASHINGTON — Eleven Senate Republicans joined with all of the Democrats on Thursday night in supporting an amendment to guarantee equal Social Security and veterans benefits to married same-sex couples — even if they live in a state that does not recognize such marriages.
The vote was one of many, nonbinding Senate votes of a broad range of hot-button issues for a budget that might not even pass the upper chamber.
Nonetheless, the vote gives rare insight into the potential changes going on within the Republican Party on the marriage issue in advance of the coming Supreme Court decision widely expected to hold that bans on same-sex couples' marriages are unconstitutional. Six of the 11 Republicans voting for the measure are up for re-election in 2016.
The amendment, proposed by Sen. Brian Schatz, addressed the fact that both Social Security and some provisions of veterans' benefits are, by statute, provided to spouses on the basis of whether a couple's marriage is recognized by the state in which they live. The amendment would provide for benefits for spouses for all married same-sex couples, regardless of where they live.
The four Republicans who have previously announced support for marriage equality — Sens. Susan Collins of Maine, Mark Kirk of Illinois, Lisa Murkowski of Alaska, and Rob Portman of Ohio — were joined by seven GOP colleagues in supporting the amendment. Of the four, only Portman lives in a state that does not recognize same-sex couples' marriages.
Six of the remaining seven Republicans to support the measure represent states in which marriage equality already is the law: Sens. Kelly Ayotte of New Hampshire, Richard Burr and Thom Tillis of North Carolina, Shelley Moore Capito of West Virginia, Dean Heller of Nevada, and Ron Johnson of Wisconsin all voted for the amendment.
Tillis' support for the measure is notable given that, in his prior office as speaker of the North Carolina House of Representatives, he intervened in marriage lawsuits in the state to defend his state's ban.
Sen. Bob Corker of Tennessee was the final Republican voting for the amendment — notable not only because he comes from a state without marriage equality, like Portman, but also because his state's ban is one of the four pending before the Supreme Court, also like Portman.
Beyond the four who have expressed support for marriage equality previously, some of the others have been receptive to pro-LGBT measures in the past. Ayotte and Heller voted for the Employment Non-Discrimination Act, which would ban job discrimination against LGBT workers in 2013. Burr voted for the repeal of "don't ask, don't tell" law in 2010.
The lone Democratic holdout on marriage equality, West Virginia Sen. Joe Manchin, joined his fellow Democrats and his state's Republican senator in voting for the amendment on Thursday night. Although he voted for ENDA in 2013, he did not cast a vote for or against the repeal of "don't ask, don't tell."
Notably, none of the 2016 presidential contenders in the Senate — Sens. Ted Cruz, Rand Paul, and Marco Rubio — supported the amendment.
In a statement, Schatz praised the bipartisan support the measure received.
"Tonight, eleven Republicans joined Democrats in recognizing that gay couples deserve equal treatment, regardless of where they live," he said. "We still have work to do to, but this is progress and a win for equal rights."
The vote came the night before the states defending bans on same-sex couples' marriages at the Supreme Court — Ohio and Tennessee, along with Michigan and Kentucky — are due to file their briefs in support of the bans.
It also comes hours after a federal judge in Texas ruled on a similar issue to Thursday night's vote, stopping the Obama administration from implementing a new rule that would force states that don't recognize same-sex couples' marriages to grant employees with same-sex spouses the same medical leave they must give to opposite-sex married couples under the Family and Medical Leave Act.