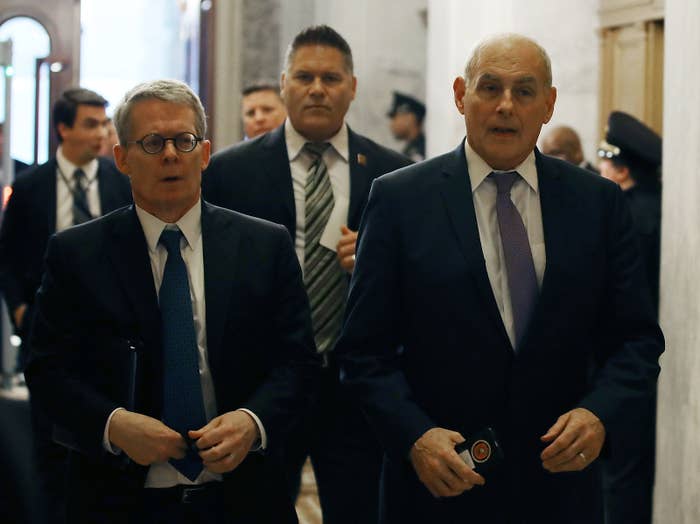 Congressional leaders on Thursday participated in an unusual pair of meetings with administration officials to discuss the FBI's use of an informant in its counterintelligence investigation into the Trump campaign's ties to Russia in 2016.
Democrats who attended the meetings said there was "no evidence" presented to support the claim repeatedly made by President Donald Trump in recent days that the FBI placed a "spy" in the Trump campaign. The meetings — which took place in different locations with overlapping but different attendees — were both led by FBI and DOJ officials and also included Director of National Intelligence Dan Coats.
The meetings came out of ongoing requests by two House Republicans — House Intelligence Committee Chair Devin Nunes and House Oversight Committee Chair Trey Gowdy — to review the classified materials related to an FBI informant. Multiple outlets have identified that informant as professor Stefan Halper, who reportedly met with three members of the Trump campaign: Carter Page, George Papadopoulos, and Sam Clovis during the campaign.
Over the weekend, Trump issued a "demand" that DOJ investigate whether surveillance of his campaign was conducted "for political purposes." That led to a Monday meeting between White House and DOJ officials, which in turn led to Thursday's meetings.
In the interim, Trump and Rudy Giuliani, his outside lawyer in the special counsel's investigation, have made an effort to characterize the situation as "Spygate" — with Trump repeatedly claiming, without evidence, that it could be "one of the biggest political scandals in history."
Initially, only a meeting for Nunes and Gowdy was planned, but Democrats and Senate Republicans questioned the move — leading to one briefing being set for Gowdy and Nunes and a second briefing for the "Gang of Eight," the House and Senate majority and minority leaders and both chambers' intelligence committee's leaders from each party. (There were more "musical chairs" changes in the run-up to the meetings: Gowdy was invited to both meetings; House Speaker Paul Ryan attended only the first meeting, due to a scheduling conflict; and Rep. Adam Schiff, the Ranking Democrat on the House Intelligence Committee, eventually was invited to attend both meetings as well.)
After the briefings, Schiff issued a statement on behalf of the Democrats. "Nothing we heard today has changed our view that there is no evidence to support any allegation that the FBI or any intelligence agency placed a spy in the Trump campaign or otherwise failed to follow appropriate procedures or protocols," he told reporters.
A spokesperson for Nunes declined to comment on the meetings.
Senate Majority Leader Mitch McConnell; Senate Minority Leader Chuck Schumer; House Minority Leader Nancy Pelosi; Senate Intelligence Committee Chair Richard Burr; and Sen. Mark Warner, the ranking Democrat on the Intelligence Committee, also attended the second briefing.

White House press secretary Sarah Sanders had said earlier in the week that no White House staff members would attend the originally planned briefing for Nunes and Gowdy. But on Thursday, both White House chief of staff John Kelly and White House lawyer Emmet Flood, who recently took over from Ty Cobb as the White House's lead lawyer on the Russia investigation, attended both meetings.
On Thursday afternoon, Sanders said in a statement that Kelly and Flood attended "to facilitate" the meetings.
"Neither Chief Kelly nor Mr. Flood actually attended the meetings but did make brief remarks before the meetings started to relay the President's desire for as much openness as possible under the law. They also conveyed the President's understanding of the need to protect human intelligence services and the importance of communication between the branches of government," Sanders said. "After making their brief comments they departed before the meetings officially started."

Sen. Mark Warner confirmed that Kelly and Flood left before the second classified briefing began, but nonetheless raised concern. "There's never been a gang of eight meeting with that kind of White House presence," he said, later tweeting that they had "no business" being there.
Schiff went further in an individual statement, saying, "Emmet Flood's presence and statement at the outset of both meetings today was completely inappropriate. Although he did not participate in the meetings which followed, as the White House's attorney handling the Special Counsel's investigation, his involvement — in any capacity — was entirely improper, and I made this clear to him.
A Democratic aide said that multiple Democrats in the meeting confronted Flood and Kelly about "the inappropriateness of their presence."
Schiff also noted, "His presence only underscores what Rudy Giuliani said: the President's legal team expects to use information gleaned improperly from the Justice Department or the President's allies in Congress to their legal advantage."