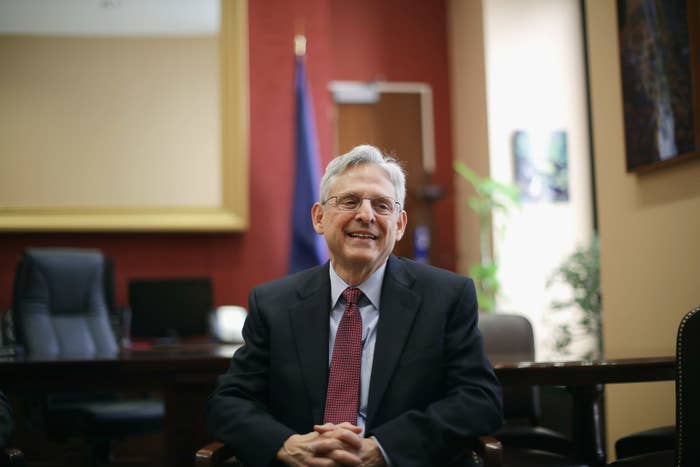 WASHINGTON — As the Senate returned from its summer recess, Democrats and associated interested groups readied a fall push for President Obama's Supreme Court nominee, Judge Merrick Garland.
New polling out from a Democratic-leaning firm on Wednesday shows that the issue does matter to some voters in key states like Iowa, where the Senate Judiciary Committee chair, Sen. Chuck Grassley, is up for re-election, and in Pennsylvania and New Hampshire, where Sens. Pat Toomey and Kelly Ayotte, respectively, are in tight races seeking to hold onto their seats. Their races, moreover, are two of the key races Democrats must win if they hope to take back the Senate majority.
In the new Public Policy Polling polls, an advance copy of which was provided to BuzzFeed News by the We Need Nine outside effort to press for Senate action, 40% of Iowa voters said they would be less likely to vote for Grassley if he opposed holding confirmation hearings for Garland. Only 26% say they would be more likely to vote for him in that situation.
In the polling, a majority of Pennsylvanians (51%) say the vacant seat on the Supreme Court should be filled this year. A great majority — 56% — say the Senate should at least hold confirmation hearings on Obama's nominee. In the New Hampshire polling, only 38% agree more that Ayotte is doing what's in the best interest of the country — while 52% agree more that she is playing politics by opposing confirmation hearings for Garland.

Garland — a federal appeals court judge for the D.C. Circuit — was nominated by Obama in March to replace Justice Antonin Scalia, who died in February.

Over the past six months, the Republican leadership in the Senate has maintained a clear position that the Senate will not move on Obama's nominee. There is no sign that there will be any action in the next two months — although talk of possible movement on Garland's nomination in the lame-duck Senate session, if Hillary Clinton wins the presidency, already has been raised.
The question in the meantime, however, is whether the issue will make it to the front of voters' minds come Election Day. Senate Democrats and their outside allies are keenly aware of that challenge — and aim to make the vacancy an issue.
Democrats have said there should be a political price to pay for Republican senators' failure to "do their job" — as the Democratic talking point goes — and the next two months give Democrats their last moment to turn that threat into reality.
In a floor speech on Tuesday, the ranking Democrat on the Judiciary Committee, Sen. Patrick Leahy, made that clear in a speech railing against the Republicans' failure to move on the nomination.
"This unprecedented and unwarranted stance has already undermined one term of the high court, but there is still time to avoid harming another term," Leahy said. "There is still plenty of time to have a hearing and vote swiftly on Chief Judge Garland's nomination. It's time for the Senate to get back to work."

The Leadership Conference on Civil and Human Rights — an umbrella organization of many of the nation's largest civil rights organizations — on Tuesday issued a statement as well, urging movement not just on Garland's nomination but also on the "90 judicial vacancies – and counting" in lower federal courts.
In a line sure to be repeated in coming weeks, the group's vice president, Nancy Zirkin, said, "[T]he failure of Senate Republicans to do their job is denying justice to millions of Americans who can't get their day in court. This must end now."
It's not all statements and speeches. The We Need Nine campaign also will be promoting a Snapchat filter all day Wednesday that will be active around the Supreme Court and Capitol Hill areas to coincide with more speeches. The campaign is holding a news conference in front of the Supreme Court building on Wednesday morning that will feature lawmakers, some of Garland's former judicial clerks, and others urging Senate action on the nomination.
The We Need Nine campaign's Wednesday Snapchat filter: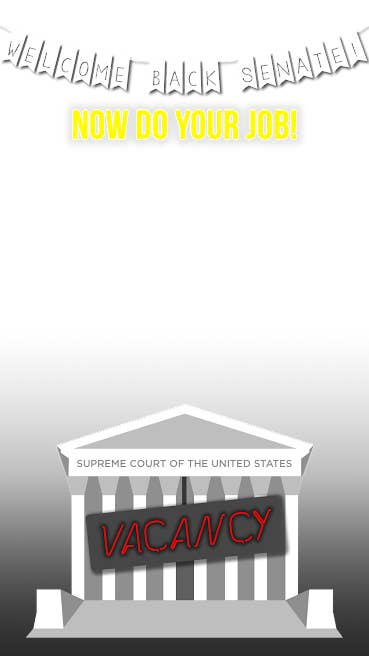 CORRECTION
President Obama nominated Merrick Garland for the Supreme Court vacancy in March. The initial report incorrectly said the nomination was made in April.