Democratic Leaders Blast Republicans For Setting Aside $3M To Defend DOMA
"This clandestine commitment of taxpayer funds is highly irregular and objectionable, and it must end now," Democratic leaders write to Boehner about the increased cost cap.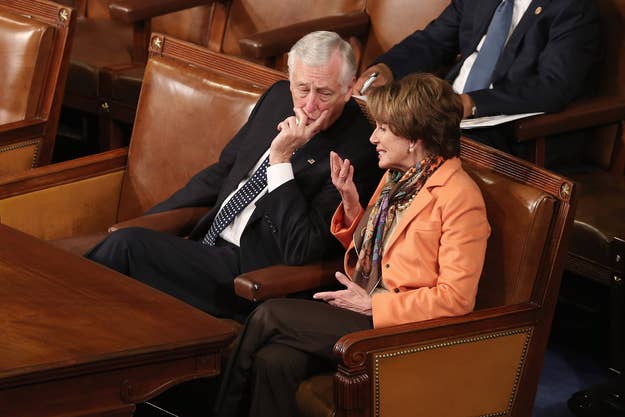 WASHINGTON — House Minority Leader Nancy Pelosi and Minority Whip Steny Hoyer blasted House Republican leaders Tuesday for their continued legal support for the Defense of Marriage Act — which Republicans have now authorized $3 million to defend.
"This clandestine commitment of taxpayer funds is highly irregular and objectionable, and it must end now," the pair wrote in a letter to House Speaker John Boehner. Calling Republicans' efforts "a practice in futility and a waste of Americans' hard-earned tax dollars," Pelosi and Hoyer's latest criticism comes as the House Administration Committee chair, Rep. Candice Miller of Michigan, on Jan. 4 approved the defense of the 1996 law by Bancroft PLLC's Paul Clement to reach costs of $3 million.
As the minority members of the five-person House Bipartisan Legal Advisory Group that authorized the DOMA defense when Attorney General Eric Holder announced in February 2011 that he and President Obama had concluded that DOMA was unconstitutional, Pelosi and Hoyer have opposed the defense each step of the way.
"This is not the first time that House Republicans have made a unilateral decision to raise the ceiling on expenditures for this wasteful litigation that supports a discriminatory statute, without any public discussion or advance notice to Democratic members of the BLAG, Members of the House, or the public," Pelosi and Hoyer wrote to Boehner.
Now, with one of the cases challenging DOMA — the case brought by Edith Windsor — having been accepted by the Supreme Court to be heard in March, the defense could reach its end in June.
Until then, however, House leaders remain committed to continuing the defense. At a December news conference, House Speaker John Boehner said, "If the Justice Department is not going to enforce the law of the land, the Congress will." Rules adopted by the House at the start of the 113th Congress on Jan. 3 specifically authorize the continued legal support of DOMA.
Pelosi and Hoyer's DOMA Cost Cap Letter