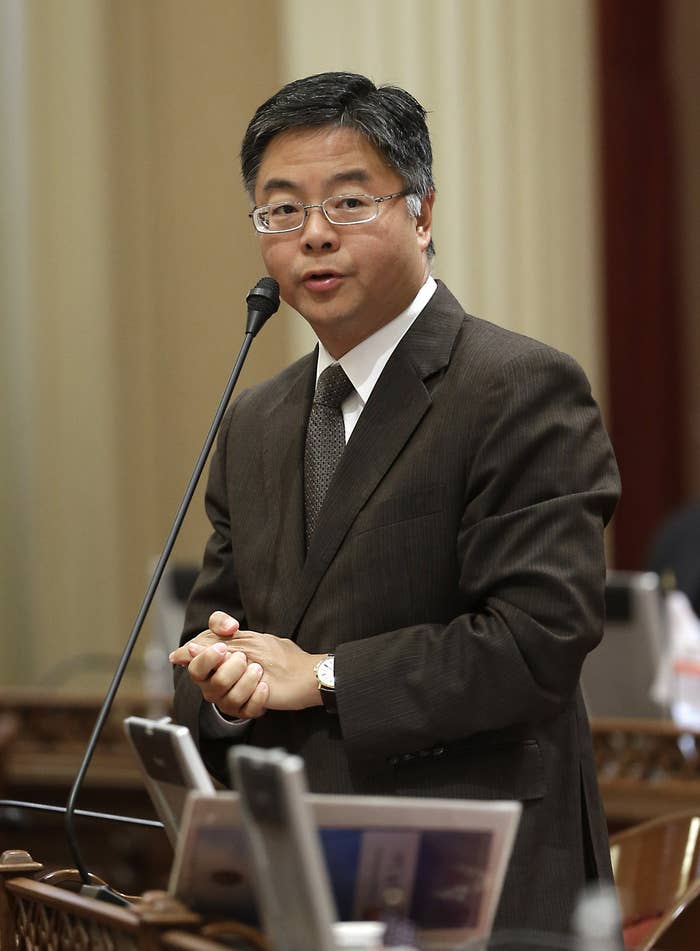 WASHINGTON — On Tuesday morning, Democratic Rep. Ted Lieu of California will introduce a federal bill to ban commercial efforts to change people's sexual orientation or gender identity — often called conversion therapy.
"The public views conversion therapy as quackery, as something that harms people," Lieu told BuzzFeed News on Monday afternoon, just after landing back in D.C. from California. "Eventually, I believe Congress will catch up to that, but you do need to start somewhere, so that's why we're introducing this legislation."
He faces an uphill battle: The legislation, which would label conversion therapy an "unfair or deceptive act or practice" that would be illegal under the Federal Trade Commission Act, is being introduced with less than three dozen co-sponsors — all of whom are Democrats.
Lieu does, however, have a powerful ally in his effort. Minority Leader Nancy Pelosi has signed on as an original co-sponsor of the bill.
"Conversion therapy is abusive, destructive, discredited, and has no place in any medical practice," Pelosi said in a statement. "This legislation will stop conversion therapy peddlers from committing these fraudulent and hateful acts against LGBT children and adults. Being LGBT is not an error to be corrected."
While in the California Senate, Lieu was behind a similar effort and, in 2012, California became the first state in the country to ban the practice for use on minors. Since then, with legislation largely modeled after California's law, New Jersey, Oregon, and D.C. have passed similar bans. Just last month, President Obama backed such bans.
But now, Lieu — who only entered Congress in January after his election last fall — is attempting to go further, with a national bill that has a broader scope and would not be limited to those under 18.
"The bill is … broader, obviously, because it's nationwide," he said. "But, what this bill seeks to do is to reaffirm what medical science has already stated formally: Being gay or lesbian or transgender is not a mental disease, illness, or defect that needs any sort of cure."
He aims to do so on a federal level by applying the existing laws addressing "unfair or deceptive act[s] or practice[s]" to conversion therapy. The bill would make illegal any commercial conversion therapy and any advertising for conversion therapy under certain conditions. The Federal Trade Commission would enforce the provision the same as it does other prohibited practices.
"This bill uses the FTC," he said. "There's nothing unusual about government going out and trying to protect consumers against fraud. It happens all over the place." When asked whether the FTC had ever been used to address the provision of mental health services, however, he acknowledged, "[W]e'd have to go do some research on that. I don't know that exact answer."
As Lieu noted, the Food and Drug Administration regulates extensive aspects of medical practice. As an advocate noted, Congress also has taken steps — outside of the FTC — to address mental health services, including 2008's Mental Health Parity and Addiction Equity Act.
Lieu, however, pressed his case Monday afternoon for why it made sense to look to the FTC to address conversion therapy.
"There is no medical condition known as 'being gay or lesbian.' That is not a medical disease, defect, and for people to charge money to treat you for something that's not an illness is fraud," Lieu said. "There already is an established baseline that you cannot practice medicine below a reasonable standard of care, and when you purport to treat someone for a condition they don't have, that would be medical malpractice."
Referencing an ongoing lawsuit that the Southern Poverty Law Center filed in New Jersey, Lieu noted that the case is proceeding "exactly along those lines, against a group of mental health professionals doing conversion therapy — because it is medical malpractice." In addition to SPLC, Lieu has been working with the Human Rights Campaign and National Center for Lesbian Rights on the legislation.
He also noted that the new legislation is inclusive of transgender people, citing a case of a transgender woman who committed suicide related to conversion issues. "I believe it's important to expand the bill [from the California law] to cover the entire LGBT community, including the transgender community," he said.
When asked about the fact that the bill is not limited only to minors, Lieu said that the approach of the issue as one of fraud made it a different issue, in some ways. "[F]raud is fraud, whether you practice it on a 16-year-old or a 45-year-old," he said.
He added, though, that he would have supported a ban on conversion therapy for all ages in his original California legislation as well. "I would have loved to have not limited it to minors; I just couldn't get it through," he said, noting that there were issues with "stakeholders" that led to the limitation.
"So, this is always what I wanted to do," Lieu said, "and I'm very pleased to be able to introduce a bill that calls this therapy what it is, which is, it's fraud."