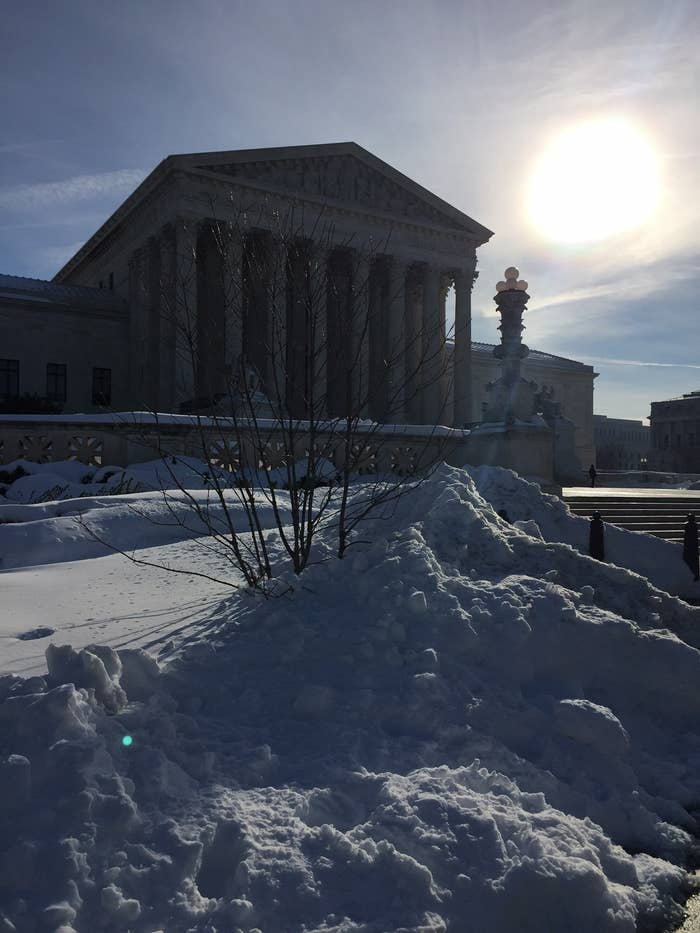 WASHINGTON — The Supreme Court ruled on Monday that juveniles previously sentenced to life without the possibility of parole automatically for homicide offenses are covered by a 2012 decision that banned the practice going forward.
The 6–3 decision in Henry Montgomery's case out of Louisiana, giving retroactive effect to the 2012 decision in Miller v. Alabama, could affect any person who was automatically sentenced to life without parole for a homicide.

The court's decision Monday does not require that states re-sentence all of those who were sentenced to life without parole automatically. "[P]ermitting juvenile homicide offenders to be considered for parole" is sufficient, Justice Anthony Kennedy wrote for the court.
Such procedures will need to be implemented in any state that had refused to give retroactive effect to Miller before today. In three of those states with the largest population of juvenile homicide offenders — Louisiana, Michigan, and Pennsylvania — more than 1,000 people will be affected.
"Miller's conclusion that the sentence of life without parole is disproportionate for the vast majority of juvenile offenders raises a grave risk that many are being held in violation of the Constitution," Kennedy wrote. (Kennedy also wrote the Supreme Court's 2010 decision ending life without parole for non-homicide offenses.)

In 2012, the Supreme Court held that states could not have a mandatory sentence of life without parole for juvenile homicide offenders. The question in Monday's case was whether that ruling applied to past offenders like Montgomery, who was convicted of killing a deputy sheriff in Louisiana in 1963 at the age of 17.

While several states already had held that the decision was retroactive to past convictions, the Louisiana courts decided that Miller v. Alabama did not apply retroactively. Other states with significant numbers of juvenile homicide offenders serving life sentences that had held Miller was not retroactive include Michigan and Pennsylvania.
When the Supreme Court held arguments in the case this past fall, the first question was whether the court even had jurisdiction to hear the case. The argument against jurisdiction was that the court's past cases addressing retroactivity related to the federal habeas corpus statute, not a constitutional rule that would apply to state court proceedings.
Generally speaking, the Supreme Court ruled previously in Teague v. Lane that if a criminal law ruling is substantive, it applies retroactively; if procedural, it does not. The jurisdictional question was whether that retroactivity rule applied only to federal habeas proceedings — or, as a constitutional rule, also to state court proceedings.

In Monday's decision, the court's majority decided that, yes, Teague's ruling applies to state court review because, Kennedy wrote, states must give retroactive effect to "a new substantive rule of constitutional law" when declared by the U.S. Supreme Court. (The ruling did not address the second part of Teague, relating to retroactive effect given — under federal habeas claims — to "watershed rules of criminal procedure.")
Moving on to the specifics of the 2012 decision about juvenile homicide offenders, then, Kennedy wrote for the court that the decision, Miller v. Alabama, "announced a substantive rule of constitutional law."
Explaining further, Kennedy, quoting from past decisions, wrote, "Like other substantive rules, Miller is retroactive because it 'necessarily carr[ies] a significant risk that a defendant' — here, the vast majority of juvenile offenders — 'faces a punishment that the law cannot impose upon him.'"
As such, it is retroactive to past sentences like Montgomery's one under the court's rules for deciding whether criminal law decisions apply retroactively.

Because "children are constitutionally different," Kennedy wrote, "prisoners like Montgomery must be given the opportunity to show their crime did not reflect irreparable corruption; and, if it did not, their hope for some years of life outside prison walls must be restored."
Justices Antonin Scalia, Clarence Thomas, and Samuel Alito dissented.

Calling the court's decision that it had jurisdiction to hear the case "nothing short of astonishing," Scalia wrote for the trio: "The majority ... creates a constitutional rule where none had been before: 'Teague's conclusion establishing the retroactivity of new substantive rules is best understood as resting upon constitutional premises' binding in both federal and state courts. 'Best understood.' Because of what? Surely not because of its history and derivation."
As to the substance, Scalia wrote, "This whole exercise, this whole distortion of Miller, is just a devious way of eliminating life without parole for juvenile offenders."