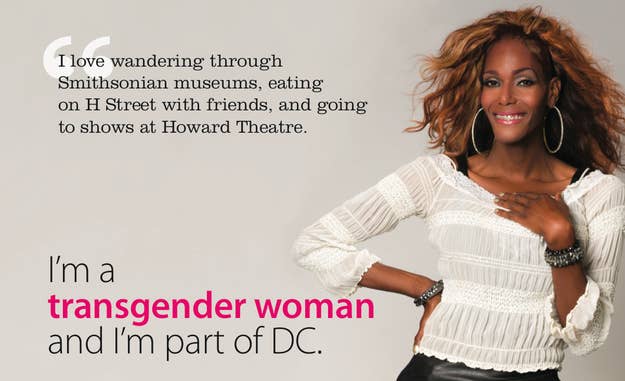 The District of Columbia government Thursday will launch a campaign that advocates say is a first of its kind: A series of ads "promoting respect for the District's transgender and gender-non-conforming communities."
One of the ads features Kisha, a trans woman who lives in D.C. The ad quotes Kisha, saying, "I love wandering through Smithsonian museums, eating on H Street with friends, and going to shows at Howard Theatre."
Then, the aim of the campaign: "I'm a transgender woman and I'm part of DC. Please treat me the way any woman would want to be treated: with courtesy and respect."
The posters — which the D.C. Office of Human Rights has been sparking interest about on Facebook — then note that discrimination based on gender identity and expression is illegal in the District of Columbia and provide a website and phone number for more information.
Part of the D.C. government's response to a spate of anti-trans violence in the city in recent years, Mayor Vincent Gray is planning to attend tonight's launch of the campaign, a city official told BuzzFeed.
"I believe in the message. I believe in equality for everybody, all over the world," said Kisha, who did not share her last name. "Growing up in a household with a single mother and nine siblings, my mother always taught us about equality. When I started living as a transgender woman outside of the home, was the first time I saw the discrimination [against LGBT people]."
As for her participation, though, she did admit, "Honestly, it was my girlfriend's idea." Now, though, she's looking forward to seeing the effect of the campaign.
"I think it's going to have a great impact," she said. "The fact that it is going to be right there in your face. People will see transgender people. They're going through everyday life, everyday struggles — the same as straight people, rich people, everyone. Getting the message out there … is going to be great."
Saying that lesbian and gay people are a more well-known group to the general public, Kisha said of transgender people, "I feel like we're in such a little box, they put labels on us.
"Tonight is going to change a lot of people's minds."