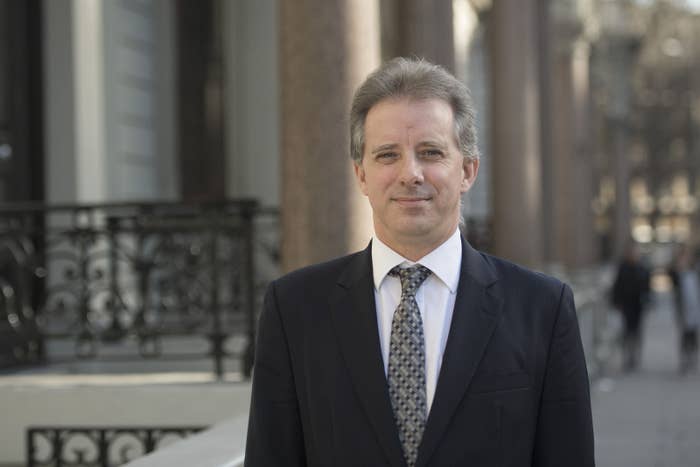 A judge in Washington, DC, has tossed out a defamation lawsuit brought by three Russian oligarchs against former British intelligence agent Christopher Steele over his discussion of them in the dossier he prepared during the 2016 US presidential election campaign describing Donald Trump's links to Russia.

The men — Petr Aven, Mikhail Fridman, and German Khan — are investors in Alfa Bank and had sued Steele and his company, Orbis Business Intelligence, alleging that the dossier defamed them by linking them to Russian efforts regarding the presidential election.
The trio also has filed suit in federal court against Fusion GPS and Glenn Simpson, who had hired Steele, and in state court in New York against BuzzFeed, which published the dossier in January 2017.

DC Superior Court Judge Anthony C. Epstein dismissed the case against Steele under DC's Anti-SLAPP Act. Anti-SLAPP laws are aimed at providing protections for would-be defendants who are the targets of "strategic lawsuits against public participation."
In Monday's ruling, Epstein found that Steele's activity was covered under the law as a matter of public interest and that the three oligarchs suing Steele were "limited-purpose public figures" by virtue of their potential involvement with Russian government officials.
Because of those findings, the court then considered under the Anti-SLAPP Act whether the oligarchs could succeed in showing that Steele acted with "actual malice" — with knowledge that the information he wrote about them was false or with "reckless disregard" for whether it was false.
Epstein found the trio did not meet their burden to show evidence that they would be likely to succeed in proving that the part of the dossier involving Alfa Bank — called "CIR 112" — was published by Steele with actual malice.
"Plaintiffs do not offer evidence that Mr. Steele in fact had subjective doubts or recklessly disregarded information about its falsity, or that Defendants had obvious reason to doubt the source described in CIR 112 as a 'trusted compatriot' of a 'top level Russian government official,'" the judge wrote.
"We strongly disagree with the Court's decision which we will almost certainly appeal," Alan Lewis, one of the oligarchs' lawyers, told BuzzFeed News in an email on Tuesday. "We are, however, pleased that the Court agreed that we have adequately proved Mr. Steele's negligence in making unsupported accusations that our clients had something to do with alleged efforts to interfere in the 2016 election — which they did not. We respectfully disagree with Judge Epstein on a number of points and are confident that the appellate court will reinstate the Plaintiffs' claims."
In the ruling, Epstein wrote that Steele's lack of "supporting facts" to support claims in the dossier "may establish negligence," but Epstein went on to say that such a finding would be irrelevant because "negligence is constitutionally insufficient to show the recklessness that is required for a finding of actual malice." The judge noted that, under that standard, "it is not enough to show that defendant should have known better; instead, the plaintiff must offer evidence that the defendant in fact harbored subjective doubt."
In a later email, Lewis wrote that that passage carried "the strong implication ... we have adequately proved Steele's negligence ... and that, if the court had found our clients to be private figures (subject to a negligence standard) rather than public figures (subject to an actual malice standard) it would not have" dismissed the lawsuit.