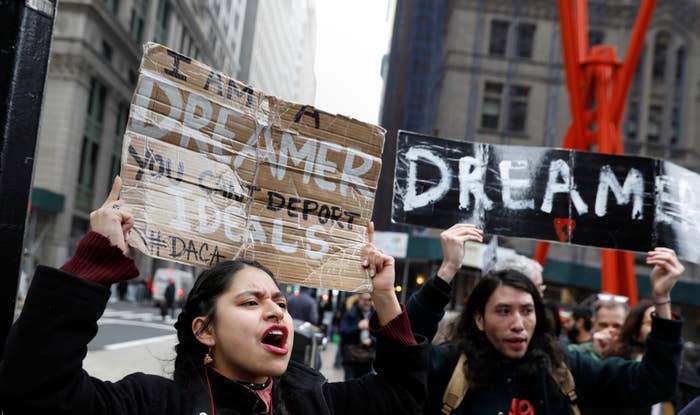 In the first three months of 2018, the Trump administration approved more than 55,000 initial or renewal applications for the Deferred Action for Childhood Arrivals (DACA) program — largely due to federal court injunctions keeping the program going — a document filed in court Monday shows.
In the ongoing litigation in California over DACA — which President Donald Trump declared on Twitter to be "dead" — the Justice Department submitted a quarterly report Monday detailing significant information about the program.
More than 50,000 DACA applications remained pending as of March 31, according to the report.
Currently, federal courts in California and New York have ordered the federal government to continue processing DACA renewal applications, despite a wind-down date that Trump had set for March 5. The Supreme Court denied the Justice Department's request to take up the case immediately, sending the case out of California back to the US Court of Appeals for the 9th Circuit — and keeping the injunction in place that's keeping DACA renewals proceeding.
The resulting approvals, before and since, mean there are thousands of DACA renewals that will keep the program alive into 2020 for at least some recipients given that each approval is for a two-year period.

According to the government's own demographic report, also submitted Monday, approximately 54,850 active DACA recipients will not have their current DACA expire until 2020.
In total, as of March 31, about 693,850 people were active DACA recipients, according to the report. About half of all active DACA recipients reside in the three states with the highest numbers of DACA-recipient residents: California (almost 200,000), Texas (more than 110,000), and Illinois (more than 36,000).
In specific information relating to the Jan. 10 injunction issued in California, the demographic report says the federal government has received more than 64,000 DACA applications since the injunction was issued. Those applications have resulted in more than 31,000 DACA application approvals already. More than 32,000 applications received since Jan. 10 remain pending.

"As a result of the nationwide injunction we secured, at least 30,000 Dreamers who have renewed their DACA status — our colleagues, our classmates, our teachers — can go home to their loved ones at night and keep helping build a better America," California Attorney General Xavier Becerra said in a statement. "I'll keep fighting at every turn in court for Dreamers' rights and opportunities, so they may continue to make meaningful contributions in California and beyond."

What's more, so long as the injunction remains in place, more renewals will be sought and presumably approved — with each month's approvals extending, for those people, the life of DACA two years into the future.