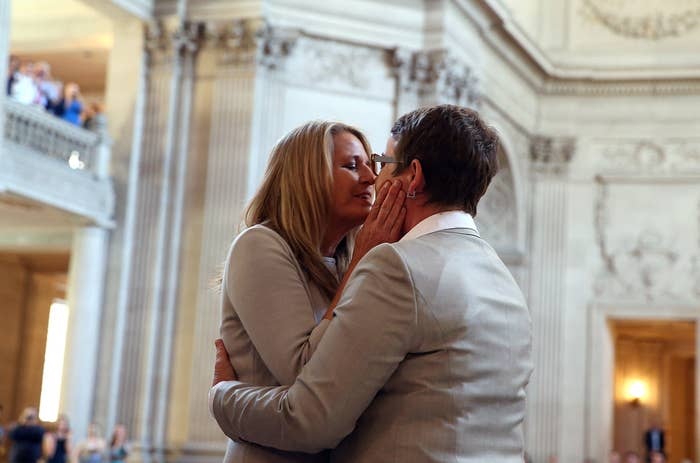 WASHINGTON — Laws and other government actions that treat people differently based on their sexual orientation will face additional scrutiny from courts in nine western states, under a January court ruling that a national LGBT rights group said Friday night is not being appealed.
The major victory for LGBT advocates announced by the Human Rights Campaign actually played out in a dispute between two pharmaceutical companies, SmithKline Beecham and Abbott Laboratories, and involved whether gay people could be kept off a jury in a trial involving HIV drugs.
The 9th Circuit Court of Appeals — whose decisions apply to all federal courts in Alaska, Arizona, California, Hawaii, Idaho, Montana, Nevada, Oregon, and Washington — said no. In doing so, however, Judge Stephen Reinhardt wrote a decision that could have wide-ranging and long-lasting effects on LGBT rights more broadly — from marriage to employment and beyond.
In the January ruling, the 9th Circuit Court of Appeals held — in light of the Supreme Court's ruling striking down part of the Defense of Marriage Act last year — that "classifications based on sexual orientation ... are subject to heightened scrutiny."
While most laws that create groups or classifications must merely show there is a rational basis, or a legitimate reason, for the law, laws subjected to heightened scrutiny — under the Equal Protection Clause of the 14th Amendment to the U.S. Constitution (and applied to the federal government through the 5th Amendment) — must show more. Some, like those that classify based on race, must show a compelling state interest for classifying people, while others, like those based on sex, must show an important state interest in doing so.
Since February 2011, the Obama administration has joined with LGBT advocates in arguing that such heightened scrutiny should be placed on laws that classify based on sexual orientation — and, per other documents since then, gender identity.
The Supreme Court has avoided resolving the question, with opinions by Justice Anthony Kennedy over the past 18 years striking down laws that classify based on sexual orientation on the grounds that they don't even pass that lowest level of "rational basis" review.
In the months since the ruling in the DOMA United States v. Windsor case, however, a handful of lower court judges — including those hearing the SmithKline Beecham v. Abbott case — have handed down decisions saying that Kennedy's rulings have signaled where the law is going, if not where it already has gone, on this question.
On Jan. 21, the three-judge panel of the 9th Circuit stated, "Windsor review is not rational basis review. In its words and its deed, Windsor established a level of scrutiny for classifications based on sexual orientation that is unquestionably higher than rational basis review. In other words, Windsor requires that heightened scrutiny be applied to equal protection claims involving sexual orientation."
Abbott had 14 days — which would have been Feb. 4 — to ask the 9th Circuit panel to rehear the case or for an en banc, or larger, panel of 9th Circuit judges to consider the appeal. Abbott asked for and was granted a 30-day extension, which passed March 6.
Friday night, the Human Rights Campaign announced in a news release that not only was Abbott not seeking further review from the 9th Circuit but additionally that the company would not be asking the Supreme Court to review the 9th Circuit decision. A message left with an Abbott spokesperson and an email sent to Abbott's lawyers seeking confirmation of or comment on HRC's news release were not immediately returned early Saturday morning.
"AbbVie's decision not to appeal this ruling may turn out to be a pivotal moment in the quest for marriage equality in every state in this country and greater constitutional protections for all LGBT Americans," HRC President Chad Griffin said of the pharmaceutical spin-off of Abbott Laboratories in the statement. "We thank the company for standing on the right side of history."
Even before the question of whether Abbott would seek further review of the January decision was resolved, the decision started to have ripple effects. On Feb. 10, Nevada Attorney General Catherine Cortez Masto announced that she and her client, Gov. Brian Sandoval, would no longer be defending Nevada's amendment banning same-sex couples from marrying on appeal in the 9th Circuit — in large part based on the fact that they did not believe their appeal would succeed if the amendment had to withstand heightened scrutiny.
Update at 7:45 p.m.: An AbbVie spokesman, Dirk van Eeden confirmed that the company would not be pursuing further appeals in the case.
"AbbVie recognizes that the implications of the Court's findings extend far beyond the underlying case. For that reason, we chose not to appeal," van Eeden told BuzzFeed.