Virginia County Court Clerk Asks Supreme Court To Stop Same-Sex Marriages
Without Supreme Court action, same-sex couples should be able to marry beginning Aug. 21.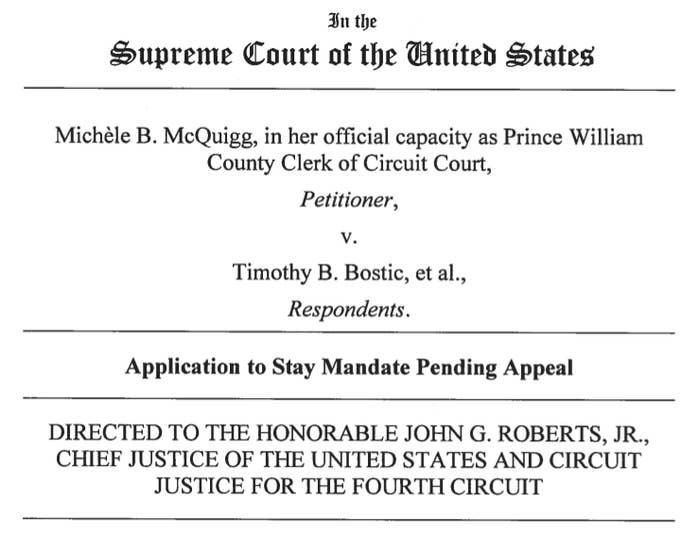 WASHINGTON — A conservative legal group representing a clerk of court in Virginia is asking the Supreme Court to issue a stay keeping the ban on same-sex couples' marriages in place for now.
In the absence of Supreme Court action, same-sex couples should be able to marry in Virginia come Aug. 21 following a decision by the 4th Circuit Court of Appeals on Wednesday denying a request to stay its earlier decision ruling the ban unconstitutional.
Michèle McQuigg, the clerk of court for Prince George County, has asked for the stay to be issued by Aug. 20, a day before the 4th Circuit Court of Appeals is due to issue a mandate stopping enforcement of the state ban. She is represented in her defense of the 2006 amendment by lawyers with the Alliance Defending Freedom.
According to the filing, the request to Chief Justice John Roberts is supported by state officials — who have been opposing the constitutionality of the constitutional ban on such marriages this year — and a second clerk who is a defendant in the case.
"The last word on the marriage lawsuits in America rests with the U.S. Supreme Court. It has already said that lower-court rulings on state marriage laws should be placed on hold for now," ADF lawyer Byron Babione said in a statement, referring to rulings issuing stays in other marriage litigation. "The 4th Circuit was wrong to ignore that and deny Virginians an orderly, dignified, and fair resolution to the question of whether they will remain free to preserve marriage as the union of a man and a woman. Alliance Defending Freedom is asking Chief Justice Roberts to do what the high court has done before and stop this ruling from going into effect before the litigation reaches its end."
Virginia Attorney General Mark Herring opposes the constitutionality of the ban but has asked the Supreme Court to hear an appeal of the case to resolve the issue with finality. McQuigg also has said that she will be asking the court to hear an appeal.
Clerk Michèle McQuigg's request to Chief Justice John Roberts: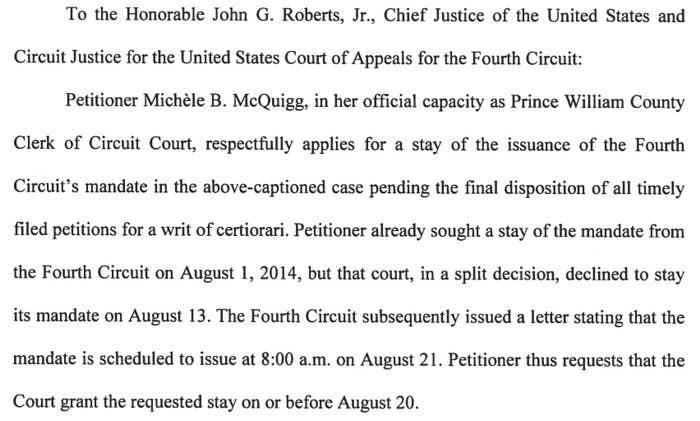 Her notice on the position of the other defendants: