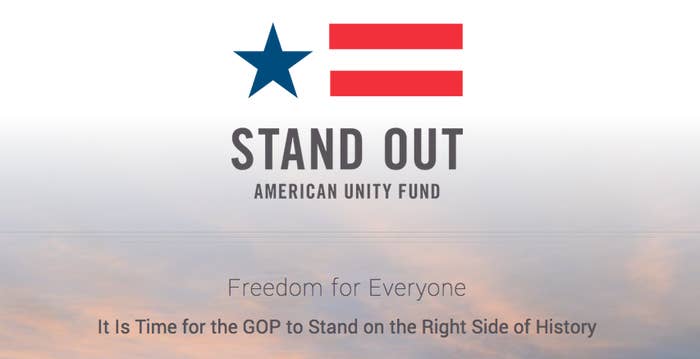 WASHINGTON — A pro-marriage equality group backed by a major conservative donor is launching a campaign Tuesday to enlist support from "rank-and-file" Republicans.
The American Unity Fund, started by hedge-fund manager Paul Singer in 2012, will begin the campaign with a video featuring Republicans, and led by MSNBC host Abby Huntsman, stating why they support marriage equality.
"What this campaign is designed to do is to give rank-and-file Republicans, conservatives, libertarians, moderates, independents across the country a way to express their support for freedom for everyone and to become a part of this civil rights movement of our generation," the group's senior adviser, Jeff Cook-McCormac, told BuzzFeed News on Monday.
People will be invited to submit their own videos about why they "stand out" for marriage equality. Among the videos uploaded to the site at its launch include one from Theodore Olson, the former top appellate lawyer for President George W. Bush who led the legal teams that ended California and Virginia's bans on same-sex couples' marriages.
American Unity Fund's bigger initiative is in the donor world: The group last week hosted a a conference in D.C. for Republican donors and major activists.
The campaign, Stand Up & Stand Out, is being formally launched later Tuesday with this video promoting the effort:
Saying that many donors and "all the big thinkers in the party" have been working to convince officials that the Republican Party needs to moderate its position on marriage, Cook-McCormac acknowledged, "What has been slower to occur is the ... mobilization of this much larger network of tens of millions of Republicans across the country who embrace the full freedom to marry."
American Unity Fund aims for this campaign to let those people speak out in order to start building that grassroots support within the party. But, Cook-McCormac acknowledged, it also will provide the group with a list of "specific voters who are committed to this issue as we prepare for what will be a very interesting election cycle in 2016."
Asked if that means American Unity Fund expects a pro-marriage equality candidate to be a possibility for the GOP in 2016, Cook-McCormac, told BuzzFeed News, "A few years ago, people thought that was an impossibility. And, now, I think the dynamic has completely changed."