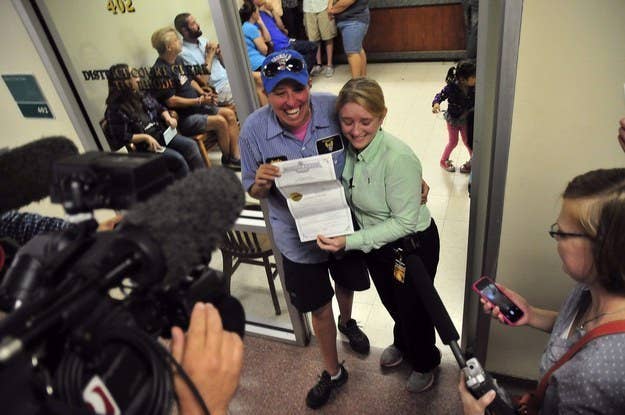 WASHINGTON — Two years ago, U.S. District Court Judge Robert C. Jones upheld Nevada's ban on same-sex couples' marriages.
Faced with a request Tuesday night to enforce a higher court's decision striking down the ban, Jones on Wednesday morning instead filed an order recusing himself from the case.
Nominated to the bench by President George W. Bush, Jones' 2012 decision to uphold Nevada's ban was pointed — he argued legalizing marriage for same-sex couples could make opposite-sex couples less likely to marry.
In the Nov. 26, 2012 decision upholding the ban in Sevcik v. Sandoval, Jones wrote at length about the "legitimate" reasons the state had for the ban. If same-sex couples were allowed to marry, he wrote, "it is conceivable that a meaningful percentage of heterosexual persons would cease to value the civil institution as highly as they previously had and hence enter into it less frequently … because they no longer wish to be associated with the civil institution as redefined."
On Tuesday, the 9th Circuit overturned Jones' decision:
The judgment of the district court in Sevcik v. Sandoval is REVERSED, and the case is REMANDED to the district court for the prompt issuance of an injunction permanently enjoining the state, its political subdivisions, and its officers, employees, and agents, from enforcing any constitutional provision, statute, regulation or policy preventing otherwise qualified same-sex couples from marrying, or denying recognition to marriages celebrated in other jurisdictions which, if the spouses were not of the same sex, would be valid under the laws of the state.
The 9th Circuit soon thereafter issued a mandate in the case, the final step in putting its ruling into effect. Lambda Legal, representing the plaintiffs in the case, filed a proposed order on Tuesday night in Jones' court asking for it to put the 9th Circuit's ruling in effect. Jones' role in ending the ban would have been more formality than anything — rubber-stamping something decided by a higher court.
Before acting on the request, though, Jones recused himself from the case on Wednesday morning. He gave no reason for his decision.
As it turned out, though, Supreme Court Justice Anthony Kennedy issued a stay of the 9th Circuit's mandate in the case anyway, which appears to have put the issue on hold for now.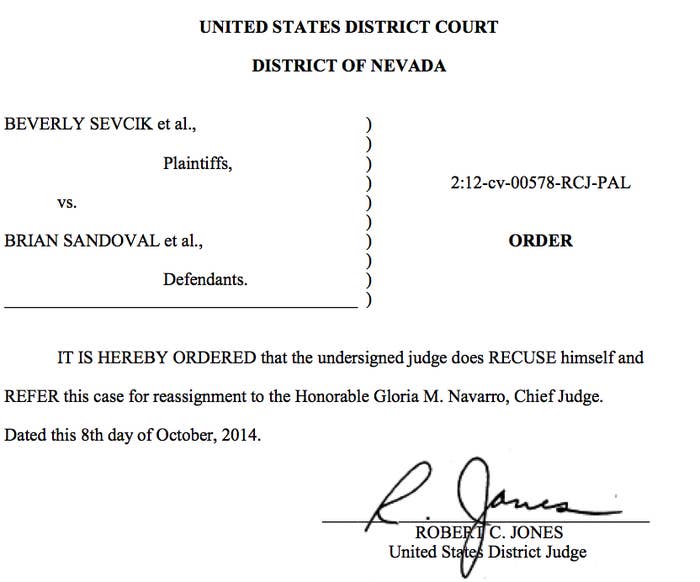 The Nevada marriage case has been reassigned to U.S. District Court Judge James Mahan, clerk of court Lance Wilson tells BuzzFeed News.