Commission: Only Ohio Distinguishes Military, Civilian Early Voters
Ohio's nonpartisan Legislative Service Commission finds that no states set the broad distinction that Ohio law does for early in-person voting — and only two states draw any legal distinction. Husted had it wrong.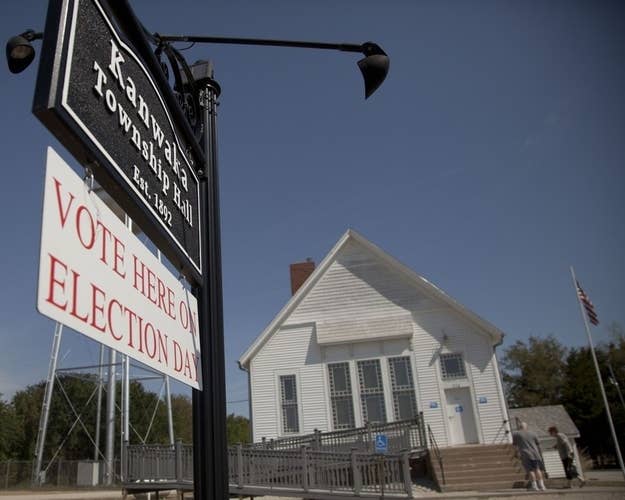 Despite claims that Democrats' challenge to an Ohio voting law would undermine military voters' rights everywhere, no other states offer soldiers' the special status afforded in Ohio.
A report issued Aug. 1 by the nonpartisan Ohio Legislative Service Commission found that no other states have any legal provision that has one early in-person voting deadline for most voters and another for servicemembers, as does the Ohio law being challenged by the Obama campaign and defended by Ohio Republicans and some fraternal military organizations. The report, which has not been released publicly, was obtained by BuzzFeed and has been published here for the first time.
The report does note that two states — Indiana and North Carolina — have exceptions in their laws that would allow a very narrow subset of servicemembers to vote early in-person later than other voters.
The Obama campaign's lawsuit in Ohio, in which it is joined by the Democratic National Committee and the Ohio Democratic Party, is about early voting. The specific laws being challenged, however, relate only to in-person early voting and not to traditional mail-in absentee voting, which clearly cuts down on the number of affected active servicemembers.
Ohio law, as it is slated to be run in this year's presidential election, contains one end-point for early in-person voting for most voters (the Friday before the election) and another for those servicemembers and their family voting under the Uniformed and Overseas Citizens Absentee Voting Act (UOCAVA).
As reported at BuzzFeed over the weekend, the lawsuit aims to expand the later early in-person voting deadline to all voters — not to restrict the early in-person voting deadline of servicemembers. Opponents of the suit, however, have expressed concern about the future implications for other servicemember-related voting laws.
Ohio Secretary of State Jon Husted questioned why the Obama campaign was focused on Ohio, telling reporters after the lawsuit was filed, "Why isn't it a problem in the 49 other states where they do the same kinds of things?"
The state's legislative research arm issued a report on Aug. 1, however, explaining that no other states have an across-the-board statutory distinction for the end of in-person early voting between most voters and UOCAVA voters.
The report does note, though, "It appears that under certain circumstances, Indiana and North Carolina each enforce a different in-person early or absent voting deadline for UOCAVA and non-UOCAVA voters." Both exceptions, however, relate to the very narrow circumstance in which a servicemember was absent from the state during the normal registration period but returned home in the final days before the election.
Ohio State Rep. Kathleen Clyde, a Democrat who sought the research, defended the lawsuit, telling BuzzFeed, "When it comes to in-person early voting, Democrats want to make sure it is available to our military voters, veteran voters, and all Ohio voters. Restoring the early voting time period that Ohio used in 2008 will benefit all voters."
Of the opposition that the lawsuit has faced, Clyde said, "Special accommodations for military voters are absolutely okay. And I have worked on making sure ballots are not thrown out for technical reasons because that is not fair to voters, including our military voters."
Ohio Memo on Early In-Person Voting Laws