Colorado Supreme Court Orders Boulder Clerk To Stop Issuing Same-Sex Marriage Licenses
A total of 202 marriage licenses had been granted to same-sex couples.
WASHINGTON — After Boulder County Clerk Hillary Hall had been issuing marriage licenses to same-sex couples for more than a month, the Colorado Supreme Court on Tuesday ordered her to stop doing so for the time being.
Hall's office reported Tuesday that it granted 202 licenses to same-sex couples since starting doing so last month.
"I am disappointed by the Colorado Supreme Court's stay, but I will comply with the order," Hall said in a statement. "Given the avalanche of recent cases determining that same-sex marriage bans are unconstitutional, I am hopeful the stay will be short-lived and that we will be able to resume issuing licenses soon."
Hall began issuing licenses on June 25, when the 10th Circuit Court of Appeals struck down Utah's ban on same-sex couples' marriages as being unconstitutional. Hall, after consulting her county attorney, began issuing licenses that day.
When other clerks, including Denver's clerk, began issuing marriage licenses, the Colorado Supreme Court eventually issued a stay as to Adams and Denver counties, and Pueblo County stopped soon thereafter.
Colorado Attorney General John Suthers had been unsuccessful, however, either in getting Hall to stop on her own or in getting lower state courts to issue an order stopping her from doing so.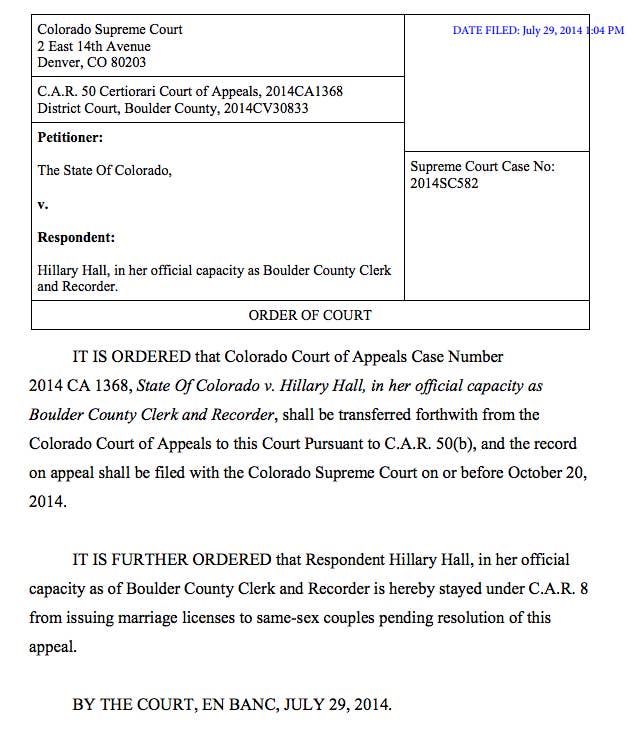 This report was updated with a statement from Boulder County Clerk Hillary Hall and Tuesday's total tally for licenses issued.