Colorado Same-Sex Couples Sue For Marriage Rights
Lawsuit filed in state court on Wednesday. Update: Another marriage lawsuit pending in the state is due for a hearing this summer.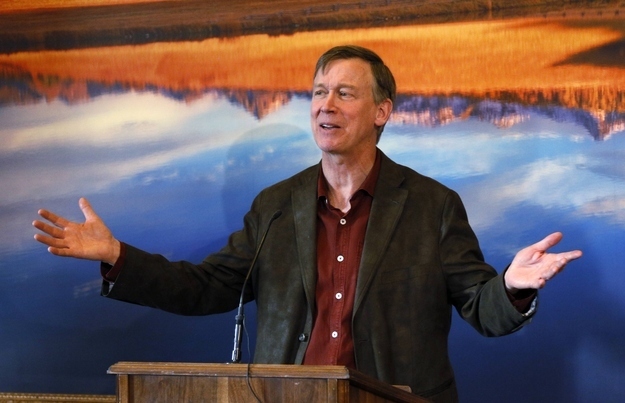 WASHINGTON — Nine same-sex couples in Colorado, some married elsewhere and others not, sued in state court in Denver on Wednesday for the right to marry and have marriages granted elsewhere recognized in the state.
The lawsuit is brought against Colorado Gov. John Hickenlooper Jr. and Debra Johnson, the clerk and recorder for the city and county of Denver. Both are Democrats. Colorado Attorney General John Suthers has said he would defend the law if it were to be challenged.
The lawsuit asks for the court "to permit issuance of marriage licenses to the Unmarried Plaintiffs, pursuant to the same restrictions and limitations applicable to opposite-sex couples, and to recognize the out-of-state marriages validly entered into by the Married Plaintiffs."
In the lawsuit, lawyers for the couples note:
Our courts and society have discarded, one by one, marriage laws that violated the mandate of equality guaranteed by the Constitution. History has taught that the legitimacy and vitality of the institution of marriage does not depend on upholding discriminatory laws. On the contrary, eliminating unconstitutional barriers to marriage further enhances the institution and society. In seventeen states and the District of Columbia, same-sex couples are marrying, and the institution of marriage continues to thrive.
Lawmakers in Colorado last year passed civil unions into law, but the state has an amendment passed in 2006 limiting marriage in the state to one man and one woman.
Update — Feb. 19, 4:50 p.m. ET: Attorneys for Rebecca Brinkman and Margaret Burd informed BuzzFeed of a previously filed lawsuit in state court in Adams County, Denver, in which motions for summary judgment — or, a decision on the law and without a trial — are due to be filed by the plaintiffs and the state on April 1, with responses due by May 16 and a hearing sometime after June 15.
Read the Denver County complaint:
Download PDF
Read the Adams County complaint:
Download PDF