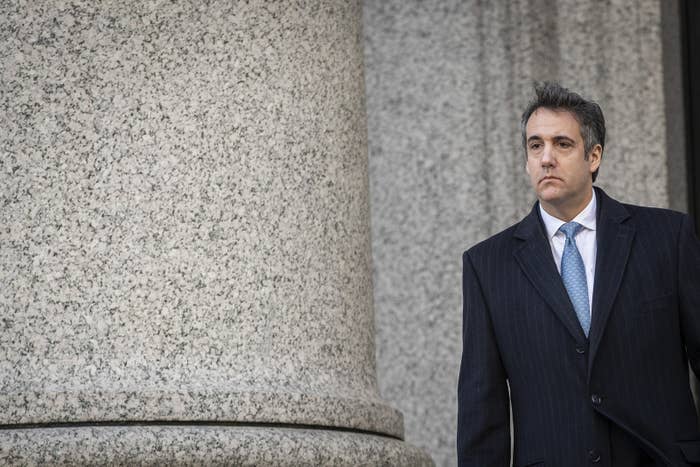 Federal prosecutors recommended on Friday that Michael Cohen, President Donald Trump's former longtime personal lawyer, be sentenced to "a substantial term of imprisonment" — but slightly less time than he otherwise likely would have faced due to his "provision of information" to the special counsel's office.
Cohen has pleaded guilty to fraud and tax charges and campaign finance crimes, as well as lying to Congress. Cohen was responsible for making the hush payment to adult film star Stormy Daniels, who claims to have had a relationship with Trump more than a decade ago, through a corporate entity he set up in the weeks before the 2016 presidential election. He also has admitted to lying to Congress about a Trump Tower Moscow project that was being pursued during the campaign — information first reported by BuzzFeed News earlier this year.
Since August, however, Cohen has met with federal prosecutors nine times — twice with those in New York and seven times with special counsel Robert Mueller's office — to provide them with information.
Nonetheless, federal prosecutors in Manhattan go on to state that even in Cohen's most recent filing, in which he asked to avoid serving any additional time in prison, his attorneys made "false" assertions.
The prosecutors also question several of Cohen's lawyers' statements about the status of his cooperation and the relevance of his decision to plead guilty and talk with prosecutors rather than "continu[ing] to hold the party line," as Cohen's lawyers wrote in their filing.
Specifically, they noted that Cohen decided not to cooperate fully with the Southern District of New York US Attorney's Office because he declined to provide "full information" about "any additional criminal conduct" of which he was aware.
"After cheating the IRS for years, lying to banks and to Congress, and seeking to criminally influence the Presidential election, Cohen's decision to plead guilty — rather than seek a pardon for his manifold crimes — does not make him a hero," the lawyers wrote.

After considering his criminal activity but in light of the significant information he has provided to Mueller's office, the federal prosecutors in New York suggested that Cohen should spend about three and a half years in prison, although they do not provide a specific time-length recommendation.
The sentencing memorandum was filed Friday afternoon in federal court in New York. It recommends "a modest downward variance" from the recommended range of 51 to 63 months in prison. In a footnote, the prosecutors note that the probation office "similarly" recommended such a variance and noted that the ultimate recommendation by that office is for a sentence of 42 months' imprisonment.
For his part, Mueller filed a second memorandum, recommending no additional prison time for Cohen's more recent guilty plea for lying to Congress. He said it would be "appropriate" that Cohen serve any sentence in that case concurrently with any sentence in the case brought by the federal prosecutors in New York.
Earlier this week, US District Judge William Pauley had ordered the prosecutors' offices to deliver their sentencing memoranda to his office by 5 p.m. Friday.