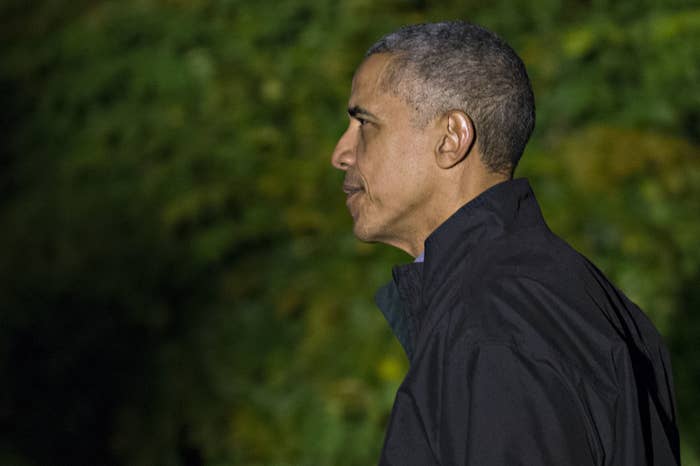 WASHINGTON — A coalition of more than 50 scholars and advocates are calling on President Obama to expand clemency efforts in the final weeks of his administration — including considering granting clemency to entire groups of people without case-by-case review.
The letter — which includes signatories Van Jones and John Legend, advocates like Sherrilyn Ifill from the NAACP Legal Defense and Educational Fund and Stephen Bright of the Southern Center for Human Rights, and academics from across the country — provides Obama with recommendations on how to speed up the clemency process before his term ends.
Obama has granted clemency to more than 1,000 people in his time in office, but advocates point to thousands of others who remain without relief whose clemency applications were to be prioritized under the criteria laid out by the administration when it began the clemency project.
"While your administration continues to review individual petitions, we urge you to also determine that nonviolent offenders in certain extremely low-risk categories either deserve expedited review or should be granted clemency absent an individualized review," the group writes.
The specifics include ways of considering more people serving harsh crack cocaine sentences that did not benefit from the Fair Sentencing Act in 2010, which attempted to address that disparity. The letter suggests using "prison placement (to a camp – the lowest level of federal incarceration – or to a low or medium facility) as a surrogate for how an individual has behaved in prison" to speed up the process of reviewing applications.
The letter suggests handling applications for clemency for non-crack cocaine sentences similarly in terms of using prison placement as a proxy for individualized prison behavior review. The letter also suggests the president could give "special priority" to veterans or older individuals.
The letter also suggests that Obama could grant clemency to those who have been labeled a "career offender" — triggering longer sentences — due only to drug offenses. It goes on to note that the president need not "commute entire sentences" for these people but could "provide tiered relief" to reduce sentences.
In all, the letter is a last-ditch, very public effort from some of the top names in liberal and progressive criminal justice circles to press Obama to act before Donald Trump — who campaigned on being a "law and order" president — takes office.
"We do not know whether the next president will support clemency efforts or criminal justice reform," the letter concludes. "But we do know that until January 20, you alone have the power to deliver both mercy and justice to those who deserve it."