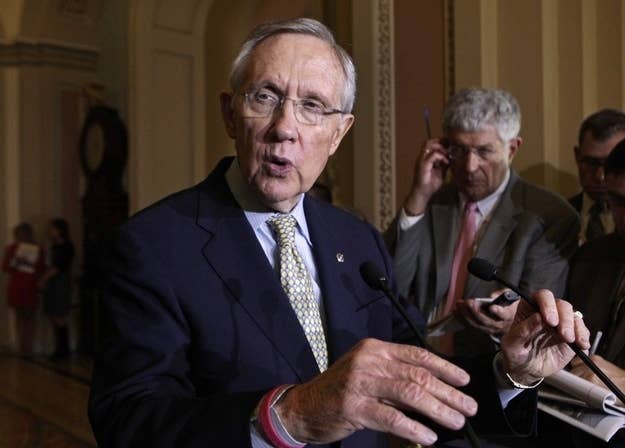 WASHINGTON — Sen. Majority Leader Harry Reid is likely to file cloture in the coming hours on the Employment Non-Discrimination Act, BuzzFeed has learned, which would set up a Monday evening vote on a motion to proceed to debate on the bill to ban LGBT discrimination in the workplace.
Reid is likely to file a cloture petition on the bill this evening, a Democratic leadership aide told BuzzFeed Thursday, which would set a vote on the motion to proceed on debate of ENDA for Monday evening.
If the motion to proceed, which requires 60 votes, is agreed to, the Senate would debate and eventually vote on the bill. The vote would be the first Senate vote on the legislation since 1996 and the first vote ever on the legislation with both sexual orientation and gender identity protections.
Advocates say that they have clear support from 59 senators, including all 55 Democrats in the Senate and four Republicans, with a handful of other Republican senators as potential yes votes.
"We're one step closer to making America far more equal. ENDA is about common-sense workplace protections for LGBT Americans that 80% of Americans believe already exist. There's only upside to this issue," Human Rights Campaign vice president of communications Fred Sainz told BuzzFeed.
Earlier in the week, Reid announced that he planned to bring up the bill during this work session, which meant consideration before Thanksgiving. On Wednesday, BuzzFeed reported Sainz as saying that Reid had informed Minority Leader Mitch McConnell that it would happen next week.
Update: Reid filed the cloture petition Thursday night.