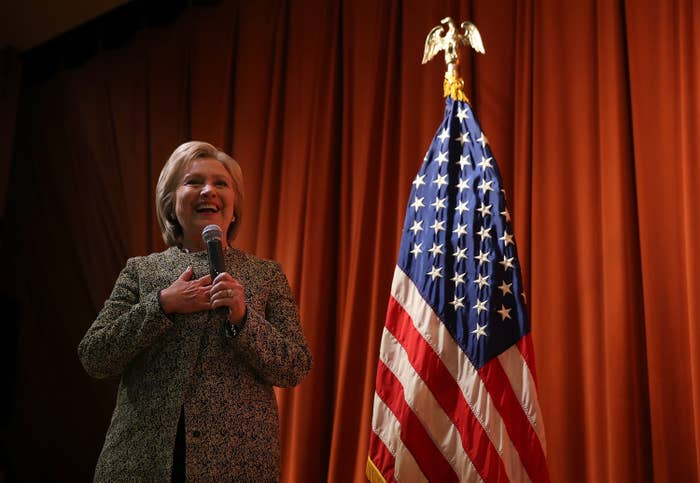 UPDATE
On Saturday evening, Hillary Clinton gave a further response following pushback from her initial statement from some activists. In a post published to Medium, Clinton wrote, "I've heard from countless people who were devastated by the loss of friends and loved ones, and hurt and disappointed by what I said. As someone who has also lost friends and loved ones to AIDS, I understand why. I made a mistake, plain and simple."
She went on to briefly discuss the history of the disease: "The AIDS crisis in America began as a quiet, deadly epidemic. Because of discrimination and disregard, it remained that way for far too long." Clinton then detailed her own record on the issue, as First Lady, a senator, and secretary of state.
Finally, she discussed HIV/AIDS today and mentioned her plans and priorities for the future should she be elected president — mentioning support for increased access to PrEP and a need to reform "outdated and stigmatizing HIV criminalization laws."
UPDATE
Hillary Clinton apologized for her remarks about the Reagans having "started a national conversation" about HIV/AIDS, tweeting, "I misspoke about their record on HIV and AIDS. For that, I'm sorry."
ORIGINAL ARTICLE

On Friday, Hillary Clinton praised Nancy Reagan and her husband, former President Reagan, for starting a conversation about HIV/AIDS in the 1980s. However, it is widely accepted that the Reagans were very late in acknowledging HIV/AIDS.
In the interview with MSNBC, Clinton began by talking about "how difficult it was for people to talk about HIV/AIDS back in the 1980s."

She then said, though, "Because of both President and Mrs. Reagan — in particularly Mrs. Reagan — we started a national conversation, when, before nobody would talk about it, nobody wanted to do anything about it.'
Clinton continued: "That is, too, something I really appreciate with her very effective, low-key advocacy, but it penetrated the national consciousness, and people began to say, 'Hey, we have to do something about this, too.'"
President Reagan did not give a major public speech about HIV/AIDS until May 1987, nearly six years after the Centers for Disease Control first began noting the emergence of the disease.
By the time Reagan spoke, Randy Shilts reported in his book, And the Band Played On, it was known that more than 36,000 Americans had been diagnosed with AIDS — more than 20,000 of whom had died. Later data would show the numbers were significantly higher, with more than 41,000 dead by the end of 1987.
In 2015, BuzzFeed News published documentation showing, for the first time, that Nancy Reagan had, in 1985, declined to provide assistance requested by Rock Hudson to help fight the disease in France, with officials directing him instead to the U.S. Embassy there. Hudson died nine weeks later.

Throughout the Reagan administration, moreover, AIDS activists — led by groups like ACT UP — protested the federal government's inaction and, later, slow action at addressing the disease.
Their most famed slogan: "SILENCE = DEATH."
And while Clinton credited the Reagans with "start[ing] a national conversation" on HIV/AIDS, the White House press briefings from the early years of the disease show that — in news conferences in 1982, 1983 and 1984 — there was little conversation, and more laughter, about the disease between the White House press secretary and the press corps.
Asked about Clinton's comments, the head of the nation's largest LGBT rights organization — which has endorsed Clinton — avoided criticizing Clinton directly.

"While I respect her advocacy in other areas including stem cell and Parkinson's research, Nancy Reagan was, sadly, no hero in the fight against HIV/AIDS," Human Rights Campaign president Chad Griffin told BuzzFeed News.
One of those early ACT UP activists and the co-founder of Treatment Action Group, Peter Staley — featured prominently in the How to Survive a Plague documentary about the early years of the fight against HIV/AIDS — had words for Clinton, posting on Facebook: "Thank god I'm not a single issue voter, or she would have lost my vote with this insulting and farcical view of early AIDS history. Hillary just said that the Reagans helped start a "national conversation" about AIDS. WTF!!!!!"