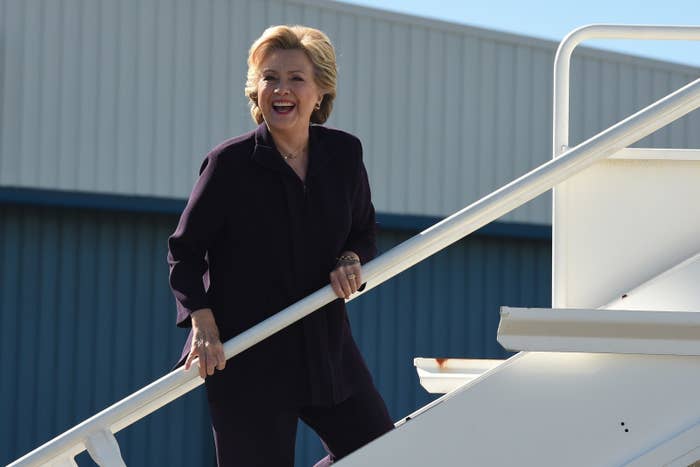 WASHINGTON — Hillary Clinton told Rachel Maddow a year ago that the Defense of Marriage Act was a defensive action that her husband backed in 1996 to stop anti-gay forces from "going further" and passing a constitutional amendment banning same-sex couples from marrying.
At the time, many LGBT advocates said she was wrong.
Several days later, BuzzFeed News published an extensive report detailing that there was no evidence in documents from the Clinton White House that Hillary Clinton's answer was accurate. The Clinton campaign did not provide comment for the report.
What was unknown at the time is that Clinton's senior campaign staff agreed with the advocates — and had previously done their own research, reaching the same conclusion as BuzzFeed News, according to hacked emailed released on Monday by WikiLeaks. The emails, from John Podesta's account, are part of a wave of hacks against Democratic and establishment political figures, which has been linked by the US government to Russia. The Clinton campaign has said it will not confirm individual emails, but Podesta has said he was hacked.
Within 48 hours of Clinton's comments to Maddow, Clinton speechwriter Dan Schwerin told most of the senior staff of the campaign that the only real question at that point was whether Clinton herself would say she was wrong.

He did not think that she would do so.
"I think everyone agrees we shouldn't restate her argument," Schwerin wrote in a hacked email. "Question is whether she's going to agree to explicitly disavow it. And I doubt it."

Clinton had told Maddow on Friday night, Oct. 23, 2015, "I think what my husband believed — and there was certainly evidence to support it — is that there was enough political momentum to amend the Constitution of the United States of America."
By Sunday afternoon, Oct. 25, the campaign's LGBT liaison, Dominic Lowell, started a DOMA email thread, telling staff, "Think all of us are getting incoming from friends in LGBT community about DOMA comments."
Noting that "policy and political need to tell us what you want us to do," he wrote, adding, "[W]e need a plan for how to hose down anxious friends."
Jake Sullivan, a longtime Clinton adviser, noted that staff had looked into the issue when Clinton had raised it previously in 2008, writing, "We did not turn up much to support idea that alternative was a constitutional amendment."
Maya Harris, a senior policy adviser, chimed in with an update from former Bill Clinton staffer Richard Socarides — who was working in the White House during DOMA's passage — who wrote, "[T]he effort to pass a constitutional amendment banning same-sex marriage came some years later."
Lowell noted that former Human Rights Campaign president Elizabeth Birch and prominent Clinton backer Hilary Rosen both already had publicly stated that Clinton was wrong and added, "[M]y sense is that there aren't many friends who will back us up on the point. That's why I'm urging us to back off as much as we can there."
Schwerin weighed in, implicitly acknowledging that Clinton was wrong: "I'm not saying double down or ever say it again. I'm just saying that she's not going to want to say she was wrong about that, given she and her husband believe it and have repeated it many times."
Schwerin's comment prompted a strong response from Amanda Renteria, the campaign's national political director, who went even further than Lowell, writing, "There is no way we have friends to back us up on her interpretation. This is a major problem if we revisit her argument like this."
The next day, the Clinton campaign punted on the issue, with spokesperson Brian Fallon telling the Huffington Post on Monday, Oct. 26, "Whatever the context that led to the passage of DOMA nearly two decades ago, Hillary Clinton believes the law was discriminatory and both she and President Clinton urged that it be overturned."
On Thursday, Oct. 29, BuzzFeed News sought comment from the Clinton campaign about whether Clinton stood by her comments to Maddow in the context of its upcoming story about the 1996 consideration of DOMA. The Clinton campaign did not provide any comment.
Later that evening, BuzzFeed News published its report, concluding that "[t]here is no contemporaneous evidence ... to support the claim that the Clinton White House considered a possible federal constitutional amendment to be a concern, based on a ... review of the thousands of documents released earlier this year by the Clinton Presidential Library about same-sex couples' marriage rights and the Defense of Marriage Act."
The next weekend, at a forum for the Democratic candidates for president on Nov. 6, Maddow asked Clinton about her claim. Clinton walked back her earlier comments, telling Maddow that she had "private conversations" in which the issue of an amendment was raised — no longer claiming that was a motivating factor for Bill Clinton backing DOMA or that there was any evidence for her claim.
"Well, certainly in thinking back on it those were private conversations that people did have," Clinton said. "That was something that came up in private conversations that I had.

"[I]f I'm wrong about the public debate, I obviously take responsibility for that," Clinton said.