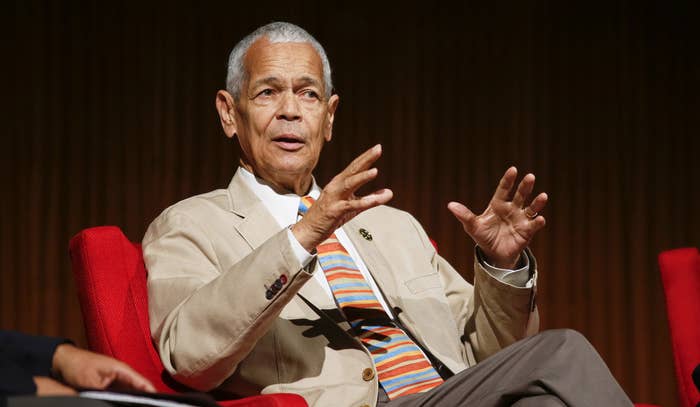 WASHINGTON — Julian Bond, one of the longtime leaders within the civil rights movement, died Saturday, at age 75, the co-founder of the Southern Poverty Law Center, which Bond once led, announced.
Bond died in Fort Walton Beach, Florida, according to the SPLC statement released early Sunday.
From Bond's time as one of the co-founders of the Student Nonviolent Coordinating Committee, to his leadership of the SPLC, to his time in more recent years as the chairman of the NAACP, Bond was a key figure in most of the major U.S. civil rights battles for more than 50 years.
In addition to his work with civil rights organizations, Bond served for two decades in the Georgia legislature and, later, was a professor at American University and the University of Virginia.
He is survived by his wife, Pamela Horowitz, and his five children.
In his statement, SPLC founder Morris Dees wrote, "With Julian's passing, the country has lost one of its most passionate and eloquent voices for the cause of justice. He advocated not just for African Americans, but for every group, indeed every person subject to oppression and discrimination, because he recognized the common humanity in us all."
President Obama said in a statement that he considered Bond "a hero" and a friend. "Julian Bond helped change this country for the better. And what better way to be remembered than that," he said.
Attorney General Loretta Lynch said in a statement, "For me and for so many others, Bond's words and deeds reached into our hearts and inspired us to take up his noble causes of equality, justice, and freedom. The legion of committed and passionate advocates he leaves behind is just one of many ways that his legacy will live on — by advancing his ongoing work, by spreading his timeless message, and by lifting up his example for all to see for generations to come."
Former Attorney General Eric Holder also paid tribute to Bond on Twitter: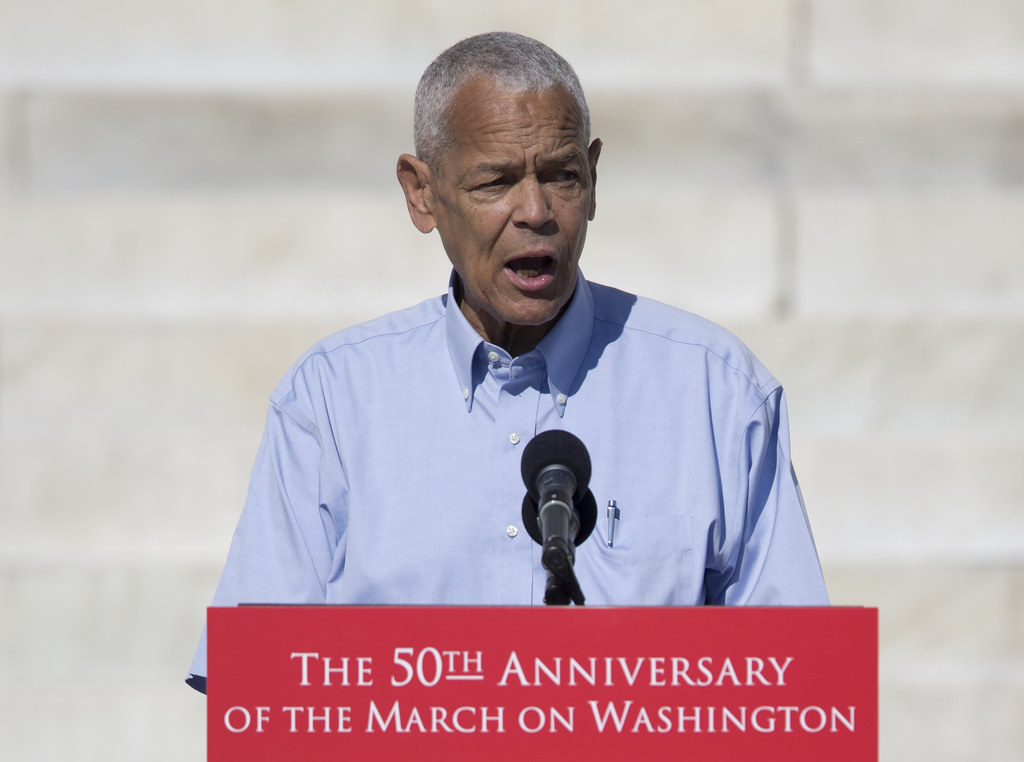 In his civil rights and voter registration work with SNCC in the 1960s, Bond was the group's communications director, working closely with SNCC chairman John Lewis. Lewis later became a member of Congress from Georgia — but only after defeating Bond in a 1986 primary election that the New York Times called a "bitterly divisive" race "that badly strained relations in Atlanta's black community."
Of that time, Lewis tweeted on Sunday, "We went through a difficult period during our campaign for Congress in 1986, but many years ago we emerged even closer." He also wrote, "Julian was so smart, so gifted, and so talented. He was deeply committed to making our country a better country."
Just before the inauguration of President Obama in 2009 — after serving as the chairman of the NAACP for more than a decade — Bond wrote for Time magazine, "The work the NAACP has done for 100 years now has had success that we didn't dream of. We weren't working to make a black person President of the United States, but it was a natural result."
A few years later, in October 2011, Bond — who had long been supportive of LGBT rights — endorsed marriage equality for same-sex couples in a video for the Human Rights Campaign.
Of Bond's work, Wade Henderson, the longtime president of the Leadership Conference on Civil and Human Rights, said in a statement, "If anyone lived the story of our nation's civil and human rights struggle, it's Dr. Julian Bond. Bond understood that the fight against bigotry and discrimination must be waged in every sphere of American life."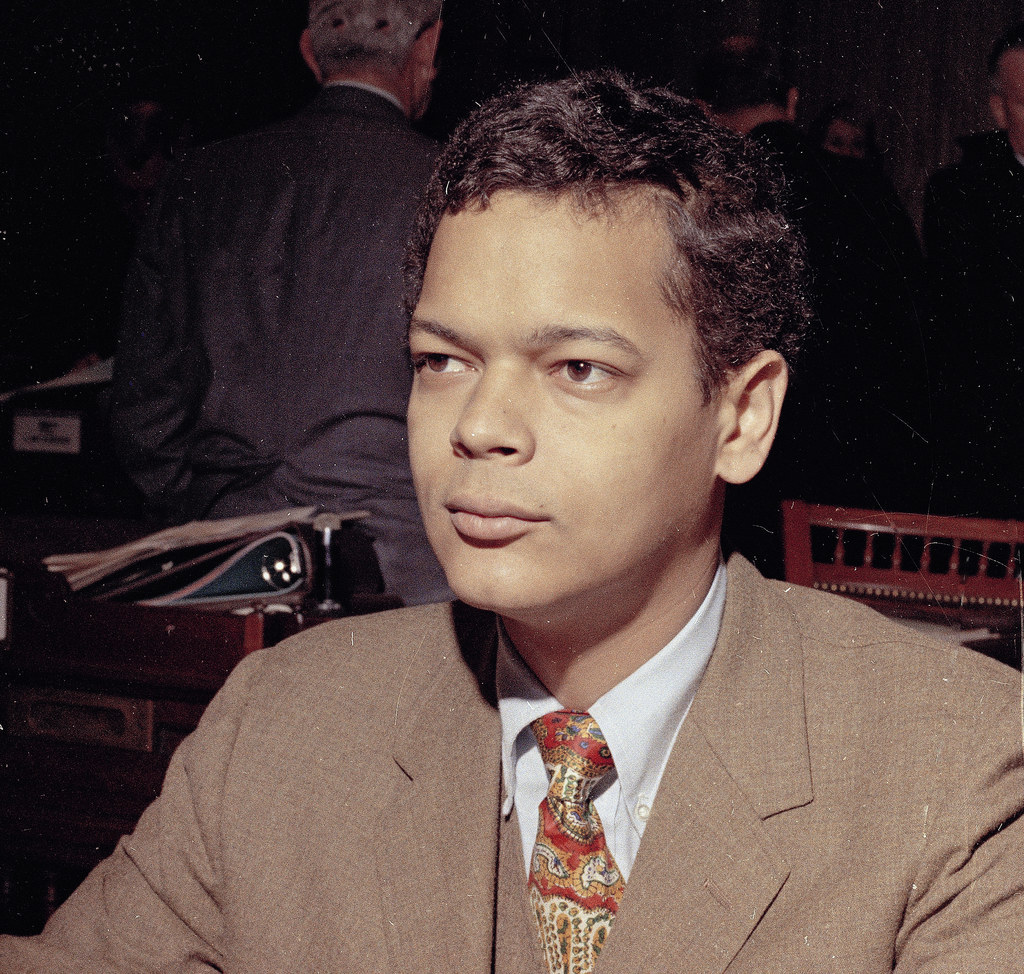 In 2013, in commemoration of the 50th anniversary of the March on Washington, Bond wrote a column for the Human Rights Campaign about the march and his commitment to LGBT rights:
"In August 1963, I was the Communications Director for the Student Nonviolent Coordinating Committee (SNCC), led at the time by John Lewis, the march's youngest speaker that day. ...

"Fifty years later, I can still feel the power of that noble, August day. Its weight is what drove me for years — from founding the Southern Poverty Law Center, to overseeing the NAACP as Chairman, not to mention the ten terms I served as a member of the Georgia legislature. And later, that exact same commitment to achieving equal rights is what convinced me to stand with the Human Rights Campaign in endorsing marriage equality."
Of Bond's death, Chad Griffin, the president of HRC, told BuzzFeed News, "Very few throughout human history have embodied the ideals of honor, dignity, courage and friendship like Dr. Julian Bond. Quite simply, this nation and this world are far better because of his life and commitment to justice and equality for all people. Future generations will look back on the life and legacy of Julian Bond and see a warrior of good who helped conquer hate in the name of love."