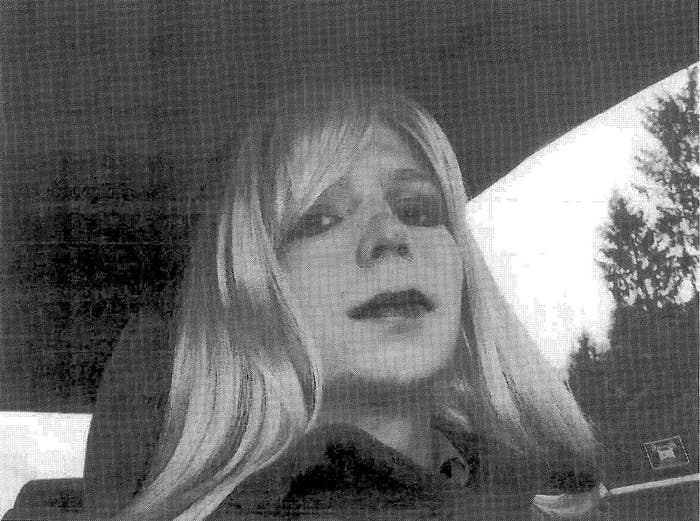 WASHINGTON — Army officials have informed Chelsea Manning that they will provide her with gender transition surgery, her lawyer tells BuzzFeed News.
A lawyer for Manning, the ACLU's Chase Strangio, spoke with Manning on Tuesday after she was informed of the military's decision. Manning, serving a 35-year prison sentence for violating the Espionage Act, received a recommendation from her psychologist in April that she receive surgery related to her gender dysphoria.
"I am unendingly relieved that the military is finally doing the right thing. I applaud them for that. This is all that I wanted — for them to let me be me," Manning said in a statement provided by her lawyers.
"But it is hard not to wonder why it has taken so long. Also, why were such drastic measures needed? The surgery was recommended back in April 2016. The recommendations for my hair length were back in 2014," Manning continued in the statement. "In any case, I hope this sets a precedent for the thousands of trans people behind me hoping they will be given the treatment they need."
Strangio said Manning was told on Tuesday that the military made a determination that the Department of Defense's instruction for "In-Service Transition" applies to her. Additionally, according to Strangio, Manning was shown a treatment plan that included information about surgery and the medical team necessary to move forward with that surgery.
Strangio added, however, that Manning was told that she must continue to keep her hair short, as required under male grooming standards, until she receives the surgery.
Asked to confirm the information provided by Manning's lawyer, Army spokesperson Wayne Hall told BuzzFeed News only, "We cannot and will not discuss the medical needs of individuals."

The decision ends a hunger strike that Manning began on Sept. 9, but it does not, at this point, end a hearing scheduled for Manning on Sept. 20 relating to charges resulting from Manning's suicide attempt earlier this summer.
"Thankfully the government has recognized its constitutional obligation to provide Chelsea with the medical care that she needs and we hope that they will act without delay to ensure that her suffering does not needlessly continue," Strangio said in a statement.
Strangio added, however, that Tuesday's news doesn't alleviate all of the concerns of Manning's lawyers. First, he said, they will continue to monitor the situation to see how quickly the military moves forward with the recommended surgery. Second, Strangio noted, "Certainly, we're going to move forward with our litigation on the hair issue, as that remains a matter of concern." Finally, Strangio said it is the hope of Manning's lawyers that "all charges related to her suicide attempt and the investigation that followed are dropped."
No prison inmate — at the state or federal level — has received gender transition surgery. The issue of gender has been highly charged, leading to extensive litigation even in more traditionally liberal states like Massachusetts and California. Although a settlement reached in a California case brought by the Transgender Law Center provided for surgery for Shiloh Quine, Quine's lawyers told BuzzFeed News on Tuesday that the surgery is set for this fall but has not yet happened.
Activists opposed to Manning's imprisonment updated an ongoing petition after the announcement of Tuesday's news, stating, "Chelsea Manning ends hunger strike after Army agrees to provide her with needed health care. But they're still threatening to punish her for attempting to take her own life."

UPDATE
This report has been updated with information about health care for transgender people in prison and activists' efforts on Chelsea Manning's behalf.