Charlie Morgan, Servicemember Who Fought Cancer And DOMA, Dies
Having served in the New Hampshire National Guard, Morgan made her voice heard on Capitol Hill, in the White House and in the courts. "I'm trying to stand up for all we believe in in this country," she said of her efforts, including as a plaintiff in a lawsuit challenging DOMA.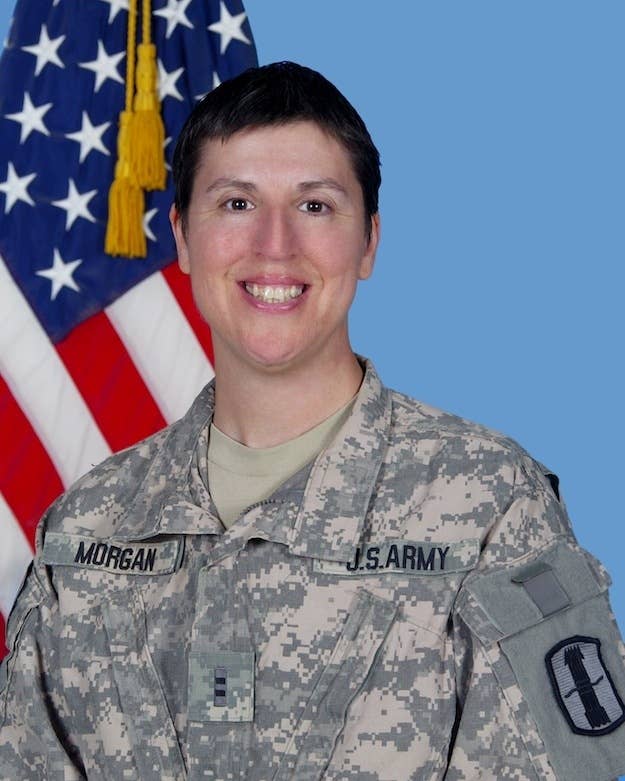 WASHINGTON — Chief Warrant Officer Charlie Morgan died Sunday of breast cancer, after having fought both the disease and the impact the Defense of Marriage Act would have on her wife, Karen, in the public light in recent years.
New Hampshire Gov. Maggie Hassan, at whose inauguration Morgan led the Pledge of Allegiance this past month, said she and her husband were "deeply saddened" by the news.
"A dedicated soldier, wife and mother, her service and sacrifice exemplify what makes America and New Hampshire strong. Her fight for equality will outlive her fight against cancer," Hassan said in a statement. "We can and should honor Charlie's legacy by continuing her fight to ensure that all families are treated equally by the State of New Hampshire and by the federal government. Our thoughts and prayers are with her wife Karen, her daughter Casey Elena, and all of her family and loved ones."
OutServe-SLDN, the advocacy and legal group with whom she had been involved since coming out on MSNBC on the day "don't ask, don't tell" ended, announced the news Sunday morning.
Charlie, who served in the New Hampshire National Guard, and Karen Morgan had been steadfast, public opponents of DOMA, telling those in power across the federal government of the fact that DOMA would prevent Karen from receiving military benefits and Social Security survivor benefits if Charlie were to die.
Calling Charlie Morgan "a courageous fighter for our country, for her family, and for the equality of all who wear the uniform of our nation," OutServe-SLDN executive director Allyson Robinson said in a statement, "She made an indelible mark on everyone she met with her integrity, her positive outlook, and her unflinching commitment to righting the wrongs visited upon gay and lesbian military families. The fight for full LGBT equality in this country is forever changed because Charlie Morgan took up the cause."
Senator Jeanne Shaheen said in a statement that Morgan "epitomized courage — in her military service, her fight for LGBT equality, and her battle with cancer. She showed us how to live and to die with dignity. I am honored I got to know Charlie and my heart goes out to her wife Karen, her daughter Casey Alena and her entire family."
Plaintiffs in OutServe-SLDN's lawsuit — McLaughlin v. Panetta — challenging DOMA's effects on servicemembers, Charlie Morgan met with House Speaker John Boehner, asking his office not to defend DOMA in the lawsuit.
The Morgans attended the White House LGBT Pride Month Reception in June 2012, and they spoke in July 2012 about the importance of opposing DOMA and supporting marriage equality at the Democratic National Committee platform drafting committee hearings.
Just this past month, Charlie Morgan was selected by Gov. Maggie Hassan of New Hampshire to lead the Pledge of Allegiance at her inauguration.
Although DOMA is being challenged in the courts and one of those challenges, United States v. Windsor is scheduled to be heard by the Supreme Court in March, the Pentagon has not taken action in the meantime to extend other benefits to same-sex couples that could be extended without conflicting with DOMA.
At that pride month event, Charlie Morgan spoke with this reporter about why she took on the DOMA fight even as she lived with cancer, saying, "I'm trying to stand up for all we believe in in this country. We're soldiers to stand up for and protect our freedoms, so it's easy."
NOTE: This article has been updated to include comments from Gov. Hassan and Sen. Shaheen.