Caught Up In The Marriage Moment, April DeBoer And Jayne Rowse Are Going To The Supreme Court
"It wasn't part of the list of the things that I might do in my lifetime," April DeBoer says of her trip to the Supreme Court for Tuesday's marriage arguments.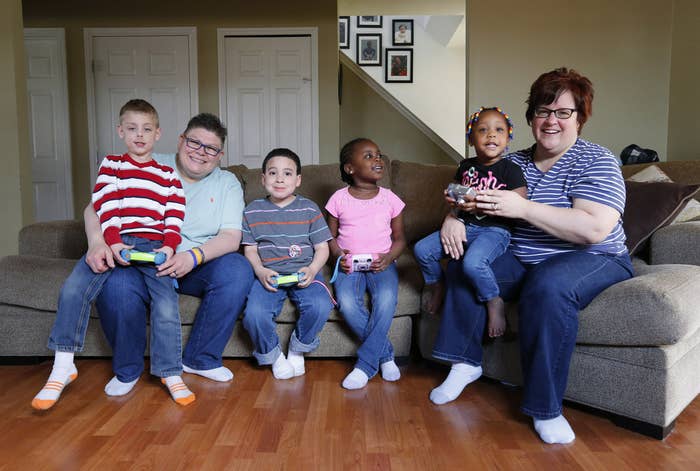 WASHINGTON — A little more than 40 hours before their case was set to be heard at the Supreme Court, April DeBoer and Jayne Rowse, in matching gray and orange polo T-shirts and jeans, were readying dinner plans from their hotel room in downtown D.C.
The Michigan couple — like much of America even a few years ago — did not plan to be here.
"It wasn't part of the list of the things that I might do in my lifetime," DeBoer told BuzzFeed News on Sunday. "Up until four years ago, the only court I've ever been into is a family court and then all of a sudden we're in federal court — and now we're going to the Supreme Court. I just, I can't imagine that my brain ever registered that we'd be walking into a supreme court for anything."
And yet they will do just that Tuesday morning for a case that is widely expected to lead to a landmark ruling in the fight for same-sex couples' marriage rights — a fight that DeBoer and Rowse did not initially intend to take on.
More than three years ago, they filed a lawsuit in federal court in Michigan for adoption rights, asking the court to strike down the state's ban on second-parent adoptions by unmarried persons. The couple was simply seeking to adopt each other's kids — two initially were adopted by Rowse, one was initially adopted by DeBoer — but Michigan law only allows second-parent adoptions for married couples.
Much to their surprise, the judge assigned to the case — U.S. District Court Judge Bernard Friedman — asked them to consider amending their lawsuit to include a challenge to the state's marriage ban itself. The couple and their lawyers did so, entering the marriage fight, formally, by filing an amended complaint on Oct. 3, 2012 — more than two months before the Supreme Court even announced it would be hearing cases challenging the Defense of Marriage Act and California's Proposition 8 marriage ban.
The American Civil Liberties Union, Human Rights Campaign, Lambda Legal, and National Center for Lesbian Rights asked the court to put their case on hold while the Prop 8 case was resolved, a recommendation that Friedman took.
"We had opposition — 'wrong case,' 'wrong time,' 'wrong plaintiffs,' everything — but we didn't feel that way, obviously," Rowse said on Sunday.
At that time, same-sex couples could only marry in six states — Massachusetts, Connecticut, Iowa, Vermont, New Hampshire, and New York — and D.C.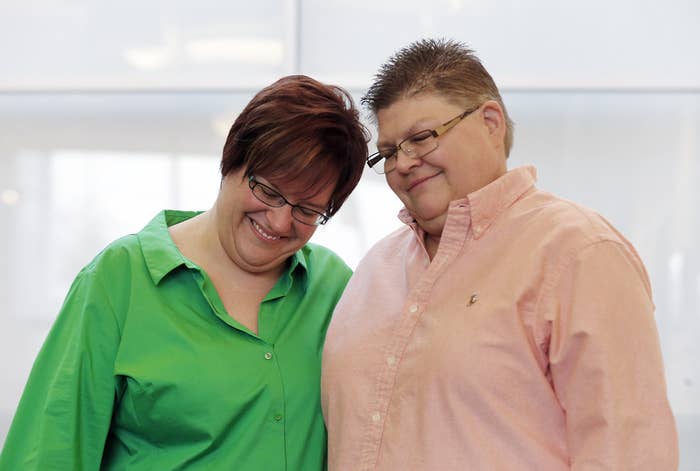 Days after the Supreme Court dismissed the Prop 8 appeal on a technicality in June 2013, avoiding a ruling on the constitutional question of same-sex couples' marriage rights, Friedman moved forward with DeBoer and Rowse's case — denying the state's request that he dismiss the case. Then, in early 2014, Friedman held a full trial in the case — only the third such trial on whether same-sex couples should be able to be banned from marrying.
In late March 2014, Friedman struck down the state's ban as unconstitutional. Michigan officials appealed, though, and the 6th Circuit Court of Appeals sided with Michigan — upholding the ban, along with bans from three other states, in November 2014.
"We weren't prepared for it," Rowse said of the 6th Circuit's conflicting ruling. "We always knew it could happen, obviously, but I guess in our optimistic world they would be like, 'I see what they're talking about, and I see how their rights are violated, and it shouldn't be put to a vote.' But that's not what happened, so we had to regroup and figure out what to do from there."
By that time, the winds had shifted. More than half of the country lived in states with marriage equality — in big part due to the Supreme Court's decision a month earlier not to hear any of several states' appeals of rulings from other three other appellate courts, all of which had struck down states' marriage bans.
DeBoer and Rowse — along with plaintiffs from the three other states of the 6th Circuit: Kentucky, Ohio, and Tennessee — asked the Supreme Court to hear an appeal of the decision. The court agreed in January to do so, and the couples will hear lawyers and the justices debate their rights on Tuesday.
"I'm excited. And a little nervous. A little scared," Rowse said. "I mean, we've only seen these people on TV and in the papers, so to actually be 10 feet away from them, or however far we're going to be, it's going to be a little intimidating. These are the people who are going to rule our fate in the next 60 days or however long. It's a little nerve-racking."
Asked what she and Rowse will be thinking about when they wake up on Tuesday morning, DeBoer was speechless for a moment. Then she took a breath and said, "We're going to be thinking about the determination that we have [shown] to make this right, to make sure that we are treated equally and that our children are treated equally and that future generations are treated equally. There are so many other fights that we have still to come, but this is a first major step towards the rest of the fights."
"But, Tuesday, I'm taking Jayne and my love, and our love for our kids, into that courtroom," she said, almost triumphantly. "That's what I'm taking with us."