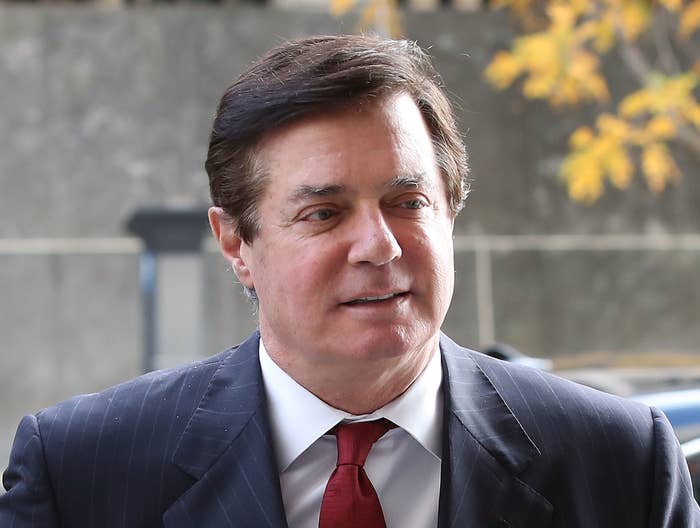 In March 2016, weeks before Paul Manafort joined the Trump campaign, a company co-owned by Manafort and his son-in-law at the time, Jeffrey Yohai, opened a bank account in conjunction with real estate development efforts the pair were undertaking in Los Angeles. Two months later, the company opened a second account at the same bank.
In mid-September, however, the bank forcibly closed the accounts due to a series of transactions the bank deemed to be suspicious, and a few days before the 2016 election filed a suspicious activity report, or SAR, with the Treasury Department's Financial Crimes Enforcement Network (FinCEN). By law, banks must file suspicious activity reports when they spot transactions that bear hallmarks of money laundering or other financial misconduct. Such reports can support investigations and intelligence gathering — but by themselves they are not evidence of a crime.
From there, things quickly went downhill.
By the end of 2016, a related company controlled by Manafort and Yohai had filed for bankruptcy, as had the companies set up to handle three of the properties involved in the pair's efforts. Jessica Manafort filed for divorce against Yohai in March 2017, which has since been finalized. By late September 2017, Yohai informed the court overseeing the bankruptcies that the ownership of new companies set up to handle the purchases of the properties while in bankruptcy was "misrepresented" to him and that Paul Manafort and others associated with those companies conspired to "mislead" the court and others involved "as to their true intentions and motivations."
Both the Wall Street Journal and Reuters have reported in recent months that the federal prosecutor in Los Angeles has taken interest in Yohai and Manafort's efforts, with Reuters suggesting the California investigation could provide additional leverage to special counsel Robert Mueller in his attempts to get Manafort to cooperate with his investigation. CNN had previously reported that Yohai had spoken to prosecutors.
What has not been reported, however, is information about the suspicious activity report. Mueller and his team have had access to the SAR about Yohai and Manafort's accounts — on which Rick Gates, who has agreed to cooperate with Mueller's investigation, is an additional authorized signer — since this past September, BuzzFeed News has learned. And, after Mueller indicted Manafort and Gates this past October, the bank reviewed the account activity and filed an amended report, providing FinCEN with still more information.
The Banc of California accounts, a fuller picture revealed, had funds totaling $2.6 million. Baylor Holding LLC — the company in whose name the accounts were opened — had listed properties valued between $16 million and $24 million and secured a $1 million line of credit in mid-2016 to be used for renovation and construction in preparing the properties for sale, according to the SAR reviewed by BuzzFeed News.
Presented with the information contained in BuzzFeed News' report, James Andrew Hinds Jr., a lawyer for Yohai, responded, "Mr. Yohai has nothing to add to your investigation into the matters outlined below." A spokesperson for Manafort did not provide any comment.
All of this happened surrounding the months in which Manafort was the chairman for Donald Trump's presidential campaign, with the first account being opened weeks before Manafort joined the campaign. The SAR was filed less than a week before Election Day.
While Manafort's relationship with Yohai has figured in speculation in recent months about whether Mueller is interested in their business dealings, their work together has yet to appear in any of Mueller's public filings.

But the interest has been explicit in Congress. As part of their investigation into Russia's interference in the 2016 presidential election, Sens. Lindsey Graham and Sheldon Whitehouse, the chair and ranking member of the Senate Judiciary Subcommittee on Crime and Terrorism, sent a letter in 2017 to FinCEN requesting access to any suspicious activity reports submitted by banks on Manafort, Yohai, and their real estate holding companies, along with additional names and businesses.
FinCEN searched its database and pulled dozens of suspicious activity reports on Manafort and his businesses as well as several on Yohai and his businesses. The existence of those reports has not been previously reported and provides new insight into the range of information available to investigators interested in Manafort and Yohai's business dealings.
On March 10, 2016, Baylor Holding LLC — of which Manafort and Yohai are 50-50 co-owners — opened a checking account with the Banc of California, according to the SAR, which BuzzFeed News has reviewed. A little more than two weeks later, on March 28, it was announced that Manafort was joining Trump's campaign. The SAR notes that Baylor opened a second account with the bank on May 10.
The suspicious activity report notes that in May that Baylor's company had secured a $1 million revolving line of credit to be used for "soft costs" related to the renovation and construction of short sale and foreclosure properties on the Westside of Los Angeles. Their company listed six properties valued at between $16 million and $24 million, according to the SAR.
In the months that followed, Manafort worked — for free — for the Trump campaign, being named the campaign's chairman in mid-May, attending the infamous Trump Tower meeting in June, and helping to wrangle delegates at the convention. He also communicated and met with a Ukrainian business associate with connections to a Russian oligarch in July and August, and, after the New York Times' reported on a "secret ledger" detailing payments for Manafort by pro-Russian Ukrainian politicians, resigned from the campaign on Aug. 19.
Less than a month later, the Baylor Holding accounts were forcibly closed by the Banc of California. The reason, per the SAR, was a series of transactions that took place between Aug. 26 and Sept. 6 — tied to a loan in the amount of $402,572 — that the bank identified as account fraud activity. Both accounts were forcibly closed by the bank on Sept. 12.
An amended suspicious activity report filed after Manafort's initial indictment in October 2017 noted that the account had funds totaling $2.6 million and stated that transactions were flagged due to suspicion about the source of the funds, suspicious wire transfers and electronic fund transfers, suspicious use of noncash monetary instruments, and a transaction with no apparent economic, business, or lawful purpose.
A bank spokesperson declined to comment.
Just over three months later, Yohai would be going to court, filing for bankruptcy for Mt Yohai LLC — a company 70% controlled by Baylor Holding — and for three other companies created to run the sale of three of the properties at issue: 779 Stradella LLC, 1550 Blue Jay Way LLC (a property that involves an investment made by Dustin Hoffman and his son Jacob), and 2401 Nottingham LLC. Yohai is listed on the bankruptcy filings as the managing member of all five entities.
In a January 2017 filing, Mt Yohai LLC claimed only one asset — a parcel of land, 2521 Nottingham Avenue, at the southern end of Los Angeles's enormous Griffith Park — valued at $6.5 million and more than $2.1 million in liabilities.
The bankruptcy court granted a motion approving the sale of the 2521 Nottingham Avenue property for a fraction of that claimed value — $1.8 million — as part of the ongoing bankruptcy proceedings this January. The purchaser, Thomas Fanning, owned 10% of Mt Yohai's equity interests, according to bankruptcy filings, and a company Fanning runs, Bowery Design and Development, was owed more than $500,000 by Mt Yohai at the time of the bankruptcy filing — an amount that reduced the cash price of the sale to a little less than $1.3 million. The other Nottingham Avenue property-related bankruptcy case was dismissed in February 2017, and the other two remain pending.
Meanwhile, two of the parties involved in these cases — Manafort and a creditor, Genesis Capital — also have been involved in a real estate transaction in New York that Reuters reported some lawyers say raises questions about the parties' transparency to the bankruptcy court in California.
And, as to Yohai, a photographer alleges — in yet another legal action — that he provided Yohai with $2.9 million for investments in NYC real estate that has not yet been repaid. This despite a promissory note that the photographer, Guy Aroch, alleges Yohai signed in late September 2016 acknowledging that repayment would be forthcoming that next month.