Boy Scouts "Will Not Employ Atheists, Agnostics, Known Or Avowed Homosexuals," According To Form
Some people will have a tough time working for the Boy Scouts, according to this employment application obtained by the Human Rights Campaign.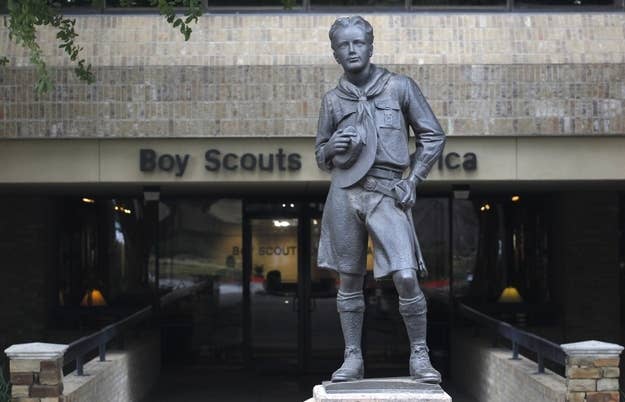 WASHINGTON — The Human Rights Campaign released a Boy Scouts of America job application Thursday outlining BSA's employment policy forbidding the hiring of "known or avowed homosexuals."
The form, dated as the "2003 Printing," was obtained by HRC, and the Boy Scouts organization has not responded to a request for comment on whether the application is still in use.
According to the application, "the Boy Scouts of America will not employ atheists, agnostics, known or avowed homosexuals, or others as professional Scouters or in other capacities in which such employment would tend to interfere with its mission of reinforcing the values of the Scout Oath and the Scout Law in young people."
It is not surprising, given that the language is, more or less, an assertion of the right that the Boy Scouts fought to the Supreme Court in 2000 to be able to maintain among its members and leaders.
As quoted by the Supreme Court when James Dale challenged the Scouts' exclusion of him as an assistant scoutmaster, the Boy Scouts policy, as of 1993, was, "The Boy Scouts of America has always reflected the expectations that Scouting families have had for the organization. We do not believe that homosexuals provide a role model consistent with these expectations. Accordingly, we do not allow for the registration of avowed homosexuals as members or as leaders of the BSA."
The employment policy, however, is notable, given that the Boy Scouts exists in areas where discrimination on the basis of religious beliefs or sexual orientation are illegal for most employers.
Elsewhere, the application does note that felony convictions are "not an automatic bar to employment."
What The Boy Scouts Will Not Accept: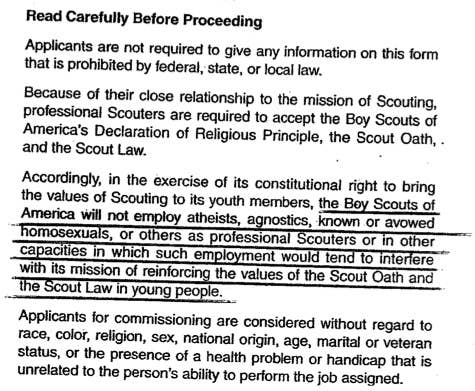 What The Boy Scouts Will Accept: