Boy Scouts Say They're Keeping Gay Ban — But Activists Keep The Heat On
The Boy Scouts say they will keep their policy banning out gay leaders or members in place. More than 300,000 signatures demanding a change will be delivered Wednesday.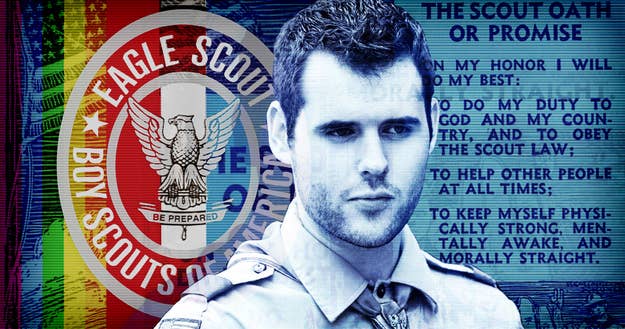 A spokesman for the Boy Scouts today reaffirmed that the group's ban on out gay members and leaders "is absolutely the best policy for the Boy Scouts" — a move that has already produced an intensifying campaign to change the group's policy.
Eagle Scout Zach Wahls, the son of an Iowa lesbian couple who has emerged as a leading voice on the question, blasted the decision as the move of people "unwilling to take responsibility for their actions."
The Associated Press reported that an 11-member committee appointed to look into the issue — their names have been kept a secret — "was unanimous in its conclusion."
Wahls, the young Iowan who became an internet sensation after defending his married moms to Iowa lawmakers, is an Eagle Scout and has been working with Change.org and Jennifer Tyrrell, an Ohio mom ousted as a troop leader for being a lesbian, to push the Scouts to change their policy.
"What is most disappointing about today's announcement is the secretive nature surrounding how this conclusion was reached. The very first value of the Scout Law is that a Scout is trustworthy," he wrote to BuzzFeed. "There is absolutely nothing trustworthy about unelected and unnamed committee members who are unwilling to take responsibility for their actions."
In a statement provided by Change.org, Tyrell told BuzzFeed that "a secret committee of 11 people can't ignore the hundreds of thousands of people around the country — including thousands of Eagle Scouts, scout families, and former scouts — that want the ban on gay scouts and scout leaders removed."
Both say they will continue to pursue a policy change.
"This announcement is old news. We've heard this line before, and I'm sure they'll keep saying this until the day they decide to change the policy," Wahls said. "This announcement, moreover this 'process,' is just a distraction. We know where this is headed."
To that end, Tyrrell is on her way to Dallas and plans to deliver more than 300,000 petitions to the Boy Scouts headquarters on Wednesday morning.
"This campaign doesn't stop, and we will continue to show the Boy Scouts that discrimination and intolerance have no place in scouting," she said.
James Dale, who had been forced out of his job as an assistant scoutmaster for the Boy Scouts once they became aware that he was gay, took his case to the U.S. Supreme Court in 2000, arguing the Boy Scouts had violated New Jersey's anti-discrimination law. The Scouts, however, argued that they had the First Amendment right to exclude Dale — a position that the court agreed with in a split decision.
Evan Wolfson, the founder and president of Freedom to Marry, argued on Dale's behalf and told BuzzFeed today that today's decision by the Boy Scouts "means that the BSA hierarchy remains way out of step with the rest of the country," and accused the group's leaders of "clinging to their anti-gay agenda."
In a statement, the executive committee of the Boy Scouts acknowledged that some would like the policy to change: "Scouting believes that good people can personally disagree on this topic and still work together to achieve the life-changing benefits to youth through Scouting. While not all board members may personally agree with this policy, and may choose a different direction for their own organizations, BSA leadership agrees this is the best policy for the organization."
In recent months, some Boy Scouts board members — including Ernst & Young's James Turley and AT&T's Randall Stephenson — issued statements suggesting that they would work from within the organization to change the policy.
Wayne Besen, the executive director of Truth Wins Out, which tracks anti-gay religious activity, blamed the influence of Christian groups. The Boy Scouts "are influenced heavily by the Latter Day Saints church and Southern Baptists. Until the influence of these groups wanes, a new policy is doubtful, if not wishful thinking," he said.
Wahls made the case that religious values should favor inclusion.
"In the Boy Scouts, I learned about the importance of religious respect. I learned and grew alongside Christians, Jews, Muslims and Hindus," he said. "Regardless of your thoughts on homosexuality, surely we can agree that gay people who serve our troops and communities deserve our respect and gratitude."