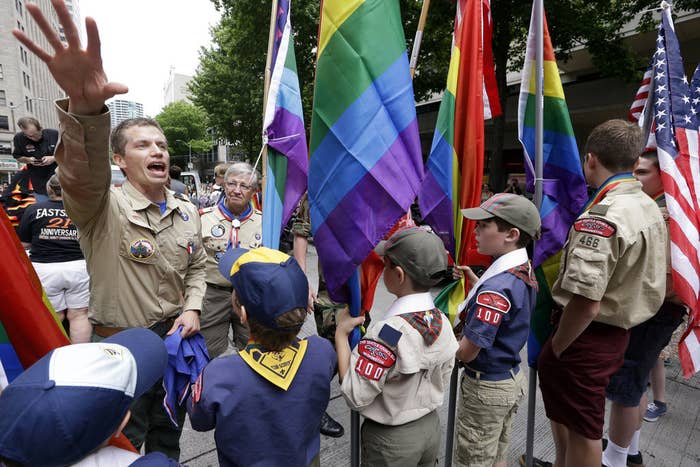 WASHINGTON — A key leadership panel of the Boy Scouts of America voted unanimously last week to end the ban on gay leaders in scouting, the organization told local leaders on Monday.
The move — raised as a necessary step by the organization's head in May — came from the executive committee of the Boy Scouts on July 10. A vote of the full executive board is scheduled for July 27, at which point the change is immediately effective.
The resolution passed by the committee does not require councils or troops to allow out gay leaders, but lifts the prior ban on such leaders. Specifically, the resolution "affirms the right of each chartering organization to reach its own religious and moral conclusions about the specific meaning and application of" the organization's values.
At the Boy Scouts national annual meeting in May, the group's president, former Defense Secretary Robert Gates, took on the issue directly and at length.
"I must speak as plainly and bluntly to you as I spoke to presidents when I was director of the CIA and secretary of defense," he said in part. "We must deal with the world as it is, not as we might wish it to be. The status quo in our movement's membership standards cannot be sustained."
In a statement, Zach Wahls, the executive director of Scouts for Equality, said, "Today's announcement hopefully marks the beginning of the end of the Boy Scouts of America's decades-old ban on gay leaders and parents like my two moms."
He continued: "For decades, the Boy Scouts of America's ban on gay adults has stood as a towering example of explicit, institutional homophobia in one of America's most important and recognizable civic organizations. While this policy change is not perfect—BSA's religious chartering partners will be allowed to continue to discriminate against gay adults—it is difficult to overstate the importance of today's announcement."
In the resolution, the Boy Scouts national organization specifically states that it will "defend and indemnify to the fullest extent allowed by law" any chartered group that is a religious group and is challenged in court for making a "good faith refusal to select a unit leader based upon the religious principles of the chartered organization."
From the unanimously approved resolution: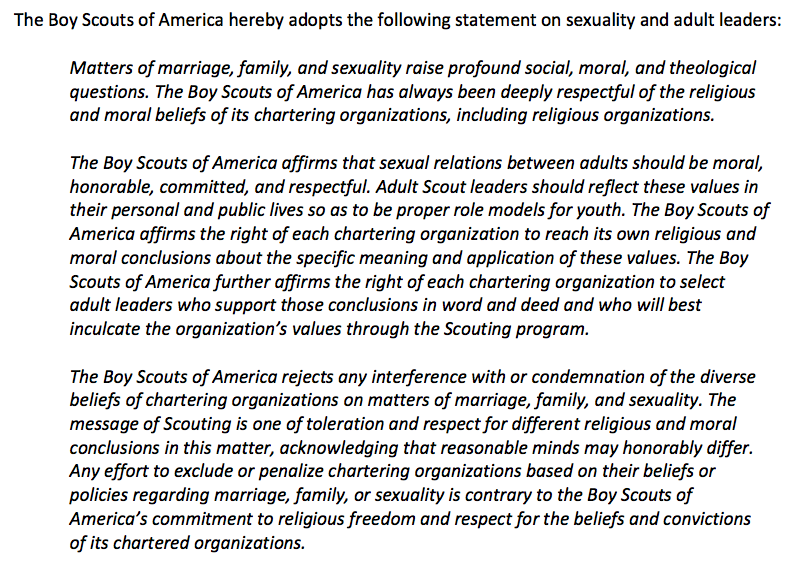 In addition, the resolution makes it clear that individually chartered Boy Scout troops may continue to ban gay leaders: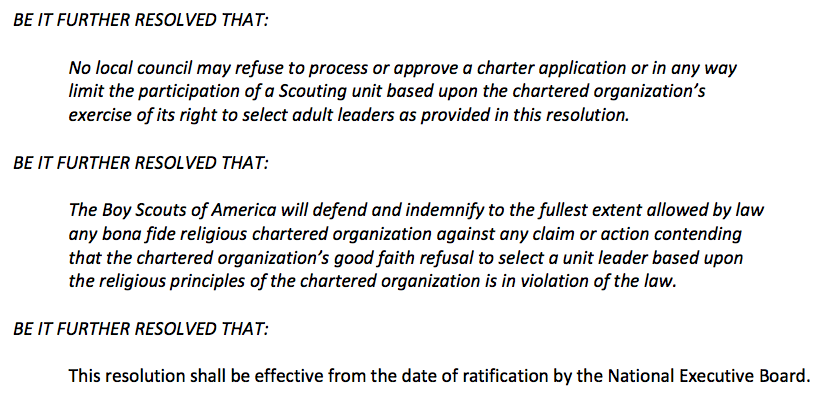 Update, July 28: In addition to the resolution memo, Regional and Area Board Members of the Boy Scouts of America also received two other memos: