Boulder County Clerk Can Continue To Issue Marriage Licenses To Same-Sex Couples
State court judge says "the State does not identify specific irreparable harm" caused by clerk issuing marriage licenses, "offering only speculation." [Update: Denver is now issuing marriage licenses to same-sex couples as well.]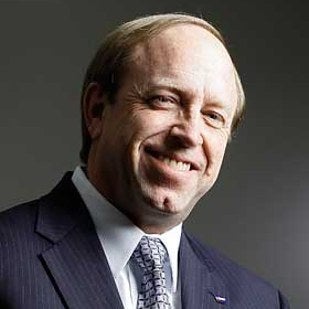 WASHINGTON — A state court judge refused Thursday morning to stop the Boulder County clerk from issuing marriage licenses to same-sex couples, a rebuff to the state's attorney general.
In denying Colorado Attorney General John Suthers's request that the court order Boulder County Clerk Hillary Hall to stop issuing such licenses, Boulder County District Court Judge Andrew Hartman ruled, "As a procedural case, the Court has little choice but to deny the motion and issue further orders as detailed herein."
Hartman was tough on the state, ruling that it had failed to show any "irreparable harm" by issuing the licenses, a requirement for obtaining the temporary restraining order that Suthers's office was requesting.
"The State asserts that Clerk Hall is causing irreparable injury by issuing same-sex marriage licenses, namely, that she is causing 'legal chaos and confusion.' However, when pressed, the State does not identify specific irreparable harm, offering only speculation," Hartman wrote. "This is a fatal flaw to the extraordinary relief it seeks."
The key analysis from Hartman detailed, in part, the unanimity of courts in deciding — since the Supreme Court's decision in United States v. Windsor striking down part of the Defense of Marriage Act — that bans on same-sex couples' marriages are unconstitutional. Hartman wrote:
Clerk Hall argues that the equities are in her favor since a stay would deprive same-sex couples of their fundamental right to marry. As discussed ... above, every post-Windsor case that has addressed this issue has found in favor of same-sex litigants, including the only Colorado case. Also, while the people of Colorado deserve compliance with the rule of law, they have 'a more profound long- term interest in upholding an individual's constitutional rights.' As such, the Court cannot find that the balance of the equities favors granting the State's request for expedited relief.
That said, Hartman also ordered Hall to inform same-sex couples that "the validity of their marriages is dependent upon whether a court would find that Clerk Hall had authority to allow same-sex marriages."
The ruling came a day after another state court judge ruled that Colorado's ban is unconstitutional. A federal lawsuit challenging the ban this past week is pending as well.
The court's order: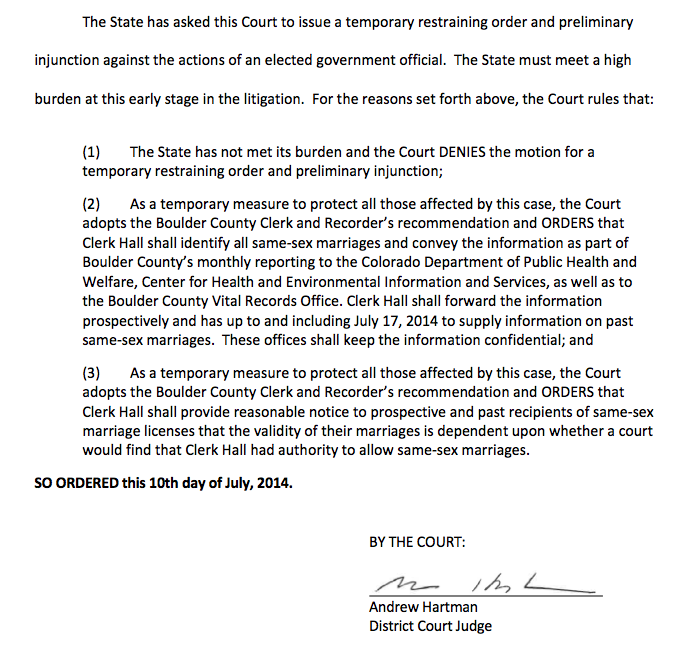 Denver Clerk Debra Johnson announced that her office is beginning to issue marriage licenses to same-sex couples beginning immediately.