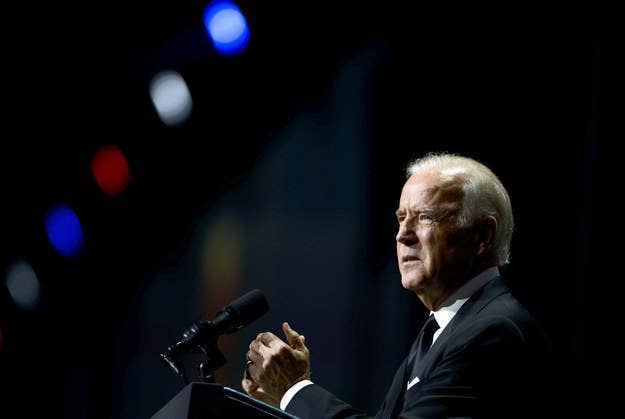 WASHINGTON — Speaking to a room of nearly 4,000 supporters of the nation's largest LGBT rights group, Vice President Joe Biden was a person focused on the challenges of the future — not merely celebrating the successes of the past.
Summing up his view of why the LGBT movement has seen so much success in recent years, Biden told the attendees of the Human Rights Campaign's national dinner on Saturday night, "You showed up." And Biden, who is expected to soon decide whether to run for president, made the case that he has shown up for LGBT people in the past — and that much more remains to be done.
He ended his speech, in fact, by telling a story about a question the current president of HRC, Chad Griffin, asked him to prompt a discussion about marriage in April 2012: "What do you think of me?"
Biden described how the question struck him at the time, but, on Saturday night, the question also was Biden's path to the future: "My answer as to what will constitute success is when, under no circumstances, no gay, lesbian, bisexual, or transgender person ever, ever has to ask the question, 'What do you think of me?'"
The other question — whether Biden will run — was unavoidable from the opening words of his nearly 24-minute speech: "A number of you have said to me over the past three or four years—"
"You should run!" a member of the audience shouted loudly.
"No, they didn't say that," Biden replied, laughing — and losing his focus for a moment. "Anyway," he continued. "What was I saying?"
Speaking 10 hours after Democratic frontrunner Hillary Clinton addressed the group, Biden reflected on what has happened during the Obama administration.
That was not, however, the focus of his speech. Biden focused instead on detailing the way he views the LGBT community, describing his work for LGBT rights, and advancing a vision for what remains to be done — including several goals, particularly legislative ones, unlikely to be advanced in the current administration.
The vice president opened by discussing praise he has received for the Meet the Press interview when he endorsed marriage equality in 2012. Biden quickly pivoted the focus back to the audience, however, saying this June's marriage equality ruling "is not because of any national figure who spoke out," but is instead because of the people in the room and thousands of others "who have had the courage to stand up and speak, to speak their hearts and minds."
He continued: "You left the Supreme Court absolutely no choice, no choice whatsoever — I mean that — but to recognize the simple proposition my father taught me 50 years ago," which, he had earlier said, was, when the Bidens saw a gay couple kissing on the street when the vice president was growing up, "They're in love with each other, it's that simple."

Biden went on from there, praising the contributions of LGBT people throughout history, from Harvey Milk's constant call for hope to the work of actress Ellen Page — who was being honored at the dinner — to advance LGBT rights today. "By
the way Ellen, you won that debate at the Iowa State Fair," he added, referencing when she confronted Sen. Ted Cruz, who is running for president, over LGBT issues at the fair.
Less than halfway into his speech, Biden moved to the work ahead. "The remainder of the work — and much work has to be done — I promise you will come more quickly and more shrewdly," he said.
"I strongly support the Equality Act, and it will pass. It will pass. It may not pass this Congress, but it will pass because it's simple and it's straightforward," Biden said, echoing Clinton's morning remarks, and going on to discuss what work he believes will be needed to get it passed into law.
Biden then raised transgender issues — a prominent focus of Clinton's speech as well — by noting that he said last year that "transgender equality is the civil rights issue of our time." He discussed his support for an end to the ban on out transgender military service, noting that Defense Secretary Ash Carter said this summer that being transgender should not prevent someone from serving in the military.
Biden also said that Obama and he were working to ensure that "all those who were dishonorably discharged because they were members of the LGBT community should have their discharge papers changed from dishonorable to honorable" —another point raised by Clinton 10 hours earlier.
On international LGBT rights, he said, "There is no cultural justification for prosecuting, persecuting, putting in jail the LGBT community in any country anywhere in the world."
Biden also detailed several other LGBT issues that he sees a need for action: LGBT youth homelessness, difficulties still faced by LGBT immigrants, the "unconscionable practice of conversion therapy," and HIV treatment needs in black and transgender communities.
Toward the end of Biden's remarks, he spoke about one issue outside of LGBT rights — gun violence — and noted that even though universal background checks are not likely to pass this Congress, he would keep speaking out about the issue until such legislation passes.