Bay Buchanan, Pat's Sister, To Headline Gay Conservatives' "Unity Reception" For Romney
The senior advisor to the Romney campaign will be the featured speaker at GOProud's October 8 event in Washington, D.C.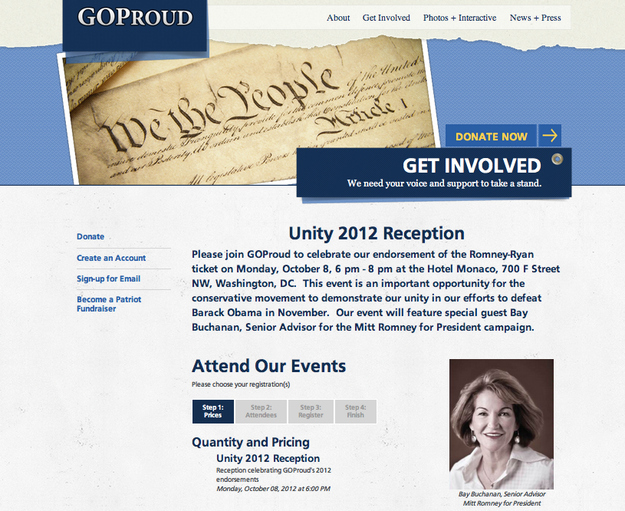 Senior Romney campaign advisor Bay Buchanan — the conservative Reagan administration official who went on to back the failed presidential campaigns of her brother, Pat, and Tom Tancredo — will be the featured guest at GOProud's Unity 2012 Event, scheduled for Oct. 8, BuzzFeed has learned.
"GOProud is focused on defeating Barack Obama and electing Mitt Romney and Paul Ryan in November," GOProud's executive director, Jimmy LaSalvia, told BuzzFeed. "I personally endorsed Governor Romney back in January and our organization endorsed Governor Romney in June. We think this event is an important opportunity to show that the conservative movement is united in our efforts to defeat Barack Obama – and that gay conservatives are an important part of that effort."
Of Buchanan, LaSalvia added, "Bay Buchanan is a high profile advisor to Governor Romney's campaign and we are thrilled that she is going to be our featured guest."
The Romney campaign did not immediately respond to a request for information about whether Buchanan's planned attendance was a sign the campaign is reaching out for support from gay conservatives.
Although GOProud is the only national gay organization to endorse the Romney-Ryan ticket, Log Cabin Republicans are honoring Ted Olson, the opponent of Proposition 8 who is playing the stand-in for Vice President Joe Biden in Rep. Paul Ryan's vice presidential-debate preparations, at tonight's "Spirit of Lincoln" awards dinner.