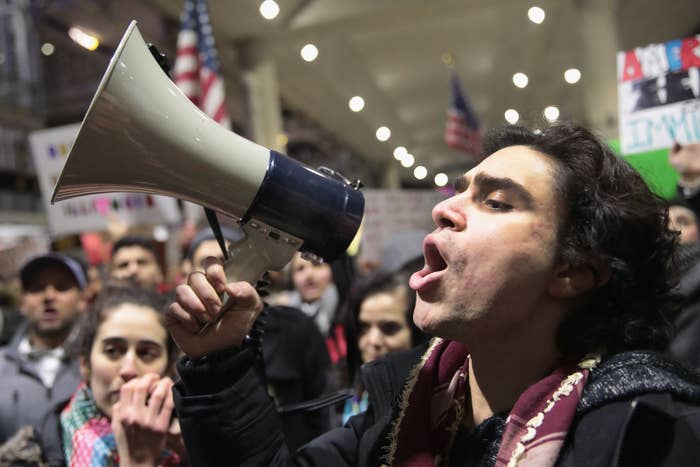 WASHINGTON — The Trump administration, under a court's order to do so, turned over information Thursday night suggesting that a far greater number of people had been held by government officials as a result of the refugee and travel ban than previously acknowledged by the White House.
The federal government held 746 people in between Saturday night, Jan. 28 — more than 24 hours after President Trump signed the executive order — and the end of the day on Sunday, Jan. 29, according to information provided to BuzzFeed News by the lawyers who challenged the ban in the Eastern District of New York.
On Monday morning, Jan. 30, Trump tweeted otherwise, saying only 109 people were detained and questioned due to the order.
"This evening, as ordered by a federal court, the Trump Administration disclosed to counsel in Darweesh v. Trump a list of 746 individuals that were held pursuant to the January 27, 2017 Executive Order," the statement from the Darweesh plaintiffs' lawyers noted. "The disclosure effectuates a court order first entered on Saturday, January 28, 2017, during an emergency hearing."
The initial order in Darweesh was issued at 9:37 p.m. Jan. 28, so the list provided to the lawyers only begins with those being held at that time and goes through the next day, until 11:59 p.m. Jan. 29, according to the Darweesh lawyers. As such, the number of those detained on the first day of the order and released — or already removed from the country — by 9:37 p.m. Jan. 28 would not be included in the list turned over to counsel.
In the Justice Department's cover letter accompanying the list, which was provided to BuzzFeed News by the plaintiffs' lawyers, Justice Department lawyer Samuel Go referred to the list as consisting of all people "encountered or undergoing processing ... pursuant to the Executive Order" during the relevant time period. The letter also notes that "this list includes legal permanent residents."
The statement from the plaintiffs' lawyers also noted, "The identities of the 746 individuals were disclosed to Darweesh counsel under a protective order that prevents their release to the general public." A copy of the protective order was signed by the judge in the case on Thursday.
The Justice Department provided no on-the-record comment beyond the filings in court.