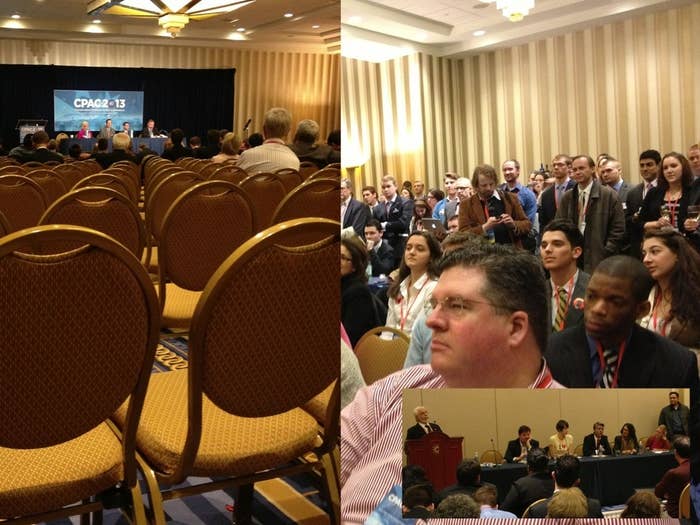 NATIONAL HARBOR, Md. — Cleta Mitchell, a D.C. lawyer who successfully led the charge to keep the LGBT conservative group GOProud out of the Conservative Political Action Conference for the past two years, is finding out what it means to lose a hard-fought battle.
Mitchell and the National Organization for Marriage's Brian Brown looked down from a stage at the annual, signature conservative conference whose social values they'd fought to defend to find they'd lost their troops.
"We are treated as if we are bigots," Brown complained to a largely empty room, assembled for a panel dedicated to discussing the bullying they and other conservatives say they face from the Obama administration.
An hour later, speaking to a packed room at another CPAC panel about increasing tolerance in the party, GOProud executive director Jimmy LaSalvia basically agreed.
"We have tolerated something in our movement for far too long: anti-gay bigotry," LaSalvia said. "Let me be clear, I do not believe that just because someone opposes same-sex marriage that that automatically makes them a homophobe. But there are, however, a few. There are a few in our movement who just don't like gay people. In 2013, that just isn't OK in America anymore."
Like Brown at the earlier panel, LaSalvia appeared to view the afternoon as a key moment for this battle. Both men were on the offensive with striking vigor — and with good reason.
Far from a sole, fringe, pro-marriage equality speaker — and a day before Republican Sen. Rob Portman announced his support for marriage equality — panels both before and after Mitchell's panel had speakers encouraging the Republican Party and the conservative movement to embrace marriage equality.
They weren't always expected voices. Liz Mair and Margaret Hoover have been supportive of GOProud since the beginning, but this CPAC they were joined on a Thursday panel sponsored by the Competitive Enterprise Institute by none other than the National Review's Jonah Goldberg. Conservative scholar and provocateur Charles Murray also pointedly backed the cause at CPAC. Jennifer Rubin, the conservative Washington Post blogger, was among those speaking most strongly about how the Republican Party needs to adjust course on gay couples' marriage rights if it wants to survive.
"There are lots of rationales and lots of reasons that one can come to this conclusion. But, if you simply want to be a debating society, we can debate that. If you want to be a winning political party, I would suggest the debate has already taken place in America. We cannot be at war with America on issues of fairness, on issues of equality," Rubin said.
On the other side, Brown appeared, at least implicitly, to agree. Spending very little time addressing his arguments about marriage itself, most of his comments at CPAC were focused on how opponents of same-sex couples' marriage rights are treated.
Speaking of the Southern Poverty Law Center's hate-group listing, which includes the Family Research Council and the Ku Klux Klan, Brown said, "What happens when you lump together good people who know the truth about marriage with those who want to attack others? Well, we saw: A shooting happened. … You saw what happened to Chick-fil-A, simply because Dan Cathy says that he believes marriage is the union of a man and a woman."
Although ongoing issues of anti-LGBT violence and discrimination remain unaddressed and equality remains a distant goal — and although the Republican Party is nowhere near done with its internal debate — the die is cast and the once incredible notion of gay couples getting married has become a growing norm.
The fact that, even at CPAC, the question now is a real debate — strongly represented by advocates on all sides in discussions — is perhaps one of the strongest signs of just how successful the movement for marriage equality has been in recent years.
"We're looking at the new conservative coalition," GOProud's LaSalvia said Thursday about the crowded room. The biggest question that remains is whether and when a majority of the conservative movement will realize it.
If they don't, Rubin said, the party could be doomed.
"In 10 years, I don't know if there will be a Republican Party," Rubin said. "There's nothing that says that we have to be around. But there is a lot of evidence, historically, that the progress in America has been all in one direction: tolerance, inclusion, barriers fall. You don't go backwards."