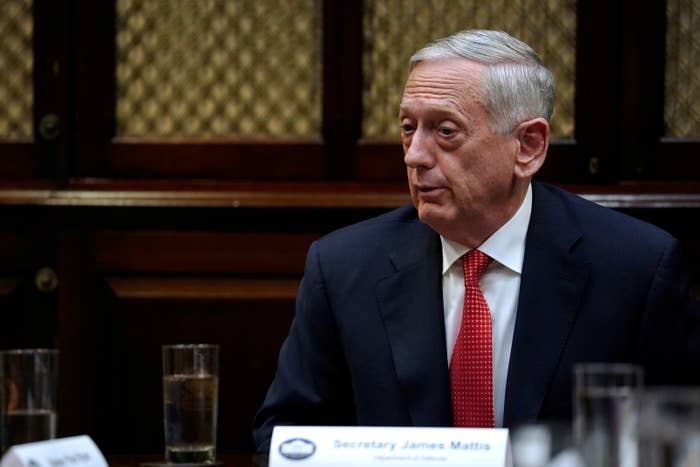 Military officials have had a policy in place for "processing transgender applicants for military service" since Dec. 8, a new memorandum shows.
The document, made public by lawyers challenging the ban on Tuesday night, comes as the Justice Department continues to fight in court to put off a Jan. 1 deadline for the Pentagon to start allowing transgender military recruits.
The memorandum, signed by Navy Capt. David Kemp, was submitted on Tuesday in exhibits in all three of the cases challenging President Trump's military ban that are pending currently before appellate courts.
It was first submitted by Washington state's lawyers in the litigation out of that state currently before the US Court of Appeals for the 9th Circuit and subsequently filed in the cases out of Maryland and DC before the US Courts of Appeals for the Fourth Circuit and DC Circuit, respectively.
The policy applies to all United States Military Entrance Processing Command personnel and activities, per the memo, and lays out the process for moving forward to allow transgender recruits who meet specific criteria laid out in the memo.
"The guidance thus further contradicts the government's claim here that 'the military will "not be adequately and properly prepared to begin processing transgender applicants" by January 1,'" Paul Wolfson, one of the lawyers in the DC-based case, wrote in the filing to the DC Circuit.
In filings on Wednesday morning, the Justice Department responded, claiming the Dec. 8 memorandum shows the "military is scrambling to comply" with the courts' injunctions and submitting a Dec. 19 "clarifying" memo in which the Justice Department asserted that "the military established a framework for providing responses to medical inquiries from recruiters '[d]ue to the complexity of this new medical standard.'"
Justice Department appellate attorney Catherine Dorsey continued, "Obviously, it would be preferable to thoroughly train recruiters, rather than point them to a medical hotline. In short, our armed forces should not be prejudiced by attempting to do all that they can to comply with a court order on a rushed deadline."