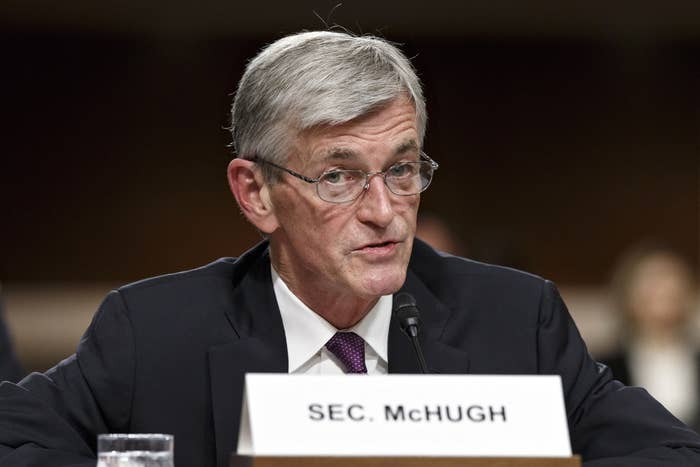 WASHINGTON — The assistant secretary of the Army now has to approve the discharge of any soldier for being transgender, under a change implemented on Friday.
Prior to Friday, commanders in the field were authorized to initiate and finalize discharges of service members who are transgender.
In the All-Army Activity, or ALARACT, notice to commanders in the field that was distributed on Friday, however, the authority to discharge trans service members in the Army has been raised to the assistant secretary of the Army (Manpower and Reserve Affairs).
Currently, all service branches have regulations and policies that ban transgender people from serving openly. Under current Army policies — not federal law, as was the case with out lesbian, gay, and bisexual service — transgender people are considered "administratively unfit" for service.
"Today's action by the Army helps over 6,000 transgender soldiers serving in silence. It also helps their commanders, who are increasingly stymied trying to apply 1970's medical policy to today's Army," Allyson Robinson, SPARTA director of policy, told BuzzFeed News in a statement. "While transgender service members welcome this step, they recognize it is only a stopgap measure aimed at making a failing policy fail less. What they and their commanders need is a comprehensive, Department-level policy review."
The change comes within the first month of the tenure of the new defense secretary, Ash Carter, although those familiar with the process tell BuzzFeed News the change has been in the works since before Carter took the helm at the Pentagon.
The step only affects the Army, however, and does not, technically, change the fact that a transgender person is to be discharged from the military — including the Army.
Pentagon spokesperson Nate Christensen confirmed to BuzzFeed News in February that the Defense Department has undertaken a "routine, periodic review of the Department's medical accession policy," the medical standards for joining the military, "earlier this month." The news was first noted in a USA Today article published Feb. 16 that initially reported erroneously that the change enacted on Friday had happened on Feb. 16.
Even regarding the "routine" review, however, Christiansen explained to BuzzFeed News at the time, "There is no specific review of the Department's transgender policy on-going" — saying that this is a review of the medical policy more broadly. "We routinely review our policies to make sure they are accurate, up-to-date and reflect any necessary changes since the Department's last policy review. The last review of this [medical policy] was conducted in 2011. The current periodic review is expected to take between 12-18 months; it is not a specific review of the Department's transgender policy."
Personnel and Readiness officials at the Pentagon are conducting the review, Christensen said.