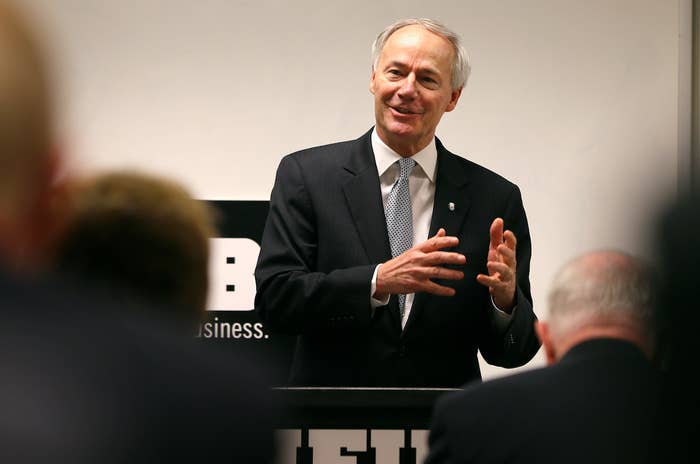 WASHINGTON — At the end of February, Arkansas Gov. Asa Hutchinson announced that his state planned to hold eight executions over the course of the last two weeks of April — two each on four different days.
The move — carrying out executions of all but one person on the state's death row in a 10-day period — was necessary, the governor explained, because its limited supply of one of the three execution drugs in the state's execution protocol is due to expire at the end of the month.
Since then, however, Hutchinson and state lawyers have found out that the task might be more difficult to accomplish than they had hoped.
By Friday evening, less than 72 hours before the first execution is set to take place, all of the eight executions had been put on hold — by three different state and federal courts.
A fourth court issued a ruling on Saturday morning siding with the inmates — a broad injunction halting the executions that followed a four-day hearing in federal court this past week.
Arkansas Attorney General Leslie Rutledge's office is fighting in court to ensure that at least some of the executions can go ahead, though, announcing Saturday morning that her office will be going to a federal appeals court to ask it to reverse the federal injunction.
On Saturday evening, the state filed its appeal at the US Court of Appeals for the Eighth Circuit.
The biggest underlying issue is that Arkansas has not carried out an execution for nearly a decade. The most recent execution was held in November 2005. The last year when Arkansas conducted more than one execution in a year was 2000, when it held two executions several months apart.
The decision to move forward with so many executions in such a short period of time means that challenges to its procedures — which involve a robust, statutorily based clemency process and a three-drug execution protocol that includes the sedative midazolam — are raising significant issues.
For example, although the US Supreme Court upheld Oklahoma's use of midazolam in a three-drug execution protocol in 2015, most death penalty states have since discontinued the use of the drug — which has figured into several botched executions in recent years. Additionally, a federal appeals court recently upheld a trial court's order halting executions in Ohio during litigation over the state's planned use of midazolam.
Because it has been nearly a decade since the most recent execution in Arkansas, the situation there also means, looking ahead, that Arkansas officials — from the governor to the state's attorneys to prison guards — don't have any recent experience with the actual practice of executing people.
On top of everything else, Hutchinson has tasked officials in his state with carrying out two executions each night. The last state to try that was Oklahoma in 2014 — and the state had to put off the second execution after the first was botched.
What's more, the pure number of executions is striking. Hutchinson scheduled eight executions in 10 days. By way of comparison, there have only been six executions in the entire country so far all year.
Two federal court challenges — one relating to the clemency consideration and one relating to the drug protocol — have raised significant questions about what will happen over the next two weeks.
In the drug protocol challenge relating to midazolam use, US District Judge Kristine G. Baker held a four-day hearing this week, featuring testimony from expert witnesses on both sides, over the inmates' request for a preliminary injunction and the state's opposition.
On Saturday morning, Baker denied the state's request to dismiss most of the inmates' claims and ruled in favor of the inmates' request for a preliminary injunction, halting their executions because the inmates were able to show the protocol that includes midazolam "creates a demonstrated risk of severe pain" and that risk is substantial when compared to "known and available alternatives."
"Plaintiffs argue that Arkansas's lethal injection protocol violates the Eighth Amendment under this standard," Baker wrote. "After hearing the evidence presented by the parties, the Court is compelled to stay these executions."
Before that ruling was issued, however, a state judge issued a temporary restraining order (TRO) halting all of the upcoming executions based not on the use of midazolam but, instead, due to a challenge from a supplier of one of the other drugs in the protocol — vecuronium bromide.
McKesson Medical-Surgical, Inc. — the largest U.S. pharmaceutical distributor, according to the Fortune 500, where it's ranked No. 5 — brought that challenge in the Circuit Court of Pulaski County on Friday. In it, the company seeks "return of illegally obtained property" — its drugs.
The company alleges in its complaint that the Arkansas Department of Corrections "misled" the company regarding its sale of vecuronium bromide to the state, as the company does not allow sale of its drugs for use in executions. Specifically, the company details how the state sought to "circumvent McKesson's controls by placing the Vecuronium order over the phone through a familiar customer sales representative" and later "refused to return the 10 boxes of Vecuronium" after McKesson discovered the state's plans to use the drug in executions.
On Friday evening, Judge Wendell Griffen issued the TRO, ordering that the state "shall not use vecuronium bromide obtained from [McKesson] until ordered otherwise by this Court."
"As a public opponent of capital punishment, Judge Griffen should have recused himself from this case," Judd Deere, the communications director in the Arkansas Attorney General's Office, said in a statement. "Attorney General Rutledge intends to file an emergency request with the Arkansas Supreme Court to vacate the order as soon as possible."
Asked to comment on Deere's comments regarding whether Griffen should have recused himself from hearing the case, Griffen told BuzzFeed News via email, "I am unable to discuss pending litigation. Any arguments by the parties will be addressed on the record."
Griffen had set the next hearing in the case for 9 a.m. Tuesday morning, April 18, which is the morning after the first day of scheduled executions, but later developments have appeared to moot the need for that hearing.
After Rutledge's office filed a request with the Arkansas Supreme Court to ask that the TRO be vacated — and after Baker had issued the preliminary injunction in federal court — McKesson announced that it was seeking to withdraw its request for a TRO as unnecessary.
The company made clear in a statement, however, that it might refile the suit if necessary to stop the state from using its drugs in executions.
Case-Specific Stays
In addition to the state and federal court rulings relating to the drugs that Arkansas intends to use, two of the eight people scheduled for execution already have been given individualized orders stopping their executions — with a judge asking for more information regarding a third request.
On Friday evening, the Arkansas Supreme Court issued a stay of execution for Bruce Ward, who was scheduled to be executed on Monday, April 17. On Saturday, the state asked the court to reconsider its stay.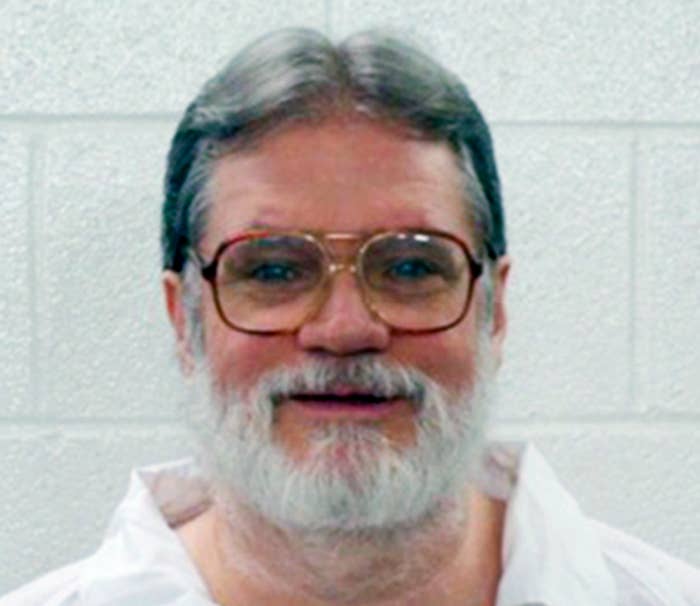 Ward's attorneys say that he has a "lifelong history of severe mental illness, including paranoid schizophrenia, delusions, and breaks with reality."
The stay was the result of an appeal from a complaint filed in Jefferson County Circuit Court to stop Ward's execution on the grounds that his severe mental illness made him incompetent to be executed. The complaint said that spending three decades in solitary confinement worsened Ward's mental health amounting to cruel and unusual punishment.

"We are grateful that the Arkansas Supreme Court has issued a stay of execution for Bruce Ward so that they may consider the serious questions presented about his sanity," Scott Braden, one of Ward's attorneys from the Arkansas Federal Defender Office, said in a statement.
Deere, the communications director for Arkansas Attorney General Rutledge, said the attorney general "is evaluating options on how to proceed" in response to the stay.

Ward was sentenced to death for the 1989 murder of Rebecca Doss, an 18-year-old store clerk at a gas station in Little Rock. Ward was convicted of strangling Doss to death. Her body was discovered in the men's restroom at the store.
Ward's lawyers also asked the Arkansas Supreme Court for a stay pending the outcome of a pending US Supreme Court case, McWilliams v. Dunn. That appeal, filed on April 12, states that Ward, 60, was denied his right to an independent mental health expert who could have help his defense attorney understand and better present his mental health issues in court.
Earlier in the week, a federal judge stopped the planned April 27 execution of Jason McGehee.
US District Judge D. Price Marshall Jr., hearing the challenge to the state's treatment of the clemency process for the upcoming scheduled executions, halted McGehee's scheduled execution after the Arkansas Parole Board recommended commuting his death sentence to life in prison without parole.
In his April 6 ruling, Marshall wrote that McGehee was entitled to the 30-day period required by law for the parole board to send their recommendation to the governor. The 30-day period will go past the date when the state's supply of its execution drug expires.

"Judge Marshall was clearly troubled by the state's clemency process," John C. Williams, a lawyer for McGehee, told Time. "He was emphatic that the clemency process has been shoddy and arbitrary in many respects."

McGehee was sentenced to death for his role in the 1996 murder of 15-year-old John Melbourne Jr. Then 20, McGehee was the leader of a gang of delinquents and was involved in the fatal beating and torture of Melbourne, the youngest member of the group — who was believed to have "snitched" to the police, according to court records.
On Friday, lawyers for another one of the inmates scheduled for execution, Marcel Williams, asked the court to step in and stop his execution due to the "deviations from procedure" in the clemency process, which the lawyers argue "uniquely prejudice[]" their client. Two members of the seven-member parole board voted in favor of granting clemency to Williams, who is due to be executed on April 24.

"Because, as argued below, the arbitrary restriction on the development of evidence at the clemency hearing, prevented Mr. Williams from creating a persuasive record for mercy, his due process rights were violated," they wrote.
Later Friday, Marshall issued an order asking the state to respond to Williams' request by 5 p.m. Monday.
Williams, 46, has admitted to killing Stacy Rae Erickson in 1994. At the clemency hearing, however, he begged for forgiveness from her family and asked for his death sentence to be reduced to life without parole. "I am so sorry," an emotional Williams told Erickson's family at the hearing. "I wish I could take it back, but I can't. To those I hurt, sorry is not enough."
Williams was sentenced to death for abducting, raping, and killing Erickson, a 22-year-old mother of two. Williams' attorney argued that his trial lawyers had failed to present compelling, mitigating evidence relating to his troubled upbringing and a background of poverty and abuse that would have potentially resulted in a life sentence.
The Other Scheduled Executions
Attorneys for Don Davis, scheduled to be executed on the same day as Ward, also asked the Arkansas Supreme Court for a stay pending the outcome of the US Supreme Court case, McWilliams v. Dunn.
His attorneys said that Davis, 54, had an IQ in the range of intellectual disability and that he suffered from ADHD and psychoactive abuse disorders.
The appeal said that mental health had been a "significant issue" for Davis and that he had repeatedly and unsuccessfully requested the independent experts to help with his case.
Davis was sentenced to death for the 1990 shooting death of Jane Daniel. The murder weapon a fingerprint, and items stolen from Daniel and her neighbor's home linked Davis to the crime.
The Arkansas Supreme Court on Thursday denied a request to stay the execution of Stacey Eugene Johnson, who is scheduled for execution on Thursday, April 20, and the parole board has also rejected Johnson's bid for clemency.
Johnson, 47, has maintained his innocence in the 1993 death of Carol Heath, who was beaten and strangled to death in her home where her two young children, ages 6 and 2, were present.
The second execution scheduled for Thursday, April 20, is of Ledell Lee, 51. The Arkansas Parole Board similarly denied recommending clemency for Lee on March 27. Lee has maintained his innocence in the 1993 murder of his neighbor, Debra Reese.
Reese, 26, had been beaten to death with a tire iron that her husband had given her for protection. She had been struck 36 times, according to court records.
The state parole board recommended against clemency for Kenneth Williams, who had killed four people in the late 1990s. He is due to be executed on April 27.
Williams, 38, escaped from prison in 1999 while serving a life sentence without parole for the murder of Dominique Hurd, a University of Arkansas at Pine Bluff cheerleader. After escaping, he went to the nearby residence of Cecil Boren, a farmer, and shot him to death. Williams then fled in a stolen truck which he crashed into another vehicle during a high-speed police chase resulting in the driver's death. In 2000, Williams was sentenced to death for Boren's murder.
The state parole board recommended on April 10 against clemency for Jack Jones, scheduled to be executed on April 24.

Jones, 52, was sentenced to death for the 1995 murder of Mary Phillips during a robbery at her accounting office. Jones robbed Philipps and her 11-year-old daughter Lacy at gunpoint, according to court documents. He then tied Lacy to a chair while he anally raped Phillips and strangled her to death. He also choked Lacy until she was unconscious and struck her eight times in the head with the barrel of a BB gun. Lacy regained consciousness when the police were photographing her body thinking she was dead. She testified against Jones in court.
UPDATE
This is a developing story, updated as facts and court filings necessitate.