Arkansas Same-Sex Marriage Ban Is Unconstitutional, Federal Judge Rules
Ruling is put on hold pending any appeal from the state.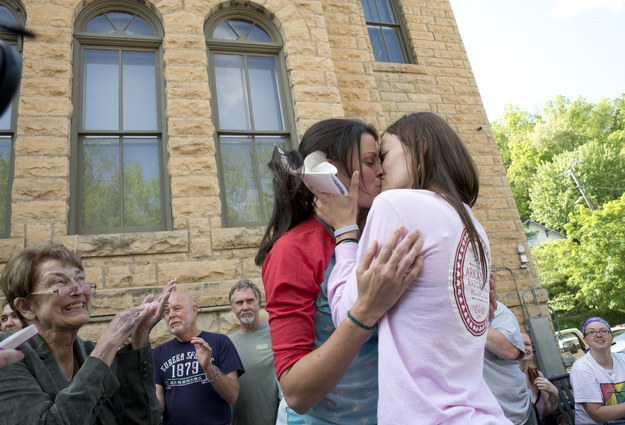 WASHINGTON — A federal judge in Arkansas on Tuesday ruled that the state's ban on same-sex couples' marriages is unconstitutional, but the ruling is on hold pending any appeal from the state.
The ruling is the second court ruling to find Arkansas' ban to be unconstitutional. The first ruling came from a state court judge in May in a case that was heard on appeal before the Arkansas Supreme Court this past week.
Specifically, U.S. District Court Judge Kristine Baker ruled Tuesday that Arkansas' ban violates the Constitution in two ways: by violating the fundamental right to marriage and by unconstitutionally discriminating on the basis of sex.
Baker ruled against the plaintiffs in the case on their claim that the ban unconstitutionally discriminates on the basis of sexual orientation, citing a 2006 ruling from the 8th Circuit Court of Appeals — where federal appeals out of Arkansas are heard — as limiting her consideration of that claim.
The ruling — on all three claims — echoes one earlier this month by a federal judge in Missouri, also in the 8th Circuit.
The Arkansas ruling is on hold pending the outcome of any appeal of the case to the 8th Circuit by the state.
The state court ruling was not initially stayed and, as such, there were several days of marriages for same-sex couples in the state before the Arkansas Supreme Court issued a stay.