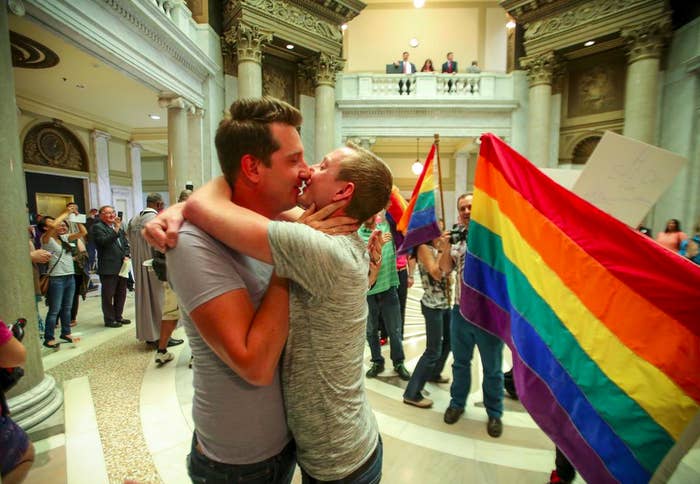 WASHINGTON — When same-sex couples are allowed to marry in Arkansas, what happens to the state's law that says men can marry at age 17, but women can marry at age 16?
Does the law that bans an uncle from marrying his niece also ban that uncle from marrying his nephew?
What happens if a same-sex couple wants to enter into one of the state's "covenant marriages," which provide limited grounds for divorce?
These and other questions have been brought to the Arkansas Supreme Court, as the justices there decide whether to stop same-sex couples from being able to marry while considering the appeal of a circuit court order striking down the state's bans on those marriages.
In addition to the expected arguments made by state officials in Arkansas as to why the state's Supreme Court should stop same-sex couples from marrying during the state's appeal of the case, some county clerks are raising a set of interesting questions in an attempt to get the court to put the marriages on hold during the appeal.
White County Clerk Cheryl Evans, Lonoke County Clerk William "Larry" Clarke, Conway County Clerk Debbie Hartman, and Washington County Clerk Becky Lewallen filed the expedited motion for a stay with the court on Thursday afternoon. The clerks are represented by the Rainwater, Holt & Sexton law firm in Little Rock, Ark.
Following the state and county filings requesting a stay, the plaintiffs' response was filed a little before the 2 p.m. Friday deadline set by the court for the response.
Here are some of the questions they raise:
What about the state's sex-specific age rules for marriages?
What about the state's rule allowing a couple to get married below the minimum ages if "the female is pregnant" and other conditions are met?
What about the state's sex-specific rules for marriages between close relatives?
What about covenant marriages?